'The victim of my own moods': Stephen Fry reveals suicide attempt in 2012, adding TV producer saved his life
'It was a close-run thing... my body convulsed so much that I broke four ribs'
Adam Sherwin
Friday 07 June 2013 13:34 Comments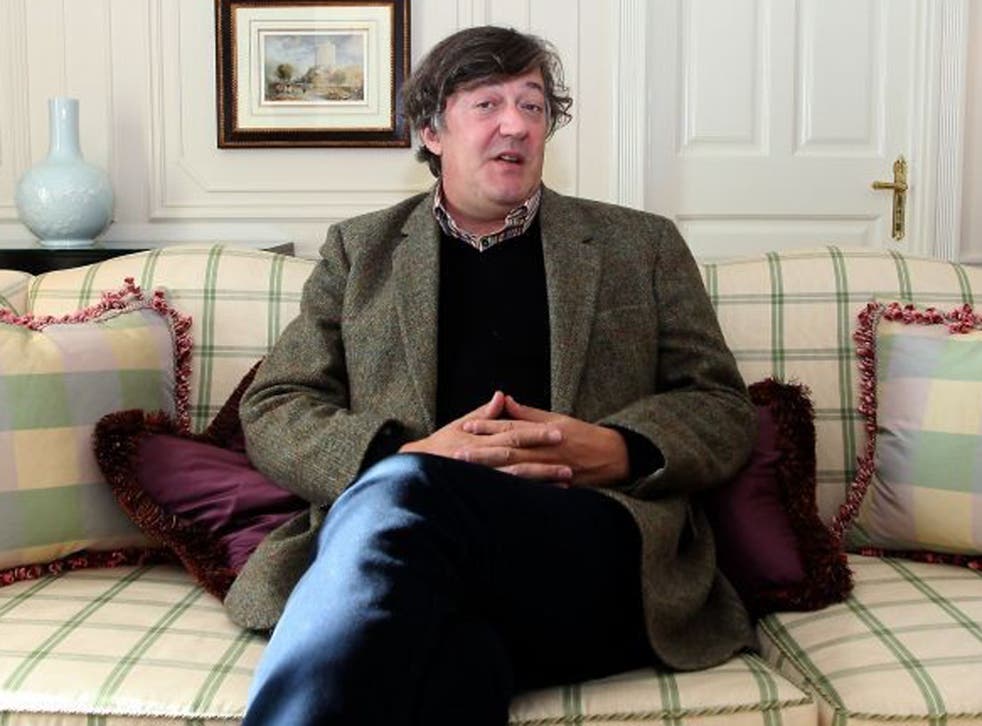 Stephen Fry has revealed that a producer saved his life after he tried to commit suicide by taking a cocktail of drugs and alcohol last year.
The comic actor, who was diagnosed with a bipolar disorder, has previously spoken publicly about his battles with depression.
He shocked a central London audience attending a recording of comic Richard Herring's Leicester Square Theatre Podcast by disclosing that the drastic mood swings which he suffers from had prompted an attempt to take his own life.
The incident occurred when he was filming on location. A producer found his unconscious body, which had been convulsing violently, on a hotel room floor and sough medical help. Fry was taken to hospital where he made a full recovery.
"It was a close-run thing. I took a huge number of pills and a huge amount of [alcohol]. The mixture of them made my body convulse so much that I broke four ribs - but I was still unconscious," Fry said, according to the Chortle website.
The QI host continued: "Fortunately the producer - I was filming at the time - came into the hotel room and I was found in an unconscious state and taken back and looked after.
You may say, 'How can anybody who's got it all be so stupid as to want to end it all?' That's the point, there is no 'why?' That's not the right question. There is no reason. If there was reason for it, you could reason someone out of it."
Fry explained: "I am the victim of my own moods, more than most people are perhaps, in as much as I have a condition which requires me to take medication so that I don't get either too hyper or too depressed to the point of suicide."
His honest confession came in response to the innocuous question from the 12-year-old son of one of producers: "What's it like being Stephen Fry?" As president of Mind (mental health charity), Fry said he felt a duty to speak about "the likelihood of death amongst people certain mood disorders."
Access unlimited streaming of movies and TV shows with Amazon Prime Video Sign up now for a 30-day free trial
Sign up
Asked what normally prevents him acting on suicidal impulses, Fry said: "Sometimes it's the expression I imagine on my mother and father's face - both of whom are alive and happy - that stops me. But there are other occasions when I can't stop myself, or at least I feel I can't."
He said he felt unable to talk to friends about his condition. "All my friends and family, when they eventually heard about it (the suicide attempt), came to visit me in hospital all said, 'Well, why didn't you call?'
"I like to think that if I had children I would think harder about doing it, but I know people who have had children who have done it."
He explained his predicament: "If unmedicated there are times when I am so exuberant, so hyper, that I can go three or four nights without sleep and I'm writing and I'm doing stuff and I'm so grandiose and I'm so full of self-belief it's almost impossible to deal with me. I can't stop speaking. I go on shopping sprees. One of the common signs of mania, or hypermania, is sexual exhibitionism - fortunately I don't have that."
Fry concluded: "There are times when I'm doing QI and I'm going 'ha ha, yeah, yeah', and inside I'm going 'I want to fucking die. I... want... to... fucking... die.'"
Fry, who describes his condition as "bipolar lite", suffered a nervous breakdown in 1995 while appearing in a West End play called Cell Mates and subsequently walked out of the production, prompting its early closure.
His spoke about his experience with bipolar disorder in a BBC documentary, Stephen Fry: The Secret Life of the Manic Depressive.
Register for free to continue reading
Registration is a free and easy way to support our truly independent journalism
By registering, you will also enjoy limited access to Premium articles, exclusive newsletters, commenting, and virtual events with our leading journalists
Already have an account? sign in
Register for free to continue reading
Registration is a free and easy way to support our truly independent journalism
By registering, you will also enjoy limited access to Premium articles, exclusive newsletters, commenting, and virtual events with our leading journalists
Already have an account? sign in
Join our new commenting forum
Join thought-provoking conversations, follow other Independent readers and see their replies