The Walking Dead to continue for 20 years, says producer
'The Simpsons has been on 26, 27 years, so that's a challenge — so OK, challenge accepted'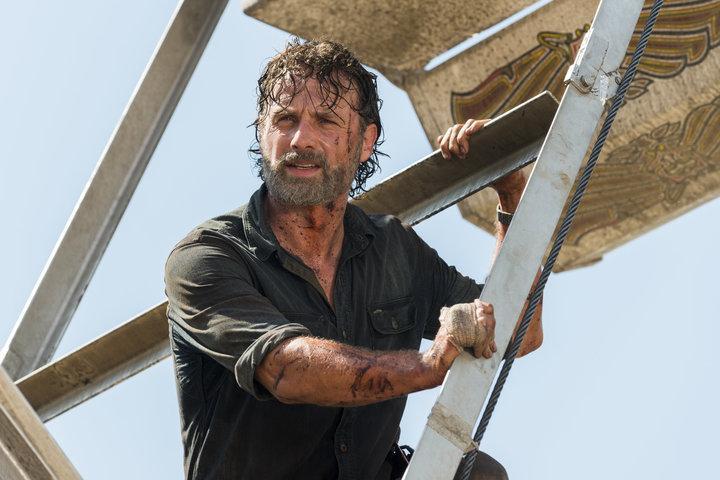 Despite ratings continuing to fall and rumours some of the cast want to move on, one of The Walking Dead's producer has revealed we can expect the show to continue for a very long time.
Speaking at PaleyFest in LA, Scott M. Gimple teased how the zombie-outbreak hit will remain on the air until 2030, probably longer, and that many of that actors have said they're eager to stay.
"We are trying to do twenty years. The comic has certainly done it, and I look forward to every issue," Gimple said according to New York Daily News. "The Simpsons has been on 26, 27 years, so that's a challenge — so OK, challenge accepted. Done."
The Walking Dead is currently in its seventh season, with another confirmed, while there have been 165 main-series comics released.
The Walking Dead season 7B images
Show all 5
Gimple said of the show using comic storylines: "We try to reinvent the show every eight episodes. We have this story that is a fidelity to the comic book, but we're also exploring original stuff, and those things help us go on every year
"We want to try do it better, do things we haven't done, take risks. It's scary as hell, but as long as we keep doing that the show can go on and on."
The question of Andrew Lincoln's future on the show was also raised, to who executive producer Greg Nicotero said: "We love what we do. I spent 10 days with Andy, Jeffrey (Dean Morgan) and Norman (Reedus), and halfway through our press tour we are like 'We have a f***ing awesome job. This is the greatest job you could have.'"
Recently, AMC managed to spoil last episode's big cliffhanger by releasing photographs of the upcoming episode.
Join our commenting forum
Join thought-provoking conversations, follow other Independent readers and see their replies