The Walking Dead season 6 finale: Producers drop hints at 'next part of the story' as ending torments fans
Executive producers Scott M. Gimple and Robert Kirkman hinted at what's to come in the show's seventh season
Clarisse Loughrey
Monday 04 April 2016 09:16 Comments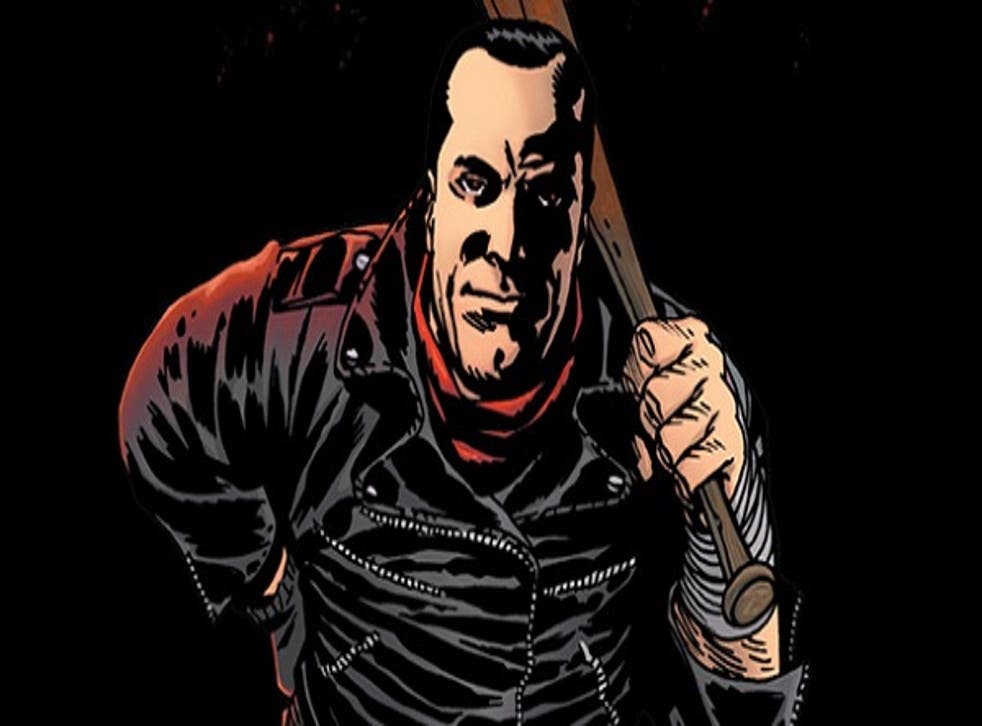 *Warning: spoilers for The Walking Dead finale which airs 04 April in the UK, below*
It's a tempestuous time for The Walking Dead fans; after weeks of speculating who would meet their doom at the hands of Negan, and his trusty bat Lucille, we're still none the wiser. We know someone's kicked the bucket; but it's a question as to who was the victim of the gruesome blows heard over a blackened screen.
The candidates? Rick (Andrew Lincoln), Michonne (Danai Gurira), Glenn (Steven Yeun), Daryl (Norman Reedus), Rosita (Christian Serratos), Carl (Chandler Riggs), Maggie (Lauren Cohan), Aaron (Ross Marquand), Eugene (Josh McDermitt), Abraham (Michael Cudlitz), or Sasha (Sonequa Martin-Green).
Though we'll now have to wait until that season 7 opener, executive producers Scott M. Gimple and Robert Kirkman dropped a few hints during Talking Dead as to what we can expect. "The end of the story is what people saw. And when we reveal who was on the receiving end there, that's going to be the start of another story," Gimple commented. "The kickback effects from that, what it makes everyone into, how people react, how the world changes for everyone, that's the next part of the story."
The most shocking Walking Dead moments

Show all 10
"I'm feeling, oddly, great. I'm very excited where it's at," Kirman added. "What's happening in the show is extremely sad and extremely depressing but I think it's going to put us into a good place going into season 7."
As to who that victim might be? "There's some hints there, I'll say that," Kirkman confirmed; before adding that the character is someone who's "beloved to everyone".
That said, the pair did acknowledge the cliffhanger end was bound to upset a portion of fans, many who have been waiting the entire season for Negan's introduction. "First of all, as a fan, I love cliffhangers. I love that tension. I love the anticipation of finding out what it is," Kirkman explained. "If you read the comic book series, I think pretty much every issue ends with a big cliffhanger… And I think that's a lot of fun."

"But this story, the cliffhanger isn't the story. The story of the episode, and Scott and Matt Negrete did such a great hob of setting up how confident Rick was going into this. This episode is about the loss of that confidence. It's about changing that mindset. It's about tearing Rick Grimes down and that's the conclusion of this story. So while it does seem like a cliffhanger, that's the conclusion. And the story of who died, the story of what comes next, of who Negan killed, of what comes after that, that's really the story of season 7."
"I would say, when they opened up the hatch [on Lost], we had to wait and see who was in the hatch. I liked thinking about that," Gimple added. "I liked talking about it. … We have to do an episode that justifies it to you. We have to do something so great and so intense that you're like 'Okay, all right, fair play.' That's the challenge we have and we're going to do it. We're going to deliver you something fantastic. … We want you to be one of those people in that lineup. We want you to feel that suspense and that terror and that pain, and were going to deliver you a story next season that justifies it."
The Walking Dead's season six finale airs on FOX tonight in the UK at 9 PM. The show will return for a seventh season this October.
Register for free to continue reading
Registration is a free and easy way to support our truly independent journalism
By registering, you will also enjoy limited access to Premium articles, exclusive newsletters, commenting, and virtual events with our leading journalists
Already have an account? sign in
Join our new commenting forum
Join thought-provoking conversations, follow other Independent readers and see their replies