The Independent's journalism is supported by our readers. When you purchase through links on our site, we may earn commission.
The Walking Dead season 8 finale: What happens to Negan in the comics? Does he die in episode 16?
*Major finale spoilers follow*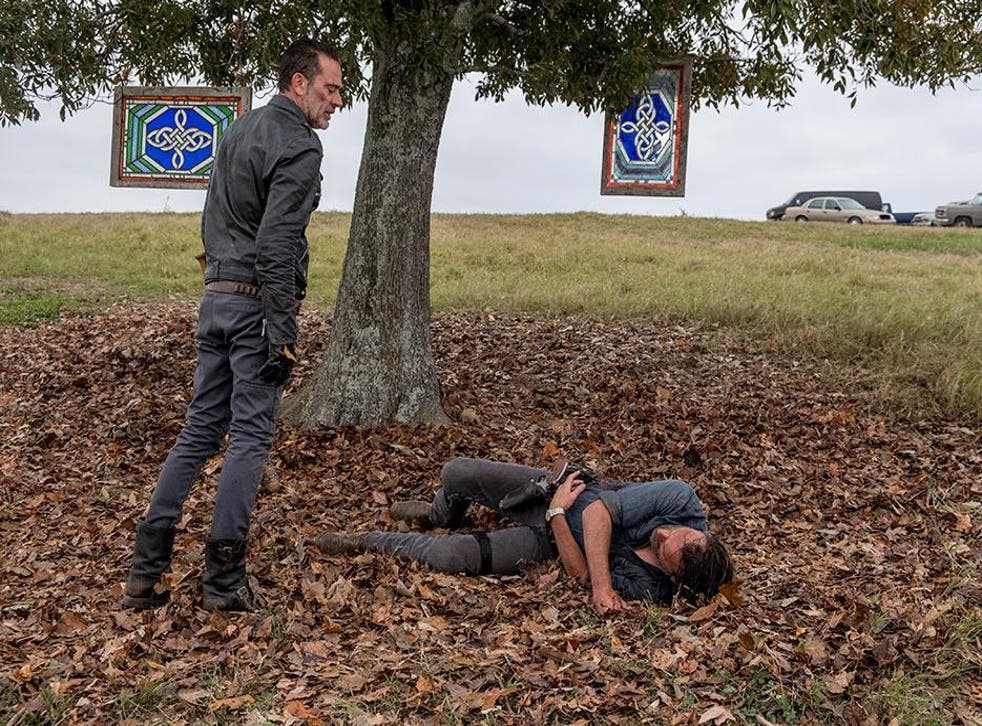 The eighth season of The Walking Dead has drawn to a close in earth-shattering fashion as All Out War - an arc which has shaped the show for the past two years - comes to an end.
Rick has battled Negan (Jeffrey Dean Morgan) for two agonising seasons after he mercilessly bludgeoned both Abraham and Glenn to death in the traumatic season 7 premiere.
*Spoilers follow*
Negan is alive and well in the comic books, even earning Rick's trust years on from events depicted in the TV series. As we just witnessed in the season 8 finale, the leader of his fallen faction The Saviours finds himself locked away as Rick's prisoner following the culmination of All Out War. He remains there for an unknown number of years, living proof that the Alexandrians were always in better stead to rebuild the world in a way that doesn't involve constant blood-spill.
Later, Negan becomes a crucial part of the battle with an even more dangerous faction than The Saviours ever were, named The Whisperers (who may or may not have been teased in the season 8 finale).
*Huge comic book spoilers follow*
The former leader of The Saviours is the one who eventually murders their leader, the fearsome Alpha, in a bid to earn Rick's trust. In fact, Negan is so eager to assimilate into the new world that, in a recent issue of the comic book series, he saves his former adversary's life during a particularly close brush with a horde of walkers.
The most shocking Walking Dead moments

Show all 10
"Holy shit, Rick," he exclaims, "Can you believe it? We're working together!" If these events are depicted in the series at a later stage, it will prove once and for all that Carl's parting wisdom was correct.
The Walking Dead season 8 finale airs tomorrow evening on FOX and will be available to stream on NOW TV. It will return to AMC for season 9 later this year.
Are you a longtime fan of Lost? Or looking for a new series to start? Subscribe to two of our writers' new podcast 'The LOST Boys' following their journey watching from the very beginning - one for the first time, the other for the eighth
Follow Independent Culture on Facebook
Register for free to continue reading
Registration is a free and easy way to support our truly independent journalism
By registering, you will also enjoy limited access to Premium articles, exclusive newsletters, commenting, and virtual events with our leading journalists
Already have an account? sign in
Register for free to continue reading
Registration is a free and easy way to support our truly independent journalism
By registering, you will also enjoy limited access to Premium articles, exclusive newsletters, commenting, and virtual events with our leading journalists
Already have an account? sign in
Join our new commenting forum
Join thought-provoking conversations, follow other Independent readers and see their replies