The Independent's journalism is supported by our readers. When you purchase through links on our site, we may earn commission.
The Walking Dead season 8 episode 2: Who is Morales? Season 1 character returns in 'The Damned'
*Major spoilers for season 8 episode 2 follow*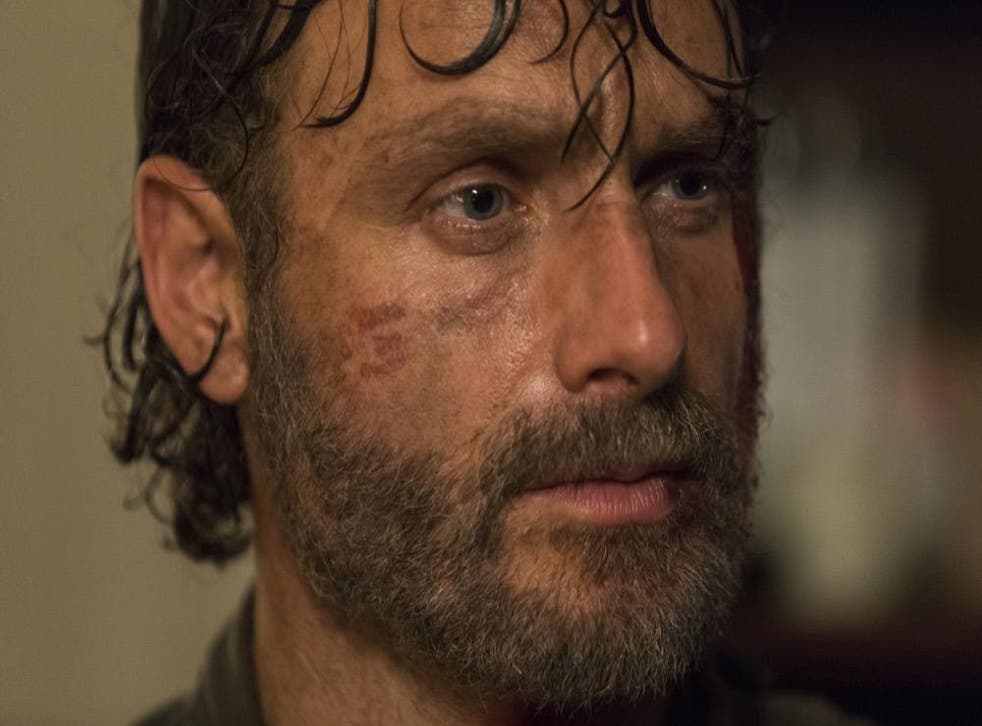 The Walking Dead season 8 episode 2 has arrived making good on showrunner Scott Gimple's promise that new episodes - charting the All Out War between our heroes and Negan's Saviours - will place the lion's share of the focus on action.
One key moment that arrived at the episode's climax, however, saw Rick Grimes (Andrew Lincoln) collide with a character he's not seen since the season 1.
After ambushing a Saviours outpost with Daryl, Rick - at the top level of the building - is helf at gunpoint by Morales (Juan Gabriel Pareja). "Hi Rick," he says. Rick, looking at him, says, "You're Morales. You were at Atlanta," to which Morales responds, "Yeah well, that was a long time ago. It's over, Rick. I called the Saviours back, and they're coming." The episode ends as morales cocks his gun.
But who is he? Below is an explainer of everything you need to remember about Morales.
27 horror films that will actually terrify you

Show all 27
Morales is one of the first characters Rick meets way back in season one episode 'Guts' after he's rescued from the tank in Atlanta by Glenn. Viewers met Morales' wife Miranda and children Louis and Eliza when the group brought Rick back to the survivor's camp where he was reunited with Lori (Sarah Wayne Callies) and Carl (Chandler Riggs) and met Daryl (Norman Reedus) and Carol (Melissa McBride).
Morales - the one who insists they tell Daryl they abandoned his brother Merle, escapes the camp after it's overrun by walkers - an incident which sees the death of Andrea's sister Amy and Carol's abusive husband, Ed - and he later decides he and his family will not join the group on their journey to the CDC. Instead, they leave for Birmingham, Alabama in search for other family members.
Rick leaves Morales a gun, a box of ammo and a walkie-talkie in case he changes his mind. Ironically, Morales - now a Saviour - could now be pointing that same gun at Rick with the episode ending as the two realise they've met each other before.
What does this mean for the future of the series? It's currently difficult to tell, however, it shows that - following on from last week's 100th episode special which was filled with homages to earlier seasons of the show - producers are readily delving into The Walking Dead's history to reward the more committed fans.
Ultimately, Morales' re-introduction adds a continuity, anchoring the fans who may feel overwhelmed by the recent influx of new characters.
The Walking Dead season eight airs every Sunday in the US on AMC with the UK premiere arriving the following evening on FOX. It will also be available on NOWTV.
Follow Independent Culture on Facebook
Register for free to continue reading
Registration is a free and easy way to support our truly independent journalism
By registering, you will also enjoy limited access to Premium articles, exclusive newsletters, commenting, and virtual events with our leading journalists
Already have an account? sign in
Register for free to continue reading
Registration is a free and easy way to support our truly independent journalism
By registering, you will also enjoy limited access to Premium articles, exclusive newsletters, commenting, and virtual events with our leading journalists
Already have an account? sign in
Join our new commenting forum
Join thought-provoking conversations, follow other Independent readers and see their replies