Top Gear turns 21: The things you never knew about the BBC show as it returns for a 21st series
You might not think Jeremy Clarkson's brand of humour, Richard Hammond's haircuts or James May's shirts are worthy of celebration, but as the motoring programme returns for its 21st series since a 2002 relaunch in its current, laddish format, Jamie Merrill presents 21 things you never knew or never wanted to know about one of Britain's biggest TV exports
Jamie Merrill
Sunday 02 February 2014 01:00 Comments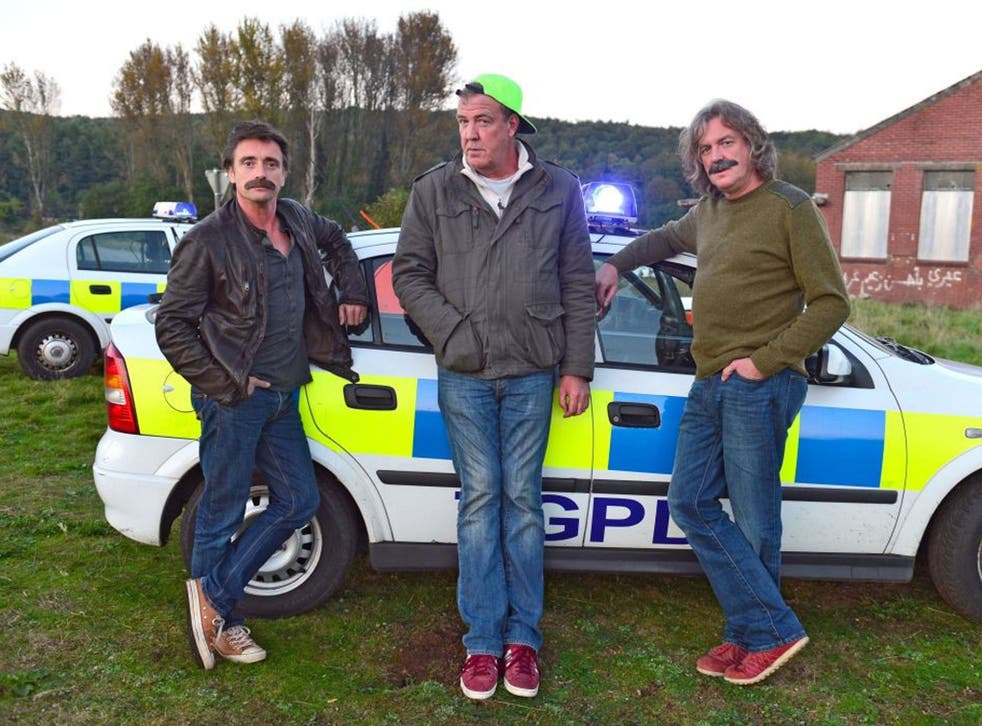 1. It rules the internet
Forget the Reith Lectures or David Attenborough's latest wildlife epic. The most popular show on BBC iPlayer last year was the Top Gear team's geographically illiterate search for the source of the river Nile, with a staggering 3.4m requests.
2. It's not known for its liberal views
Oh, they are cheeky chaps on Top Gear. Last month one of them posted a funny picture on Twitter of Jezza (that's Jeremy Clarkson) asleep with a sign in front that read, "gay ****". Ben Summerskill, chief executive of Stonewall, is, like many of us, fed up with it all. He said: "Now they're 21, perhaps the boys will grow up?"
3. It's not really for grown-ups, anyway
In Radio Times last week, the show's executive producer admitted the show is "aimed at people with a mental age of nine".
4. It's not universally loved by motoring hacks
You might think Jezza was a hero of the motoring hack world, but that's not strictly accurate. Neil Lyndon, the Sunday Telegraph's motoring correspondent, sums its 21st birthday well: "Does that mean Billy Bunter and his gang finally get forced out of the Fourth Remove and into long trousers?"
5. Don't expect car-buying advice
It's an in-joke in the show that they don't do car tests. You would be mad to make a purchases based on Jezza's verdict.
6. Clarkson is a YouTube star
Stray down the motoring internet hole and you'll find lovingly posted videos of "Clarkson the early years" with incredibly loud hair reviewing 1990s cars in an oddly sensible manner. Very disturbing viewing.
7. It used to offer real advice
Before the lads took over, it was real car-reviewing show with presenters such as Angela Rippon who gave practical reviews of down-to-earth workhorses such as Cavaliers or Mini Metros.
8. The world loves it …
Top Gear is already screened in more than 100 countries.
9. ... but not Mexico
A run of borderline-racist slurs about Mexico when testing the country's first sports car didn't go down well several seasons ago.
10. The "reasonably priced" cars take quite a battering
Denis Chick, of Vauxhall, is brave to have lent the show a fleet of his Astras. He said: "Vauxhall Astra sales would not improve if everyone drove like Jimmy Carr around the Dunsfold track." The comedian hilariously took his test car's front off-side tyre clean off its rim.
Access unlimited streaming of movies and TV shows with Amazon Prime Video Sign up now for a 30-day free trial
Sign up
11. It makes the BBC a fortune
The three middle-aged men have brought the show to the front of the BBC's commercial arms global profit drive. Last year shows such as Doctor Who and Top Gear made the BBC's commercial arm more than £300m.
12. And Clarkson doesn't do badly
Last year Jezza netted more than £14m from the show, the real engine of his wealth being the BBC buying out his 30 per cent shares in the company he set up to exploit the show's commercial opportunities. That's enough for 140,000 speeding tickets.
13. It's not for girls
When the show relaunched in 2002, the BBC wanted to hire an unnamed female presenter. Her agent also sent along Richard Hammond, then a former local radio presenter working on an unheard-of cable channel. Sadly for the automotive sisterhood, it preferred him.
14. Even Jezza is bored by cars
In 2002, Jeremy was only available because his BBC chat show had flopped. Prior to that he was bored with cars, and after testing one car couldn't think of anything to say about it.
15. There's a waiting list
Watching the lads' banter is so popular there is a lottery-type draw for audience tickets to each series.
16. World domination
The show will front a new global BBC Brit channel which the corporation hopes will fill a "gap in the global market". Apologies, world.
17. Women watch it
Oddly it seems up to 40 per cent of Top Gear viewers are women.
18. Complaints, it's had a few
The BBC has responded to complaints on all manner of subjects on the show, from Clarkson damaging a 30-year-old chestnut tree with a pick-up truck to the use of the phrase "ginger beer" for rhyming slang for "queer" (see 1).
19. Jason Dawe
The man they axed in favour of James May (or Captain Slow) in Top Gear's second post-relaunch series. He now writes about used cars. Oh, the glamour.
20. Video games
If tonight's episode isn't enough high-octane nonsense for you, there's always the chance to hear Jezza, Captain Slow and the Hamster on the latest Forza video game on the Xbox One. They are the official voices of the game.
21. Catch it on Dave
It might be the BBC's most bankable export, but it has also driven the success of Freeview channel Dave, where, if you were so tempted, you could watch the show at pretty much any time of the day or night.
Register for free to continue reading
Registration is a free and easy way to support our truly independent journalism
By registering, you will also enjoy limited access to Premium articles, exclusive newsletters, commenting, and virtual events with our leading journalists
Already have an account? sign in
Join our new commenting forum
Join thought-provoking conversations, follow other Independent readers and see their replies