Trisha Goddard tells Piers Morgan he doesn't get to say what 'is and isn't racism against black people'
Trisha Goddard praised for 'one-sentence annihilation' of Piers Morgan over racism on GMB
Goddard held Morgan accountable for Meghan Markle question
Trisha Goddard is being praised for shutting down Piers Morgan on Good Morning Britain.
The TV personality appeared on the ITV show on Monday (8 March) to discuss Prince Harry and Meghan Markle's high-profile interview with Oprah Winfrey, which was broadcast in the US overnight.
During the interview, Markle said that she had a conversation with an unnamed member of the royal family who questioned how dark her unborn baby's skin would be when she was pregnant with Archie.
Read more: Lorraine Kelly shocks viewers with Prince Andrew comment following Meghan interview
Markle refused to name the family member, saying it "would be very damaging" to them if she revealed their name.
On GMB, Morgan questioned whether this conversation should be considered "automatically racist" to which Goddard replied: "Why is everybody else such an expert about racism against Black people?"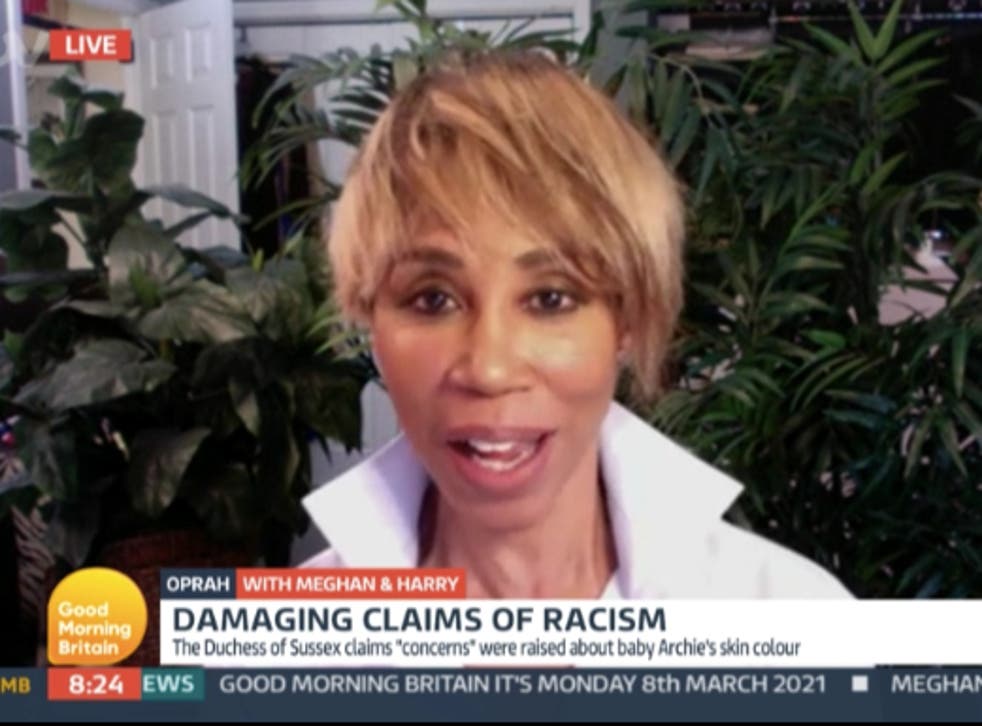 She continued: "I'm sorry, Piers – you don't get to call out what is and isn't racism against Black people. I'll leave you to call out all the other stuff you want, but leave the racism stuff to us, eh?"
Morgan responded by calling Markle's claim "a very serious allegation" and an "incendiary charge" against the royal family.
He also said "it's not fair" to hold back on naming "the supposed racist".
Follow Meghan and Harry Oprah interview live: Latest news and updates
Viewers praised Goddard's appearance, with one writing: "Put Trisha Goddard's one-sentence annihilation of Piers Morgan in the history books."
One person thanked Goddard for "calling him out the way [she] did", with another adding: "Trisha Goddard flat out calling Piers Morgan a bully on national TV is exactly the energy I needed this morning."
One viewer stated: "Piers Morgan being called out by Trisha Goddard has made my day."
Find more reactions to the moment below.
Meghan and Harry's interview with Oprah in such a high profile televised event is their first since stepped away from their duties as senior royals in March 2020.
Read more: Meghan Markle says Kate Middleton made her cry and palace covered it up
Find all the details about watching it in the UK here.