TV and film's top eight portrayals of King Henry VIII
Damian Lewis is about to play England's most notorious monarch, in the BBC's adaptation of 'Wolf Hall'. But who else has pulled on the tights and consumed a whole chicken with panache?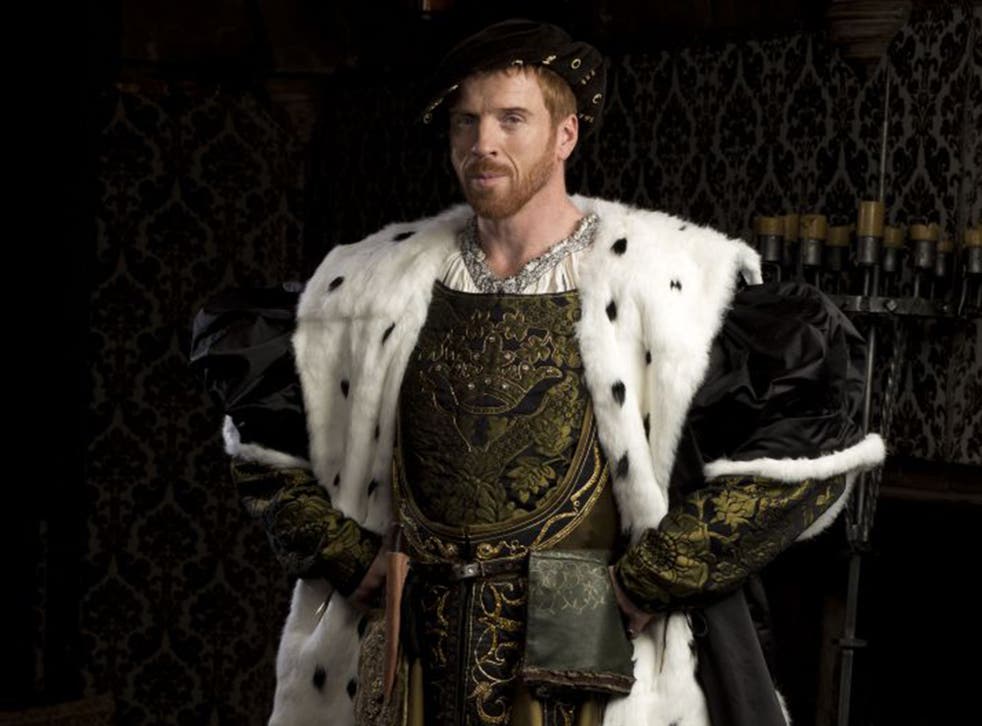 Charles Laughton
Acclaimed method actor Laughton set the acting bar high in 1933 with The Private Life of Henry VIII, which followed the king from the annulment of his first marriage in 1533 to his death in 1547. Thanks to the famous banquet scene, Laughton was often served whole chickens and no cutlery, by mischievous restaurateurs.
Homer Simpson
Television's favourite cartoon dad appeared as Henry VIII in a 2004 episode of The Simpsons called "Margical History Tour", in which Marge tells Bart and Milhouse stories from history because Springfield's library has binned all its books. Bart, as the male heir the king is desperate for, taunts Homer in his dreams.
Jonathan Rhys Meyers
Irishman Rhys Meyers was nominated for a Golden Globe and won an Emmy for his Henry in The Tudors which ran for four seasons until 2010. His slight physique and whimsical portrayal puzzled those more used to the "larger than life" cliché.
Sidney James
The Tudors get the slapstick treatment in 1971's Carry on Henry, in which Sid James's monarch pursues Barbara Windsor because his eighth wife, "Marie of Normandy" won't stop eating garlic. Kenneth Williams hams it up as Cromwell.
Rowan Atkinson
This veteran of historical comedy, as Edmund Blackadder, is probably more famous worldwide as Mr Bean. But he is to delve into the costume department again when he guests as Henry VIII in an episode of CBBC's Horrible Histories to be screened later this year.
Unknown actor
Shakespeare's Henry VIII was first performed in 1613, a decade after the death of Henry's daughter, Elizabeth I. Pity the lead actor and his reputation – a cannon shot during a show at the original Globe Theatre ignited the thatch and burned the building to the ground.
Damian Lewis
Most recently seen in TV thriller Homeland, Lewis stars in the six-part Wolf Hall (starting on BBC2 on Wednesday at 9pm), based on Hilary Mantel's two award-winning novels charting the rise of Thomas Cromwell from blacksmith's son to minister. Lewis says he identifies with Henry's mood swings because he once suffered depression after a car crash.
Robert Shaw
Shaw played a hearty Henry in the 1966 film A Man For All Seasons, in which Paul Scofield won the Best Actor Oscar for his portrayal of the martyred Sir Thomas More. Shaw bestowed the king with a certain blue-eyed menace, but was always better known for roles as an assassin in From Russia With Love (1963) and as Quint in Jaws (1975).
Henry: the eight things you didn't know
1. Henry's book supporting the Catholic Church, Defence of the Seven Sacraments, was a bestseller with 20 editions published, earning him the title "Defender of the Faith" bestowed by Pope Leo X before Henry's later excommunication.
2. The country's most-married monarch was far from a ladies' man. When Anne Boleyn finally became his mistress he was shocked by her sexual knowledge and confided later he believed she had not been a virgin.
3. Despite his reputation for gluttony in later life, the young Henry was slim and athletic and an excellent jouster until he a leg injury in 1536 which left him inactive and led to his obesity.
4. He was a serious music fan and had an extensive collection of instruments including 78 recorders, 78 flutes and five sets of bagpipes. His compositions include the song "Pastime with Good Company" which was covered by Jethro Tull.
5. He owned 50 palaces – more than any British monarch – as well as the largest tapestry collection on record, 6,500 handguns, and 70 ships.
6. Henry's doctors were afraid to tell him he was dying since he had made predicting the death of the king a treasonable offence.
7. Henry VIII invented the first chairlift, called a "stairthrone", for use in carrying him up and down stairs in Whitehall Palace. He also had at least three wheelchairs to aid mobility around his residences.
8. In 1520, he challenged the French king, Francis I, to a wrestling bout at the Field of Cloth and Gold meeting in France. Henry quickly saw that he was going to lose and called it off.
Register for free to continue reading
Registration is a free and easy way to support our truly independent journalism
By registering, you will also enjoy limited access to Premium articles, exclusive newsletters, commenting, and virtual events with our leading journalists
Already have an account? sign in
Register for free to continue reading
Registration is a free and easy way to support our truly independent journalism
By registering, you will also enjoy limited access to Premium articles, exclusive newsletters, commenting, and virtual events with our leading journalists
Already have an account? sign in
Join our new commenting forum
Join thought-provoking conversations, follow other Independent readers and see their replies