Twenty Twelve team returns to satirise life inside BBC Broadcasting House
Adam Sherwin
Thursday 05 December 2013 14:16 Comments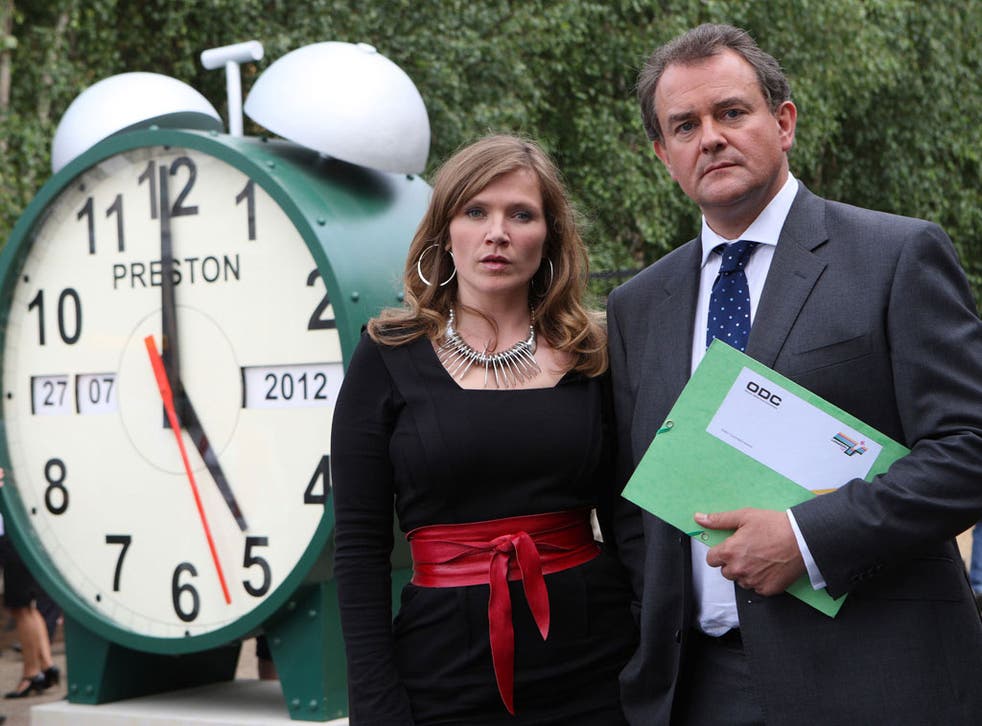 It's a challenge as great as delivering the London Olympics, in a very real sense. The team behind the award-winning satire Twenty Twelve is to aim its sights at life inside the BBC. But can the comedy series ever match the absurd reality of life within Broadcasting House?
Filming starts next month on W1A, a new BBC2 show, which will see Ian Fletcher (Hugh Bonneville), the permanently harassed former Head of the Olympic Deliverance Commission in Twenty Twelve, taking up his next big job – the (fictional) Head of Values at the BBC.
His new task is to "clarify, define, or re-define the core purpose of the BBC across all its functions and to position it confidently for the future, in particular for Licence Fee Renegotiation and Charter Renewal in 2016 and 2017 respectively. Reith was then; this is now."
The post is sold to the incompetent Fletcher as a chance to influence and shape one of the great British institutions. His job is to think Big Thoughts. But he soon realises that "not only does he not have time to think Big Thoughts, he never has time to think any thoughts at all."
Although penned by Twenty Twelve writer John Morton, the BBC said W1A is not a "sequel" to the London 2012 "mockumentary" show, which also featured Olivia Colman.
Yet fans will be delighted to learn that Siobhan Sharpe (Jessica Hynes), the branding expert and PR guru with an unfailing ability to miss the point, is to make a return appearance in the "legacy" series.
With perfect comic timing, the BBC announced the self-flagellating commission the day after Danny Cohen, Director of Television, launched an attack on high-profile talent who "criticise the organisation in public rather than deal with any issues or concerns internally."
He urged everyone within the BBC to "think hard before they join the daily chorus of BBC-bashing that takes place in some quarters."
Last week, the BBC said it is to spend up to £85 million on consultants who will "cover discrete strategic advisory requirements", amid concerns that Lord Hall, the Director General, could return the BBC to the dark days of management-jargon associated with his predecessor John Birt.
Access unlimited streaming of movies and TV shows with Amazon Prime Video Sign up now for a 30-day free trial
Sign up
Mr Morton said: "It isn't a demolition job on anybody or anything, and it isn't one giant in-joke, and this isn't a game of guessing who is supposed to be who. If it is satirical then it's satirical about an environment, an ethos, and the absurdities of modern corporate life itself.
"The key principle is to operate at a level of reality just to the left or the right of fact, to create stories that haven't actually happened but that could happen or might have happened."
Lord Hall has fully endorsed the venture. A spokesman for the Director-General said: "In a divergent, 360 degrees, flexi-content, on-demand marketplace, this is just the kind of connected proposition that the BBC is prioritising…..what is it…??"
There will be an initial run of four W1A episodes to be screened next year on BBC Two. A further series should take the characters through to Charter Renewal in 2016 and Mr Morton can expect to receive no shortage of possible storylines from insiders wearied by the BBC's famously impenetrable bureaucracies.
Twenty Twelve won best Sitcom at both the Bafta and British Comedy Awards. A plan to send Fletcher's hapless team to Rio to liaise with the 2016 Olympic organisers was considered as a possible sequel whilst Bonneville suggested the characters could be sent in to "rebrand" the NHS. But the solution a brave BBC has settled upon was to be found closer to home.
BBB speak: Ripe for satire
BBC tender for consultants, November 2013: "Advisory services will cover discrete strategic advisory requirements and will be split across eight sub-disciplines; project, programme and related services, which will cover specialist advice, assurance and delivery support ... independent review and recommendation; or we are meeting a shortfall for a critical period in the lifecycle."
Tony Hall, BBC Director General: "Let creator talk unto creator ... Let this service be a hub, an inspirer, a meeting place, a stimulator.
"This is the start of something. I don't know where we'll end up, but I want to start the conversation. At the moment we treat audiences like licence-fee payers. We should be treating them like owners. That's what I meant when I said that we wouldn't be THE BBC, but My BBC, Our BBC?"
John Birt, BBC Director General, 1992-2000: "We deliver what we promise. The BBC is the guarantor of the national debate. A communal BBC will be a place of high sociability and solidarity where the need for meetings fades away, as people instinctively know what to do next and where people interact like friends."
Register for free to continue reading
Registration is a free and easy way to support our truly independent journalism
By registering, you will also enjoy limited access to Premium articles, exclusive newsletters, commenting, and virtual events with our leading journalists
Already have an account? sign in
Join our new commenting forum
Join thought-provoking conversations, follow other Independent readers and see their replies