The Independent's journalism is supported by our readers. When you purchase through links on our site, we may earn commission.
Twin Peaks season 3, finale: 7 questions left unanswered
We knew this was going to happen, though doesn't make us any less desperate for answers to all these unsolved mysteries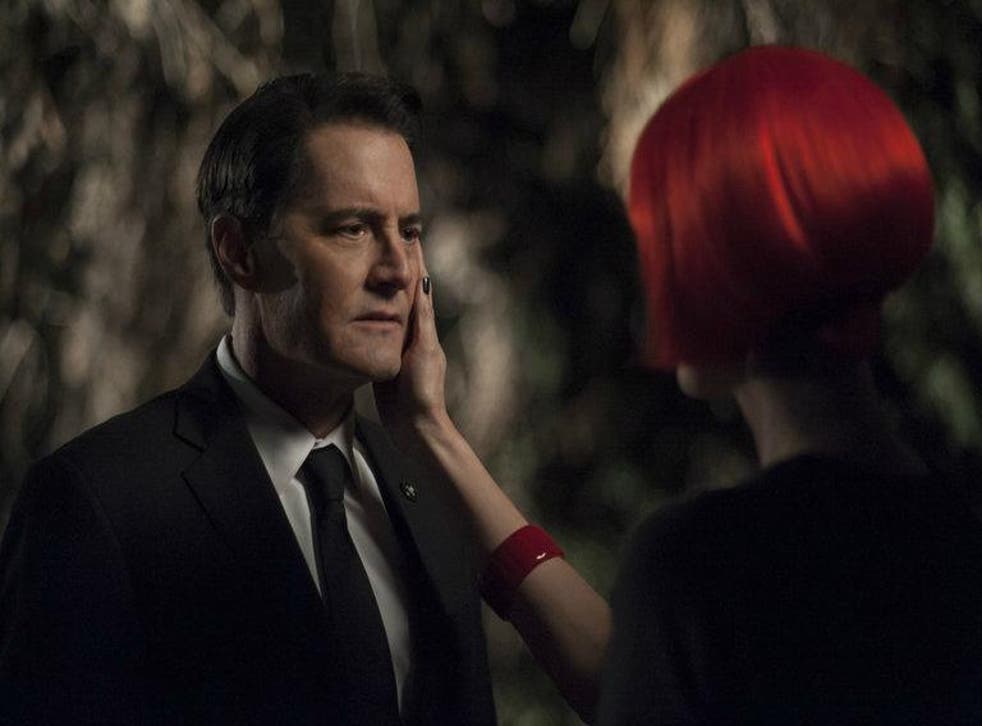 *WARNING: SPOILERS FOR TWIN PEAKS SEASON 3, EPISODE 17 AND 18*
Of course, we should have expected this, but the frustration burns bright all the same.
As much as Twin Peaks' finale was emotionally gratifying in just how moving and heart-wrenching it managed to be, the ending not only left many questions and threads unresolved, it opened up an entirely new avenue of possibilities.
Many fans will be wondering whether David Lynch and Mark Frost have been carving the path for a season 4, but the evidence doesn't point to that being likely; Lynch is also notorious for loving an open ending.
These are likely just questions we'll need to answer ourselves; to delve into our own dream worlds and tease out the various clues and mysteries hidden in plain sight.
And who's to say our version shouldn't be just as satisfying as anything coming straight from the godhead of Lynch and Frost? With that said, here are 7 questions we've been left pondering over after the finale.
Where is Audrey Horne?
In a way, Audrey's story was completed in episode 16. By then, it seemed fairly obvious that the scenes we'd seen her in previously were part of the coma she fell into at the end of season 2, trapped in her own dreams with her strange surrogate husband Charlie.
But her trip to the Roadhouse, and the memories that seemed to surface when the band began to play "Audrey's Dance", saw her snap suddenly back into (presumably) reality: looking into a mirror in a blank white room. But is that all? What happens next? Did she ever have knowledge of her own son?
Who are Richard and Linda?
The Giant described those two names as being key to understanding here, and they finally surfaced in the letter that Cooper came across the next morning after he slept with Diane in the motel, waking up to find her gone. The letter describes how Linda can no longer recognise Richard, which fits Diane's reactions from the night before.
Seeing her own tulpa as the pair pulled into the motel, she then became increasingly agitated as they had sex, clawing at his face as if she could somehow feel out his true identity. Before they'd arrived at the motel, Cooper stopped at the 430 mile mark and warned Diane that "once we cross, it could all be different". Did that mean becoming Richard and Linda? Was that the moment of crossing into an alternate universe?
"What year is this?"
The events with Diane in the motel, and the fact he walks out of a different building to a different car the next day, definitely speak to Cooper having entered an alternate dimension. Perhaps, even an alternate identity. What is confusing, however, are his final words: did he not only shift dimensions, but somehow jump forward or backward in time?
Access unlimited streaming of movies and TV shows with Amazon Prime Video Sign up now for a 30-day free trial
Sign up
Did Cooper save Laura?
Wherever Cooper may have travelled, his attempt to save Laura Palmer's life by intercepting her on the night of her death seems to have tragically backfired. This new dimension contains Laura in a different form, that of Carrie, who has no knowledge or memory of anything connected to Twin Peaks.
Did Cooper find Laura peace by simply removing her from existence? Nothing about this ending seems satisfying, especially when the whisper of "Laura" is suddenly heard, and Carrie starts screaming hysterically as if all of Laura's pain had suddenly entered her.
Who is Judy?
Cole revealed that Briggs' work had discovered the existence of Judy, actually an entity of "extreme negative force". There had been a plan to get to Judy, but then both Briggs and Cooper disappeared. Jeffries was also onto the entity, before disappearing himself.
But beyond that? We don't exactly know who Judy is outside of the suggestion it's a force much greater, and more evil, than BOB. That would seem to point to the entity we saw in Episode 8 seemingly give birth to BOB, and which attacked the couple outside of the glass box in New York.
Though the mysterious box which seemed to help Cooper travel between dimensions, as well as unleashing a murderous entity which could (or could not) be Judy, served its purpose to the story, we never found out much about it. Most importantly, who was funding the project? What were they after?
Is Sarah Palmer possessed?
We certainly have no answers as to why Laura's mother was able to open her face up to let us gaze into an endless void, before ripping out the throat of the man harassing her at the bar. Does it even matter now if Cooper's actions have meant the Palmers ceased to exist?
You can read our review of the finale here.
Follow Independent Culture on Facebook for more news, features and video on TV, Music, Film and Art.
Register for free to continue reading
Registration is a free and easy way to support our truly independent journalism
By registering, you will also enjoy limited access to Premium articles, exclusive newsletters, commenting, and virtual events with our leading journalists
Already have an account? sign in
Register for free to continue reading
Registration is a free and easy way to support our truly independent journalism
By registering, you will also enjoy limited access to Premium articles, exclusive newsletters, commenting, and virtual events with our leading journalists
Already have an account? sign in
Join our new commenting forum
Join thought-provoking conversations, follow other Independent readers and see their replies