Violinist 'not sorry' for egging Simon Cowell on Britain's Got Talent final
Anthony Barnes
Tuesday 11 June 2013 09:01 Comments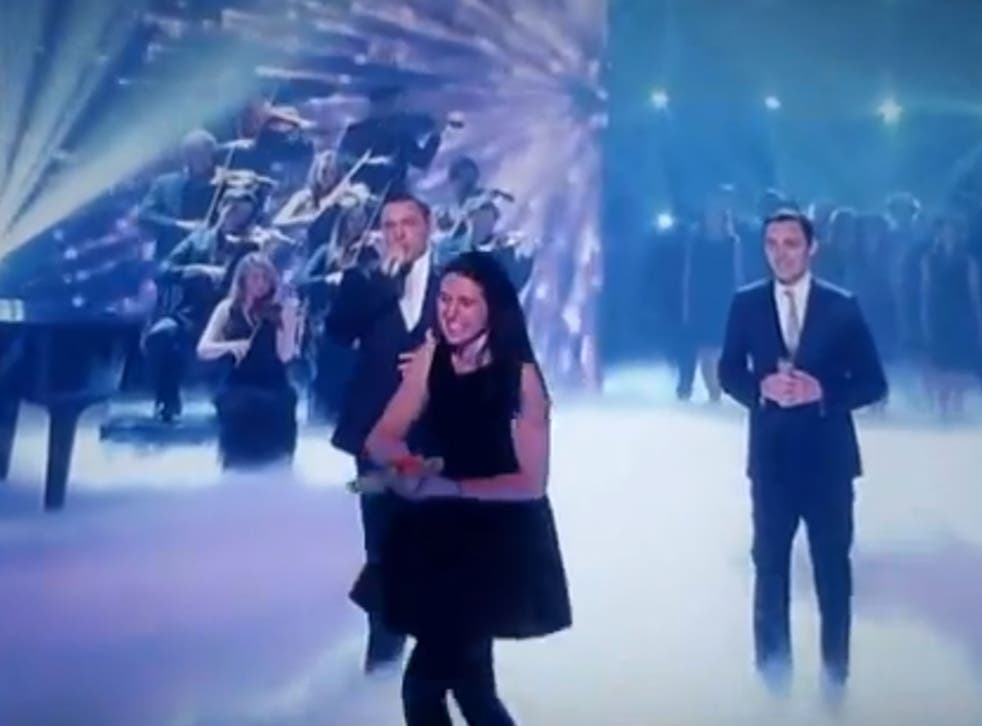 The musician who pelted Simon Cowell with eggs on live TV has offered to pay his cleaning bill but said she was not sorry for attacking him.
Violinist Natalie Holt had been in the backing group during a performance on the Britain's Got Talent final on Saturday night when she launched her onslaught as a protest about his influence on the music industry.
In an opinion piece for The Guardian's website, she revealed she had hidden her weapons by tucking them into her tights and had hoped to make him "look a bit silly".
She wrote: "As an act of goodwill, I would also be happy to offer to pay his dry cleaning bill or buy him a new shirt, maybe with a few more buttons at the top."
Holt said she was grateful the show boss was not pressing charges but added she had been warned her actions might have "more serious consequences" for her.
She said she had already had some future work cancelled as a result and was being portrayed as someone who was "unhinged".
"I'm not. I did what I did out of meaningful consideration; I did it because I care, not because I do not," Holt added.
She reiterated her apology to singing brothers Richard and Adam, whose performance she disrupted, and said she had planned to wait until the end but went early due to nerves.
Holt said: "I sincerely apologise for overshadowing their moment and to anyone watching and in the live audience who felt that their evening's entertainment was marred, or even ruined. However, I am not sorry for pelting Simon Cowell with eggs."
Access unlimited streaming of movies and TV shows with Amazon Prime Video Sign up now for a 30-day free trial
Sign up
She pointed out she launched her "non-violent, egg-based protest because I think Cowell has too much power and influence in the entertainment industry".
"I also just wanted to make him look a bit silly. I hoped it would come across as a British panto-style jape, which might also generate some more serious debate," she added.
"Reality TV talent shows are not the way to discover the next Beatles, or to nurture talented musicians and entertainers. The people who seem to benefit most from talent shows are the judges."
Holt said she had received messages of support from notable musicians but they were not willing to go public because people were scared to stand up "to people like Cowell".
Writing in the Guardian's Comment Is Free section, she explained: "Given that I had been asked to mime on stage, it was not difficult for me to put down my violin and pull the organic eggs out of my tights, and take a direct shot at Cowell."
The series was won by Hungarian shadow dancing troupe Attraction.
PA
Register for free to continue reading
Registration is a free and easy way to support our truly independent journalism
By registering, you will also enjoy limited access to Premium articles, exclusive newsletters, commenting, and virtual events with our leading journalists
Already have an account? sign in
Join our new commenting forum
Join thought-provoking conversations, follow other Independent readers and see their replies