Doctor Strange theme played over WandaVision's final scene
WandaVision viewers highlight intriguing Doctor Strange detail in final episode
It's convinced fans that Wanda is the most powerful Marvel character
Marvel fans are highlighting an intriguing detail about the final scene of WandaVision.
The ninth and final episode of Disney Plus's hit series was broadcast on Friday (5 March), and ended with a scene that directly set up the next Marvel Cinematic Universe (MCU) project Elizabeth Olsen will star in, Doctor Strange in the Multiverse of Madness.
Olsen, who plays Wanda Maximoff AKA the Scarlet Witch, will join Benedict Cumberbatch in the 2022 sequel, with the WandaVision finale setting up her role.
*Spoilers follow – you have been warned*
It was the post-credits scene that set up Doctor Strange 2. In it, Wanda is shown to be lying low in a mountainous hideout after shutting down Westview, and saying emotional farewells to Vision (Paul Bettany) and her two children, Tommy and Billy.
READ MORE: What is The Darkhold? WandaVision sets up terrifying MCU chapter for the Scarlet Witch
However, instead of sitting on the doorstep and drinking coffee, as she is shown to be doing when we first see her, she is actually soaking up knowledge of The Darkhold via astral projection, much in the same way Doctor Strange does in his 2016 standalone film.
While the Doctor Strange parallels are there, many Marvel fans are pointing out a few differences to each character's respective astral projection scenes.
Doctor Strange is only able to soak up information from small books at a time – and while he's asleep. However, Wanda is able to read from one of the most powerful books featured in the world of Marvel – and while she's awake and performing other activities.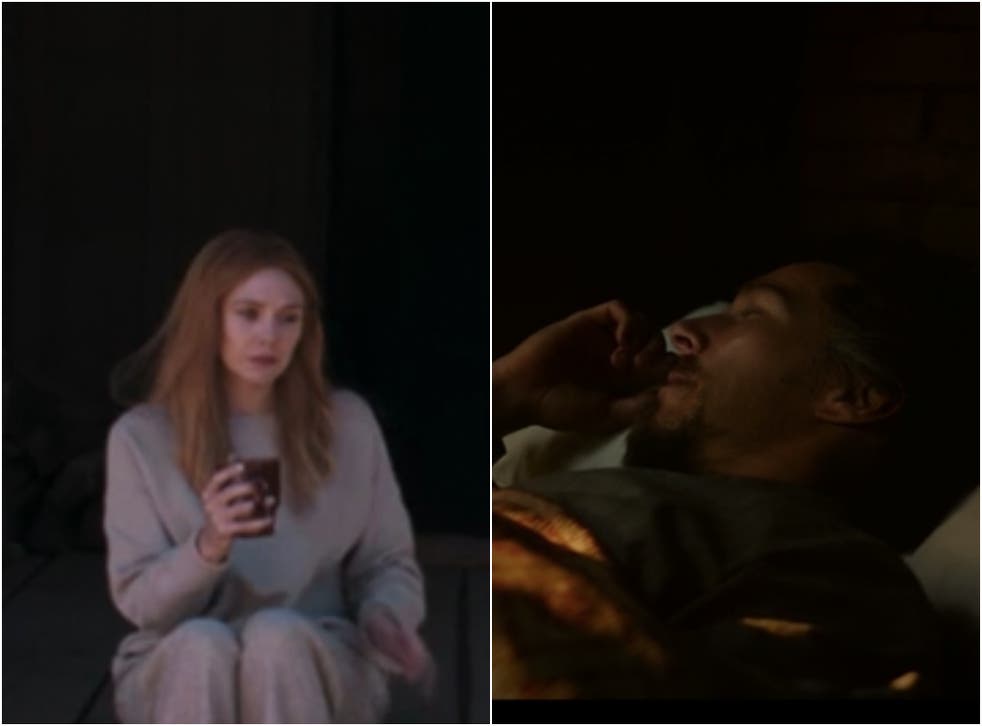 Combine this with the fact that ancient sorceress Agatha Harkness (Kathryn Hahn) tells Wanda she's "more powerful than the sorcerer supreme", it seems as if Wanda's abilities will exceed that of Doctor Strange's in the sequel.
"So Wanda can project her astral form while being up and making coffee while the sorcerer supreme himself can only do it while he's unconscious??" one viewer asked.
Another added that "the fact that Wanda's body is AWAKE AND MOVING around while she's astral projecting" is a huge development, adding: "Even when Doctor Strange was training his physical body had to be asleep/unconscious, Wanda's already learning and progressing so damn fast."
Find some more reactions to the detail below.
While Cumberbatch never showed up in the WandaVision finale – something that left some fans feeling disappointed – others highlighted that the character's presence was felt thanks to the inclusion of a "sinister" Easter egg in the closing moments.
We may earn commission from some of the links in this article, but we never allow this to influence our content.
WandaVision is available to stream on Disney Plus. Doctor Strange in the Multiverse of Madness will be released in cinemas on 25 March 2022.
Join our new commenting forum
Join thought-provoking conversations, follow other Independent readers and see their replies