The Independent's journalism is supported by our readers. When you purchase through links on our site, we may earn commission.
Westworld season 2 episode 2: How did the secret Giancarlo Esposito cameo come about?
*Spoilers for Westworld season 2 episode 2 follow*
Jacob Stolworthy
Monday 30 April 2018 08:34 Comments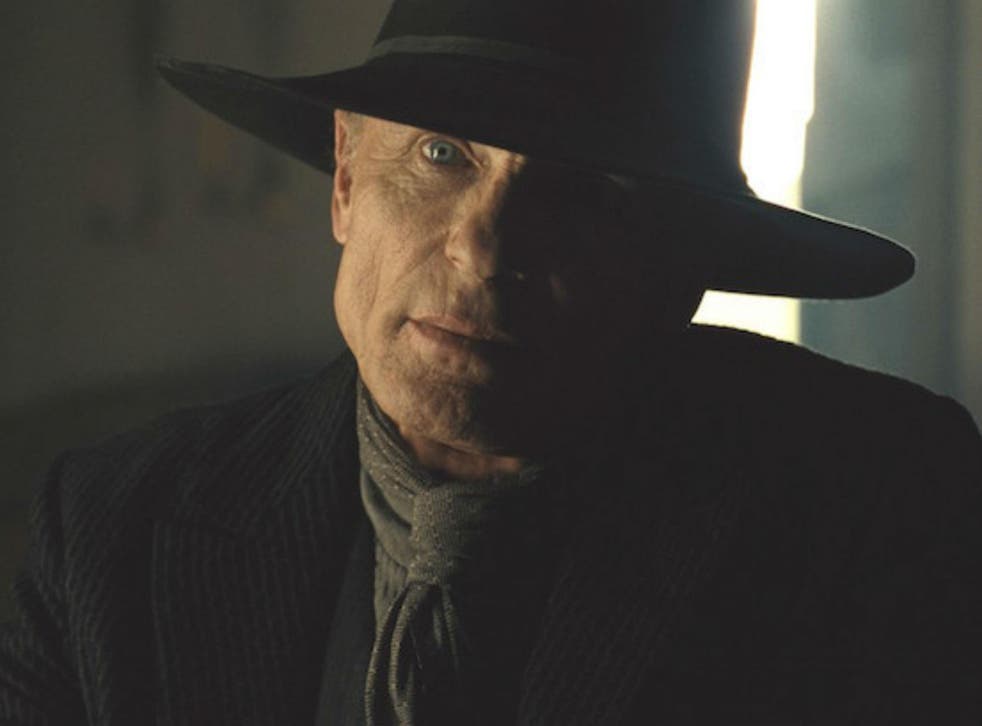 The second episode of Westworld season 2 revealed several surprises, the chief of all arriving in the form of a cameo from a star of one of TV's biggest shows.
A particular scene in this latest outing, titled 'Reunion,' saw the Man in Black (Ed Harris) reunite with El Lazo alongside the host who once took his form (Clifton Collins, Jr.'s Lawrence). Viewers were quick to notice that the actor playing this current incarnation of El Lazo was none other than Giancarlo Esposito, the man behind Breaking Bad villain Gustavo Fring.
Esposito's cameo had been kept secret from fans. While his appearance was short-lived (he commits suicide after a lengthy speech in which he denies William the assistance he requires for the game Ford has set him on), it seems as if the actor could return in future seasons - something Esposito is down for.
When asked by The Hollywood Reporter, he said: "I have my senses that it's a possibility this character has great potential and I'll be back. We hope! But we don't know. We'll see what our creators think and what HBO thinks, but I certainly would love the opportunity."
Esposito was approached by showrunners Lisa Joy and Jonathan Nolan to appear in the episode.
"I got a call [from them] asking me if I liked the show. I said that I loved the concept, I loved the original movie, and then I got a call of support from my people over at Better Call Saul. They told me: 'They're such great writers. They have envisioned something very different, and they can't get you out of their heads for it. We wanted to give you our support if you like them after you talk with them.'
"So I got on the phone with Lisa Joy and her lovely husband [Jonathan Nolan], and I liked the way it sounded. And then I did it! I love Ed Harris, so sharing the screen with him is always such a treat. He's a guy who really plays."
He also revealed the extent to which he had to keep his appearance a secret even from his fellow cast members, including Evan Rachel Wood who plays Dolores.
"I was at a party for the Emmys and some of the other actors from the show were there who I had not seen on the days that I was shooting," he told The Wrap. "They said, 'Oh, you were on our show!' And I went, 'Nooo, not me.' And I said, 'But it's nice to meet you.' 'No, you were on our show. No, we were doing a scene at the other location and we were waiting for Sir Anthony Hopkins to come out of your trailer because he's such a big fan and he wanted to see you.' And I said, 'Nooo, I don't think so. I think you must be mistaken' - and they bought it."
Breaking Bad fans were quite obviously extremely hyped by his appearance.

This week' episode also saw the addition of Peter Mullan as Peter Delos, the businessman with whom William (Jimmi Simpson) built an empire that looks set to have severe repercussions following the Dolores-led host rebellion.
Westworld season 2 debuts on HBO in the US and through Sky Atlantic and NOWTV in the UK.
Follow Independent Culture on Facebook
Register for free to continue reading
Registration is a free and easy way to support our truly independent journalism
By registering, you will also enjoy limited access to Premium articles, exclusive newsletters, commenting, and virtual events with our leading journalists
Already have an account? sign in
Join our new commenting forum
Join thought-provoking conversations, follow other Independent readers and see their replies