Westworld season 1 episode 7: Showrunners on last night's huge, 'devastating' twist
A popular fan theory was confirmed in brutal fashion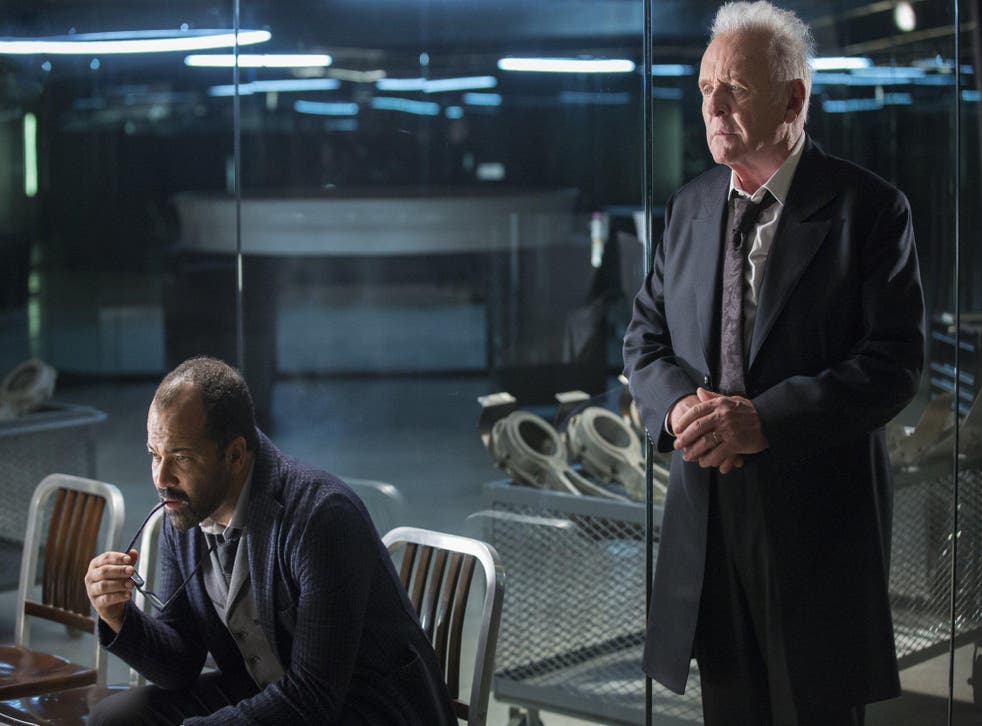 Westworld saw the first instance of a host killing a human last night, and it was much more plot-sensitive than just a malfunctioning robot in the park.
*MAJOR SPOILERS AHEAD*
Confirming the popular fan theory, the episode revealed at its denouement that Bernard Lowe is, in fact, a robot.
'Trompe L'Oeil' saw Bernard and Theresa Cullen search Robert Ford's secret cottage where he builds his own off-the-grid hosts, and here they discover Bernard's true origin and learn that all of his thoughts, feelings and memories are commands - even his grief over the death of his young son.
Furthering the shock twist, Bernard, at the command of Ford, murders Theresa to prevent her sharing the damaging discovery.
Bernard being a host was apparently "always the intention with [the] character". It begs the question: Why does Ford spend so much time talking to Bernard as if he were another human?
"I think we've established that the key to the hosts, part of the key of them remaining in character is that they're not confronted with the existential crisis of the fact that they are not who they think they are," co-showrunner Jonathan Nolan told Variety.
"I think that Ford, Tony Hopkins' character in the show, is a cypher. We've written him, Tony's played him beautifully in that direction throughout. We don't know what's motivating him. We don't know what his ultimate goal is. We do know that as he's spent more and more time in the park and become more and more withdrawn, he's become more and more self-selecting with his company.
"And he's also apparently built himself a right-hand man. None of that works if he doesn't treat Bernard with a measure of humanity."
Nolan's fellow show runner described the reveal is "devastating" and "terrible" for Bernard, and it gave actor Jeffrey Wright pause when he discovered the true nature of his character.
"He did have his own theories," she told The Hollywood Reporter. "I remember he was sitting on the couch, and he kind of took a moment: 'Oh… oh!' And he kind of sat back: 'Oh, I'm going to need think about that and process it all.'"
Westworld - Michael Crichton's 1973 original

Show all 10
The reveal will drive fans to rewatch earlier episodes.
"When you go back and look at the pilot, it's told almost exclusively from the perspective of the hosts," Nolan noted. "You imagine with Bernard that you're getting the [human perspective], but that pilot is really about hosts. Almost all of the major characters, most of the moments are glimpsed from their perspective."
Though Ford managed to cover up his secret by having Bernard kill in the episode, he faces a problem in the park itself, where prostitute Clementine killed another host as part of a conspiracy hatched by Delos' corporate overlords.
Register for free to continue reading
Registration is a free and easy way to support our truly independent journalism
By registering, you will also enjoy limited access to Premium articles, exclusive newsletters, commenting, and virtual events with our leading journalists
Already have an account? sign in
Register for free to continue reading
Registration is a free and easy way to support our truly independent journalism
By registering, you will also enjoy limited access to Premium articles, exclusive newsletters, commenting, and virtual events with our leading journalists
Already have an account? sign in
Join our new commenting forum
Join thought-provoking conversations, follow other Independent readers and see their replies