The Independent's journalism is supported by our readers. When you purchase through links on our site, we may earn commission.
Westworld season 2: the B = T theory explained
Could theorists have already cracked the season's big twist?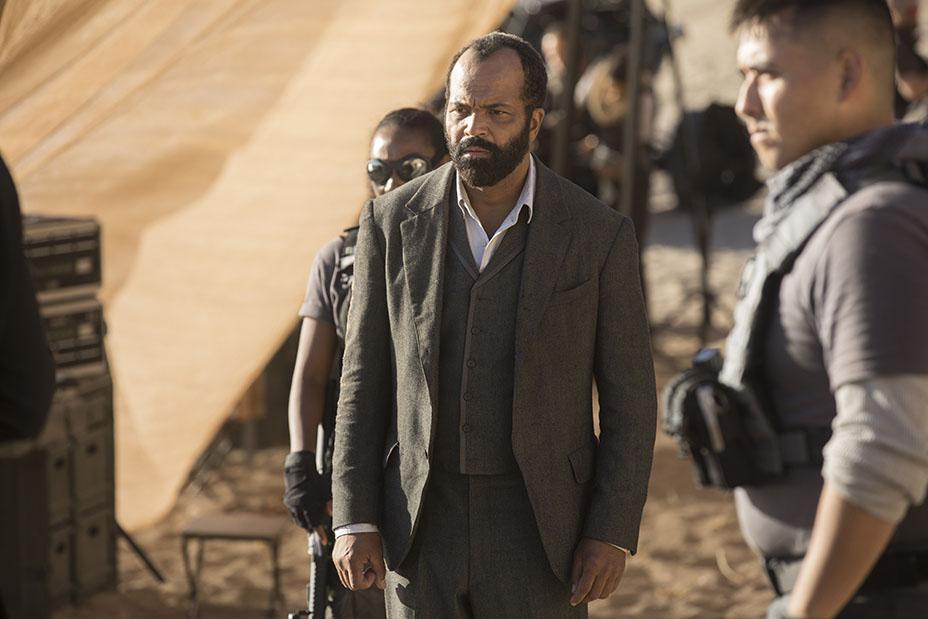 Season two of Westworld has only just begun to unravel, just two episodes having aired, but already people are attempting to guess future twists and turns.
**Spoilers for Westworld up until season two, episode one ahead**
One theory that has gained traction over the past week Bernard = Teddy (or B = T), something that sounds utterly rubbish but actually makes a fair amount of sense (sense in the context of weird Westworld theories, at least).
We start with the ninth episode of season one, where Bernard shot himself in the head by order of Robert (the great Anthony Hopkins). From that point on, the host Bernard has consistently had a scar on his right temple.
However, when Bernard wakes up on the beach in episode one of season two, there's no longer a scar there – despite Bernard having that same scar during the flashbacks with Charlotte (Tessa Thompson).
What does that mean? Well, Westworld has a habit of making these tiny details mean a great deal, and fans are pretty sure that past Bernard and beach Bernard are very different. One theory suggests there are multiple host Bernards, backed up by a spoilery screenshot from one of the season two trailers.
There are also other details that seemingly back up this theory, such as Bernard seeming particularly lost when waking up on the beach. Plus, Bernard remains the one host every human thinks is human – an invaluable asset in their war against humanity and something Dolores would want to use.
While some people have thought that perhaps Dolores somehow transferred herself into Barnard's body, the prevailing idea follows that Teddy may actually be in the body of beach Bernard.
Westworld - Michael Crichton's 1973 original
Show all 10
What evidence is there? One Reddit user begins by pointing out that both beach Bernard (see top image) and Teddy (here) are wearing similar clothes of a similar colour. They also point out how Bernard says "I killed them, all of them" – a sentence that's eerily similar to Teddy's season one story arch, where he helped Wyatt/Dolores murder an entire town.
During that moment, not only are we looking at a flood (Teddy's last name is literally Flood), but Teddy's body floats there. Bernard's not upset but shocked, a reaction one may have starring at your own dead body.
Access unlimited streaming of movies and TV shows with Amazon Prime Video
Sign up now for a 30-day free trial
Sign up
Access unlimited streaming of movies and TV shows with Amazon Prime Video
Sign up now for a 30-day free trial
Sign up
Step slightly further back to the beginning to the episode, when one guard asks "Who is he?" when pointing to Bernard, to which another answers "Who the f**k knows." That seems like a pretty direct reference to something strange being up.
Now, perhaps the biggest piece of evidence comes not from the opening episode, but the rick-rolling trailer that was released earlier this year. Turn back now to avoid further potential spoilers!
How seriously you can take the primer remains questionable, but the clip opens with the questions we have all been asking: how come beach Bernard cannot seemingly remember what happened?
We then flash into Bernard on the train, entering Westworld on a train in a very similar manner to how Teddy entered the park during the first season. Bernard/Teddy then gets off the train, which again looks eerily similar to how Teddy did so.
Another piece of evidence from the trailer: Dolores looks very intimate with Bernard during one snapshot, which seems to make no sense... unless that's Teddy underneath the exterior. Hopefully, we'll find out whether this theory is true soon enough.
Westworld is showing on Sky Atlantic and NOW TV.
Join our commenting forum
Join thought-provoking conversations, follow other Independent readers and see their replies