With the UK film industry booming, the BBC's blockbuster Dickensian has nowhere to film
Exclusive: Epic production might be forced to eastern Europe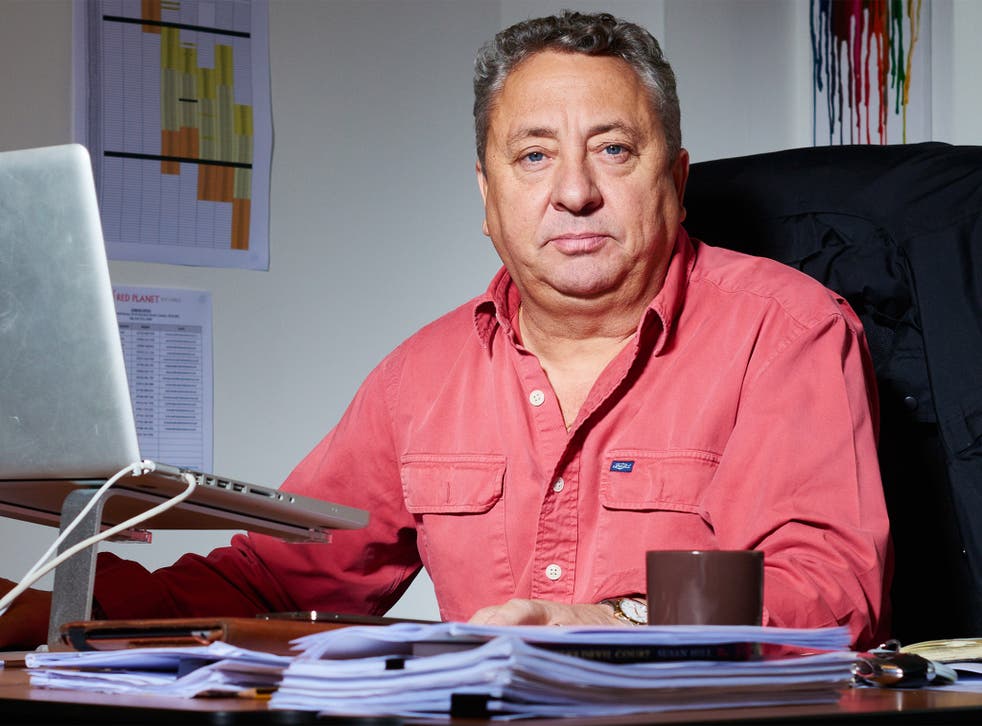 Production plans for the epic series Dickensian - one of the most ambitious drama projects ever commissioned by the BBC - are in disarray because nowhere can be found in the UK to make it.
Tony Jordan, the award-winning writer behind the 20-part series, told The Independent he would be reluctant to make the London-based drama in eastern Europe, but a nine-month search for a British studio had proved fruitless.
Jordan wants to recreate a life-size portion of 19th century London featuring around 20 buildings described in Dickens novels, including the Old Curiosity Shop and Fagin's lair from Oliver Twist.
"Early next year we need to be building this and at the moment we have got nowhere to build it," said Jordan, creator of the hit dramas Life On Mars, Hustle and current BBC series The Passing Bells. "I'm not sure if I would want Dickensian to be in Bulgaria or in Romania; it just doesn't feel quite right. It should be in the UK."
The scale of Jordan's ambition is also the root of his problem. The proposed set is so big that he requires a space of 50,000 sq ft and 10m in height. It would require a crew of around 100 to build.
The Independent has seen the model of the set, with its ramshackle buildings, narrow alleys and precarious overhead walkways. A central Market Street is home to The Three Cripples pub from Oliver Twist, the Scrooge & Marley counting house from A Christmas Carol, Mr Venus's taxidermy from Our Mutual Friend, and a legal practice, Tulkinghorn and Jaggers, combining the lawyers from Bleak House and Great Expectations.
"Dickensian is such an ambitious project – we are trying to build a part of Dickens's Victorian London inside a warehouse," said the writer.
"Dickens used weather almost as a character in itself - there is always snow and mist and fog. He used it to set the scene and that's difficult to achieve on location so the vision for the show is to build that world inside. Then we can shoot night-time whenever we want and have control over the elements. It's the creative vision which is dictating the search for this very specific place which has proved impossible."
Jordan needs to deliver Dickensian, commissioned by Danny Cohen, now the BBC's director of television, sometime next year. He has already written the storylines for 20 half-hour episodes and says the concept of blending the characters from the various novels offers such a wealth of material that the show could potentially run for many years.
Access unlimited streaming of movies and TV shows with Amazon Prime Video Sign up now for a 30-day free trial
Sign up
"I'm taking Charles Dickens' characters and world and places you have read about, and doing what I think the youngsters call mashing it up. I'm running fast and loose with it. There will be some of my stories and some of Dickens's, there will be prequels and sequels and some will have different endings to the novels."
If Dickensian were to become established, the vast set could become a visitor attraction, similar to Coronation Street or the Harry Potter tour at Warner Bros studios in Hertfordshire.
But in the post-recession property market, hiring industrial buildings of such grand scale for a lease of around 18 months has not been possible. Alex Jones, head of production and business at Jordan's production company Red Planet Pictures, scoured potential sites as far afield as Cardiff and Liverpool.
"During the recession there were no industrial buildings being built and as we came out of recession everyone was dying for that space," he said. Property developers can find takers for five- or 10-year leases on such sites.
The largest UK film studio spaces are fully booked as the industry enjoys a boom period - and foreign investment boosted by tax credits.
Jordan does not blame the glut of foreign-backed film and television projects in the UK for his situation. "Our requirements are so specific I don't think it's one of those scare stories of everybody is coming here and nicking all our space. Dickensian is a beast all of its own," he said.
"I don't know now if such a space even exists – I'm hoping that someone is going to pick up the phone tomorrow and say 'I have a 70,000 sq ft warehouse with a 10m ceiling and nothing is happening in there for two years!'"
At the moment, Red Planet is considering breaking the set into three locations, although Jordan says this would "take away the sense of scale, the sense of wonder, all the things Dickens gives you".
Britain's creative boom
It has been an extraordinary year for British-made feature films and television drama as crews have flocked to take advantage of generous tax credits.
Kiefer Sutherland and the cast of 24 shot the new series in London, while the American network Starz made its fantasy dramas Outlander in Scotland, and Da Vinci's Demons in Wales. Hit HBO series Game of Thrones was shot in Northern Ireland. Home-made high-end productions have included The London Spy by Working Title for BBC2, and Sky's Fortitude, starring Michael Gambon, which was set in Iceland but mostly made in a warehouse in London.
After the doldrums of the 90s, the big studios have been full to capacity with high levels of bookings from international filmmakers. Warner Bros is expanding its Leavesden studios, where JK Rowling's Fantastic Beasts and Where to Find Them will be made. Elstree, where Suffragettes, starring Carey Mulligan, was filmed this summer, has been full to capacity this year. Pinewood is building new studios in Wales to complement those at Shepperton.
The boom, which largely stems from the introduction of UK film tax relief in 2007, has helped underscore Britain's reputation as a centre for production skills and special effects.
Register for free to continue reading
Registration is a free and easy way to support our truly independent journalism
By registering, you will also enjoy limited access to Premium articles, exclusive newsletters, commenting, and virtual events with our leading journalists
Already have an account? sign in
Register for free to continue reading
Registration is a free and easy way to support our truly independent journalism
By registering, you will also enjoy limited access to Premium articles, exclusive newsletters, commenting, and virtual events with our leading journalists
Already have an account? sign in
Join our new commenting forum
Join thought-provoking conversations, follow other Independent readers and see their replies