The Simpsons: Yoko Ono's latest art exhibition features an amazing reference to famous barbershop quartet episode
'I would like a single plum floating in perfume served in a man's hat'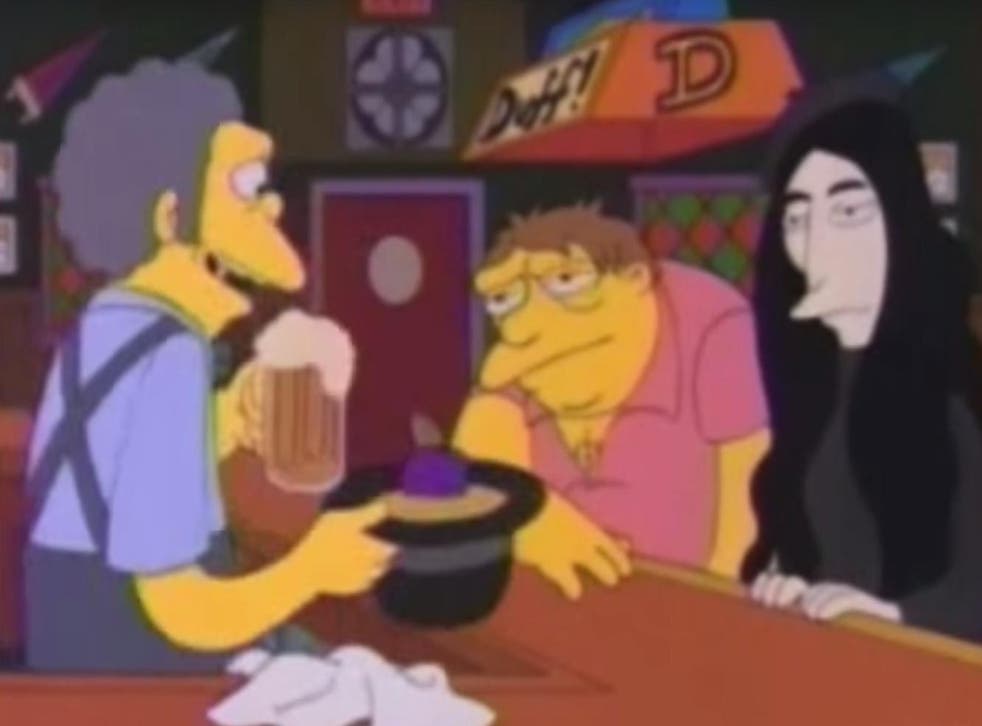 Despite Paul McCartney telling the world Yoko Ono "certainly didn't break the group up, the group was breaking up," the conceptual artist will likely forever be associated with the Beatles' demise.
The Simpsons infamous made a joke about the band's breakup in the classic episode "Homer's Barbershop Quartet," in which Homer, Barney, Apu, and Principal Skinner form their own band, The Be Sharps.
The group immediately rise to fame, naming their second record Bigger Than Jesus - a controversial phrase once uttered by John Lennon in an interview with London's Evening Standard.
Another joke playing off the Beatles came later on when Barney starts dating a Japanese conceptual artist who looks a lot like Ono.
After the group split, Barney enters Moe's Tavern to order a beer: his girlfriend order "a single plum floating in perfume served in a man's hat."
Twenty-three years on, and Yoko Ono has referenced the joke in her latest exhibition Yoko Ono: One More Story at the Reykjavik Art Museum. On one plinth, stands a single plumb, floating in perfume, held within a man's hat.
According to the exhibition's description, One More Story "aims to reveal the basic elements that define Yoko Ono's extensive and diverse artistic career – a voyage through the notion of art itself, with a strong social and political engagement."
Best moments from The Simpsons

Show all 10
Recently, The Simpsons became the second TV ever to pass 600 episodes with the release of "Treehouse of Horror XXVII".
Register for free to continue reading
Registration is a free and easy way to support our truly independent journalism
By registering, you will also enjoy limited access to Premium articles, exclusive newsletters, commenting, and virtual events with our leading journalists
Already have an account? sign in
Register for free to continue reading
Registration is a free and easy way to support our truly independent journalism
By registering, you will also enjoy limited access to Premium articles, exclusive newsletters, commenting, and virtual events with our leading journalists
Already have an account? sign in
Join our new commenting forum
Join thought-provoking conversations, follow other Independent readers and see their replies