Poldark series 3 episode 2 review: The swashbuckling and feuding was still good fun despite not-so-subtle script
As Ross hankered for action across the Channel and the Poldark-Warleggan feud intensified, things got a bit silly in the south west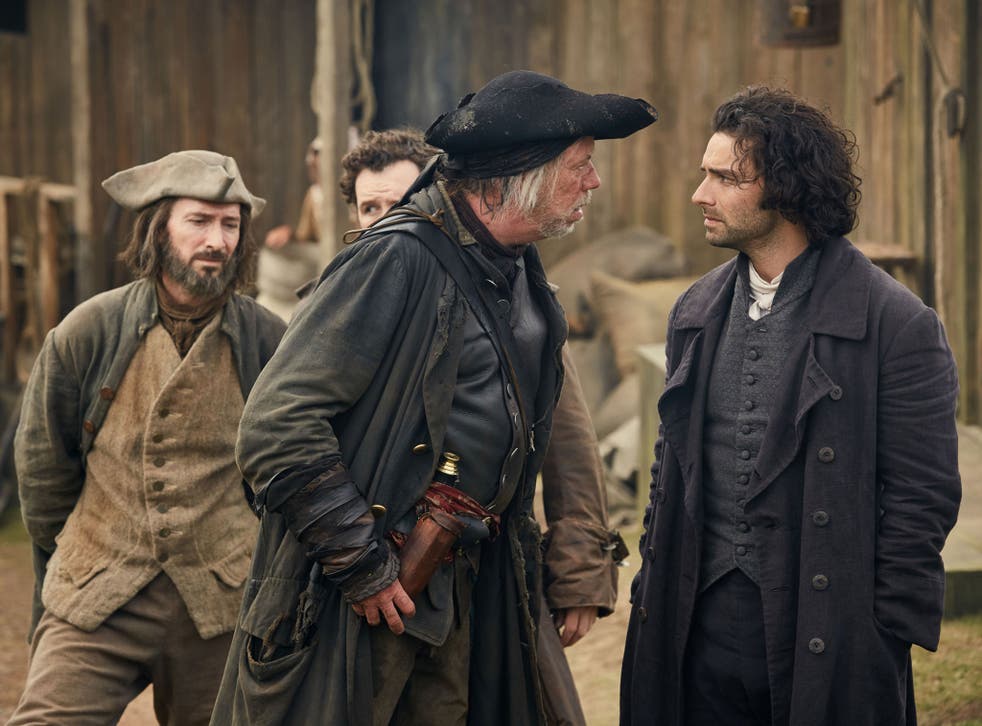 If anyone had needed a clue that Capt'n Ross (Aidan Turner) might just dust off his military uniform and head across the Channel to fight the French, then him declaring to Demelza (Eleanor Tomlinson) that his days courting trouble were over was surely a red flag? "I'm a respectable country squire now," he proclaimed to his wife at the beginning of this second instalment, all reformed and topless in the candlelight. But the waves crashing into Nampara Cove showed us otherwise. Stormy seas equal trouble ahead in Poldark country, people. Even the most dim-witted of viewers should clock that, as subtle this show isn't. While this episode was an enjoyable watch, it was a reminder that a fine cast and a picturesque backdrop can't always rescue a clunky script from a watery grave.
Verity (Ruby Bentall) and Caroline (Gabriella Wilde) were at Trenwith for little Valentine Warleggan's christening when George (Jack Farthing) broke the news that some of the British ships were missing, potentially taking unlucky Dwight Enys and Captain Blamey down with them. Ross was soon tapping up his dodgy contacts to try and glean intel from France. Those late night telegrams galloped across the cliffs are basically the equivalent of a drug dealer's burner phone. Tholly Tregirls played by Sean Gilder joined the fact-finding fray. He was a friend of Ross's father and apparently a womaniser. I'm not sure what sort of ladies would be wooed by a drunken man-pirate with a hook for a hand – he seemed to only speak in aaaaaaarghs this episode – but each to their own.
Away from the sea, Valentine's paternity continued to be the elephant in the room at the already tense family gatherings. "He's darker than his father, he must favour his mother," said Verity at one point. I look forward to seeing the child sporting some little brown ringlets and brandishing a mini scythe next series.
Elsewhere on the Poldark-no-Warleggan estate, Demelza's devout brothers caused a stir at church. They led the congregation in song before George, Elizabeth and co had made it to their pew. Sam, who definitely does not look like the proselytisers who hang around my local Tube station, was like a younger, hotter Cliff Richard at Wimbledon helping the crowd wait out the delay to play. Swap "Singing in the Rain" – God, its nearly that time of year again – with a Methodist hymn and you get the picture. George and the vicar, Reverend Odgers, played by Jason Squibb, vowed to put a stop to the brothers' antics. As if the Nampara lot needed any more beef with the Warleggans.
Poldark in pictures

Show all 37
Talking of beef, George will also not be pleased when he finds out Drake has been courting Geoffrey Charles's governess Morwenna (Elise Chapelle), while seemingly employing little GC as a junior wingman. The scenes where Drake led Morwenna and GC into a mystical cave and got them to make a wish, before presenting Morwenna with a bracelet were a low point for me. And try as producers might, they won't persuade me that drippy Drake has half of Ross's brooding appeal. They had the younger man getting in on some shirt-off action this week, much to Prudie's excitement. While I'm all for a bit of romance and humour, this level of schmaltz and caricature leaves an episode on rocky ground.
And like the writers of its even sillier, older Sunday night cousin, Downton Abbey, Poldark's team will insist on giving us a history revision session each episode. What's going in France then, chaps? Well that will be "bloodshed, riot, murder and mayhem". Or: "This is not democracy and where it stalks, no one is safe." I know it was the eighteenth century, but these lines sounded more like someone reading the autocue for a News at 10 package than what real people would actually say.
Predictably, our hero, always a sucker for perilous situations, was soon getting Tholly (aaaaaargh) to launch the rowing boat. We saw clips of next week's episode and looks like the Ross gets up to some serious swashbuckling. Expect big waves crashing against them there rocks and probably some of that bloodshed a-happening.
Register for free to continue reading
Registration is a free and easy way to support our truly independent journalism
By registering, you will also enjoy limited access to Premium articles, exclusive newsletters, commenting, and virtual events with our leading journalists
Already have an account? sign in
Register for free to continue reading
Registration is a free and easy way to support our truly independent journalism
By registering, you will also enjoy limited access to Premium articles, exclusive newsletters, commenting, and virtual events with our leading journalists
Already have an account? sign in
Join our new commenting forum
Join thought-provoking conversations, follow other Independent readers and see their replies