Poldark series 3 episode 7 recap: Dazzling Demelza and a death in the family interrupted the Ross show
With only two episodes to go, the Poldark-Warleggan power struggle saw victims and unlikely pairings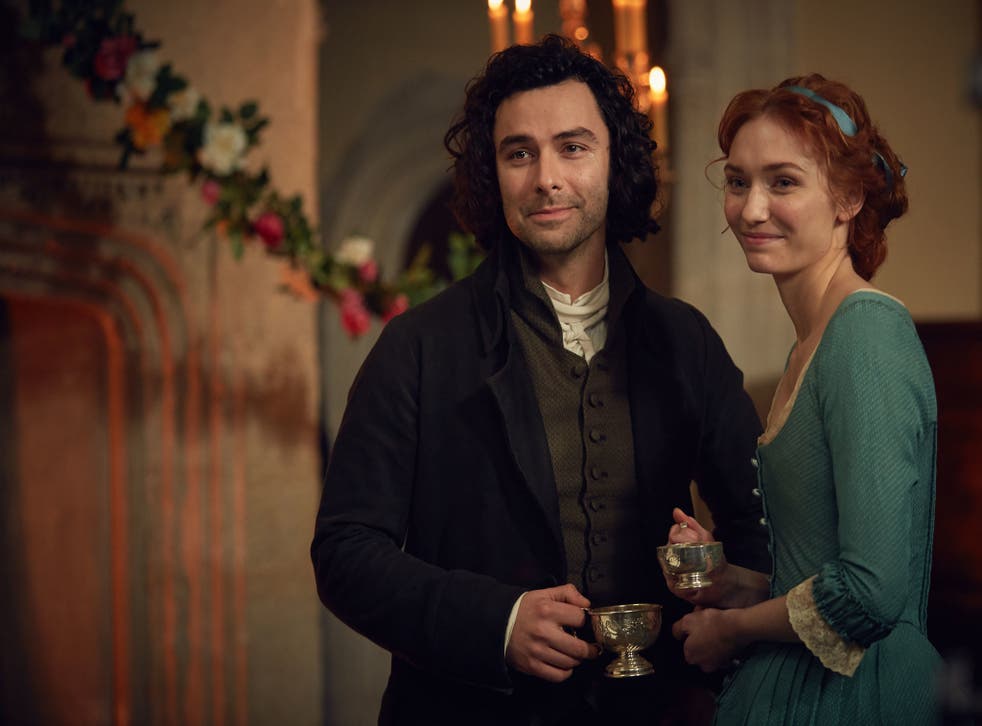 Time moves quickly down in the south west, apparently. The action in this seventh episode jumped forward several months. Conveniently, that meant Morwenna (Ellise Chappell) was now up the duff with odious toe-sucker Reverend Ossie Whitworth's baby, Dwight Enys (Luke Norris) appeared to have got over his PTSD unconvincingly fast, Aunt Agatha's one hundredth birthday jamboree was looming and drippy Drake (Harry Richardson) had learned to put his shirt on while mooning about on the beach looking out into the middle distance. Okay, so that last one was a lie, producers have still kept him gratuitously topless at every opportunity, but there was a lot going on in this episode and it was the best of the series so far – plus it also taught us a few valuable life lessons.
Lesson one: concerned about being upstaged at your own wedding? Then strike Capt'n Ross Poldark off the guest list. He managed to steal Caroline Penvenen's limelight on her big day, despite her fashioning an elaborate hair do out of six labradoodles for the occasion. New(ish) hubby Doctor Enys thanked his bride, played by Gabriella Wilde, but it was Aidan Turner's brooding maverick who got the final and most enthusiastic toast. If that wasn't bad enough, Lord Falmouth (James Wilby) then joined the party to raise another glass to thank the "Hero of Quimper" for rescuing his nephew Hugh Armitage (Josh Whitehouse) from the French. Ross did at least have the decency to look embarrassed by it all.
Eleanor Tomlinson on new series of Poldark
Lesson two: if everything is going well in your marriage, don't shout about it. When Ross and Demelza (Eleanor Tomlinson) declare themselves content – you know the scene; her lying with her head on his chest, him looking all manly with a glint in his eye that suggests he'd rather be somewhere in mortal peril rather than safe in bed at Nampara – things are about to go tits up. In this case it wasn't his derring-do that was the problem, more a love rival in the shape of Lieutenant Hugh Armitage (Josh Whitehouse).
That brings me onto my next nugget: never leave your wife alone with a Burberry model. Armitage started sketching Demelza at the table – rude! – then while Ross was talking politics with the local big beasts, he didn't notice that his wife was being sleazed on by an angelic-looking aristo with a penchant for love poetry and sub-par doodles. His sketch wasn't up to much, neither were his chat-up lines. "I'm no Leonardo, but you're surely Mona Lisa?" The poor girl had no idea what he was talking about but I'm glad Google didn't exist in the eighteenth century because I think she would have been somewhat disappointed when she looked up Da Vinci's subject.
Know where you're not wanted, that's my next pearl of wisdom. George (Jack Farthing) was intent on crashing Sir Francis Basset's bowling party, but like an angry lion cast out from the watering hole, he was left prowling the parameters at Tehidy, pawing at the door to catch a glimpse of the action. He lost it when he heard that arch-enemy Ross was a contender to be a parliamentary candidate and then went home to snarl and snap at poor old Aunt Agatha.
Poldark in pictures

Show all 37
It was a sad episode in that we lost Caroline Blakiston as Ross's great aunt Agatha. She delivered some of the show's best lines and brought welcome comedy, not least this instalment. "Mind that pin, I don't wish to be bled like a stuck pig," she said as her maid altered her frock for her ill-fated bash. My next piece of advice is somewhat obvious then: don't forget your own birthday. Nasty George discovered Agatha was not turning 100 as thought, but was actually approaching 98. He cancelled her party and in doing so, any zest for life she had left. With her dying breath, she dropped the clanger that poor little Valentine might not be his after all. RIP, Agatha, but at least you wiped the smug smile from "Georgie's" lips and threw an even bigger spanner in the already very messy works that is Ross and Demelza's marriage.
Elsewhere, it became apparent that If you are going to marry a reverend, you should know your bible quotations – if only to defend yourself from unwanted advances. Morwenna and Reverend Whitworth's union was unhappier than we had feared. He was violent and forced her into sex using passages from the holy book to justify his requests. Ellise Chappell was convincing as the terrified, naïve newly-wed and here's hoping the addition of her sister, Rowella (Esme Coy), to the cast helps her out of her loveless marriage and back to drippy Drake.
My final lesson from this week's episode is that some occupations are sexier than you think, chiefly grave-digging. Blacksmithing was an obvious one. Ross bought drippy Drake an old forge and it was no surprise that an attractive man handling red-hot metal got the attention of newcomer Emma Tregirls (Ciara Charteris). Tholly's daughter appeared to have also caught brother Sam's eye. He admitted to some un-holy thoughts about her, so now I'm just excited to see if she gets him to take off his god-awful hat. But Ross proved that even graveyard labour can have its merits. We saw him toiling away with a spade in the mud and rain to dig his beloved aunt's grave. Who needs scythes and fields of corn when you have that?
Register for free to continue reading
Registration is a free and easy way to support our truly independent journalism
By registering, you will also enjoy limited access to Premium articles, exclusive newsletters, commenting, and virtual events with our leading journalists
Already have an account? sign in
Register for free to continue reading
Registration is a free and easy way to support our truly independent journalism
By registering, you will also enjoy limited access to Premium articles, exclusive newsletters, commenting, and virtual events with our leading journalists
Already have an account? sign in
Join our new commenting forum
Join thought-provoking conversations, follow other Independent readers and see their replies