American Horror Story: Roanoke episode 8 review: It's a real slaughter
The season's most stressful, joyless episode brought mixed results - but at least we finally found out the deal with Piggy Man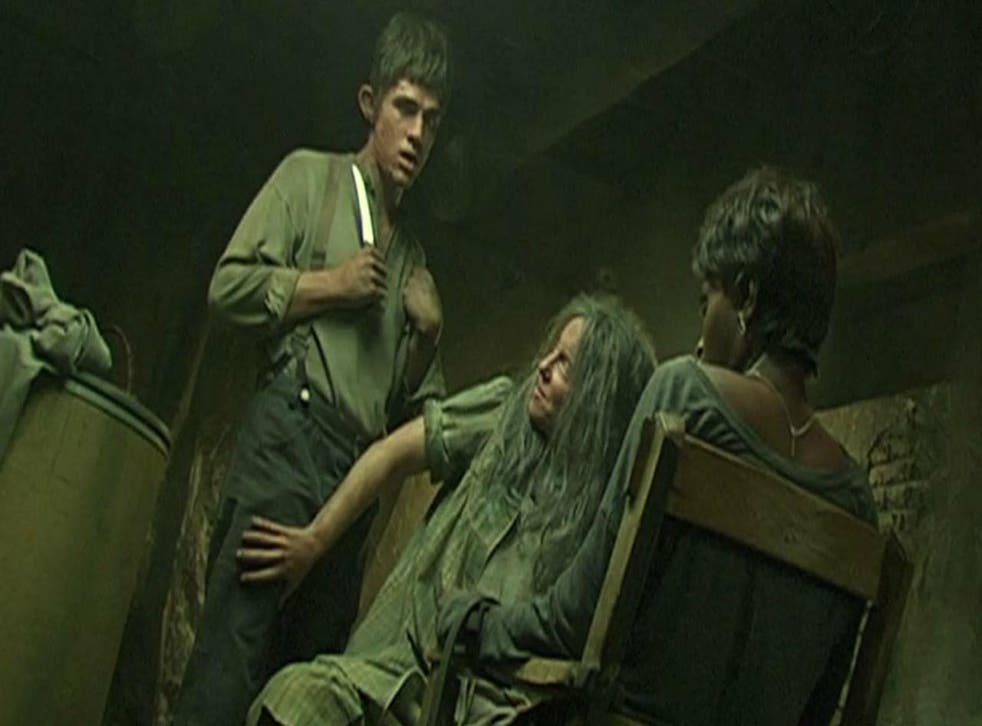 American Horror Story may have been at its most joyless this week - and that's both sort of good, but also largely bad.
Television's premiere f-ed up, gloriously camp show has been taking a major tonal turn with Roanoke; one that reached a peak with episode 8, where distanced irony was largely traded in for straight gore and chills. I had minimal amounts of fun this week. And I must admit, that's got me seriously worried.
Granted, what this season's done best is bring fear back to American Horror Story, a facet which had been steadily dropping out ever since Coven's arrival; with episode 8 really taking advantage of the post-twist handheld camera format to rack up the scares, the veering angles plunging audiences straight into the chaos while still maintaining enough visual coherence to avoid leaving us clueless as to what's going on.
A large chunk of this episode concerned itself with the cannibal Polk family holding Lee, Audrey, and Monet captive up at their dimly-lit cannabis farm; which is where the show basically slammed the brakes on its pacing so we could get American Horror Story's own take on the Saw franchise, minus even puppet-based levity.
There's some thematic interest to be found with Polks, especially in the idea of an incestuous cannibal clan who sees itself as the "first family", acting like untouchable royalty that even has the police in its pockets. Yet, it's barely explored outside of a brief family history and some creepy thigh caresses; the focus here is very much torture porn and tooth-pulling, and that's especially obvious when it comes to Lee (Adina Porter) and Jether (Finn Wittrock)'s scenes together.
The two-hander simplicity here sees both Porter and Wittrock putting in some fantastic work, as we see Lee use her manipulation skills to turn Jether's internal conflicts and suppressed empathy against himself so that she can make her escape; indeed, Jether's one moment of kindness in which he covers Lee's wounds so that she can film a farewell message to her daughter Flora is highly effective, leading nicely into Lee's own shocking revelation that she was actually responsible for Mason's murder.
I'm not quite sure what Ryan Murphy meant when he said Wittrock's Jether was the "most f*cked up character of all time", since that moment actually brings in some doubt as to who the real monster in the room is: the woman who brutally murdered her ex-husband, or the victim of a mother's abuse who's yet to bring himself to kill? We're rooting for Lee, but exactly how justified are we in doing that?
It's also a nice set-up for the show's climax: Lee's obsession with retrieving her taped confession from the Polk farm hints she may be the last survivor, but that her guilt may still lead to a final twist in the tale. Plus, the revelation that Asylum's Lana Winters (Sarah Paulson) is returning suggests the finale will involve an interview between the investigative journalist and the final survivor; but could Lana be the one to reveal Lee's crime to the world?
Who's who on American Horror Story: Roanoke

Show all 16

That said, Lee and Jether being contained in an episode where precisely 1,000 other things occur means their interactions are given precious little space to land real meaning; really, why set up Jether's potential route to redemption only to have him stabbed in the neck two minutes later? And with this season largely bucking the trend of bringing characters back from the dead, his unlikely return makes his entire existence kind of pointless in the grand scheme of things.
Access unlimited streaming of movies and TV shows with Amazon Prime Video Sign up now for a 30-day free trial
Sign up
In fact, the only real narrative use any of the Polks have had so far is to finally make the connection between Roanoke's Pig Man and Murder House's Piggy Man; the latter's identity now revealed to be Kincaid Polk, an ancestor who took his pigs to Chicago's 1893 World's Fair - whose real history hosted H. H. Holmes' infamous murders, the inspiration for Hotel's James Patrick Marsh (Evan Peters) - and ended up on a murdering spree, spurred on by witnessing the Roanoke colonists roasting a pig-headed man alive.
Episode 8's uncharacteristic brutality only really saw a payoff in Shelby's shock suicide, tortured as she was by the guilt of smashing the love of her life's face in Negan-style; the lengthy, fixed shot of her propped up against a bathroom cabinet before she suddenly takes the knife to her throat remarkably eerie in its execution.
There were also a few quieter moments between Lee and Audrey, or Shelby and Dominic, that saw the sober drama hit home emotionally; though the episode clearly struggled to naturally work in Audrey (Sarah Paulson)'s own innate ridiculousness. She had some great lines this week ("I feel like part of me has died with her!"), but they felt totally jarring and inconsistent within the constant barrage of horror.

Really, this episode's heavy tone felt largely like a misfire; its brief moment of supernatural chaos as the house's ghosts started to run riot - AKA the "Paranormal Activity sh*t" Dominic described - a mere nostalgic reminder of what ghoulish fun last week's episode was. Also, I'm still trying to wrap my head around the concept that Asian people automatically produce Asian-style Grudge ghosts. I mean... I guess it makes sense? Does it?
As I've mentioned before, Roanoke feels so clearly like a reaction to Hotel's backlash; an attempt to retreat from its trashy, irony-laced melodrama straight back into a sense of pure horror. It does feel like American Horror Story's been largely successful in that endeavour, except for here: this is the scale tipped too far, to the point the show loses the cult-vibes that gained its original audience and turns into every other piece of sombre, joyless television out there.
But, hey, Wes Bentley's turned up again. So there's hope for next week, especially since those Go Pro-rocking teens (is that finally, finally Taissa Farmiga?) look like they're about to do a lot of stumbling into the wrong places.
Register for free to continue reading
Registration is a free and easy way to support our truly independent journalism
By registering, you will also enjoy limited access to Premium articles, exclusive newsletters, commenting, and virtual events with our leading journalists
Already have an account? sign in
Register for free to continue reading
Registration is a free and easy way to support our truly independent journalism
By registering, you will also enjoy limited access to Premium articles, exclusive newsletters, commenting, and virtual events with our leading journalists
Already have an account? sign in
Join our new commenting forum
Join thought-provoking conversations, follow other Independent readers and see their replies