Attenborough and the Giant Dinosaur, BBC1, review: A truly moving piece of TV
Sir David was, of course, brilliant – enthusiastic, informative, charming – and he couldn't keep his hands off the artefacts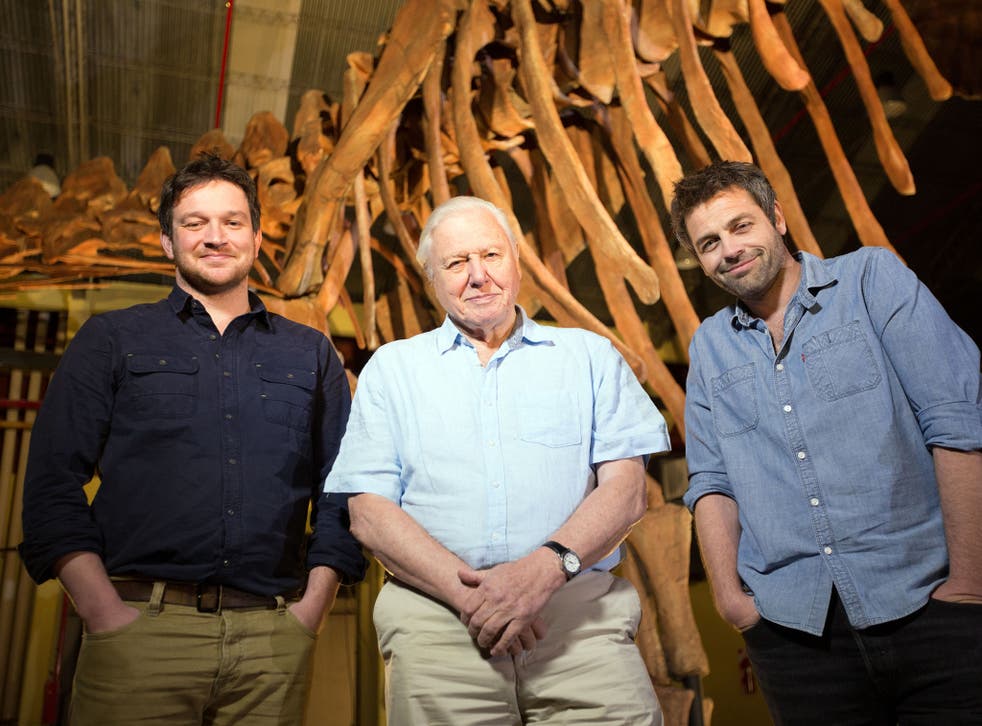 I never thought I'd cry over a dinosaur. Or at least I never thought I'd cry over a dinosaur again, having previously burst into tears while watching Jurassic Park. But tonight, I did. Twice.
In 1993, it was fear that reduced my 10-year-old self to tears. But my 32-year-old self was moved by something else. I think it was awe. Or just that terrifying feeling you get when you realise how much bigger than you something is. And I don't mean metaphorically. David Attenborough and the Giant Dinosaur was a truly moving piece of TV – but it was also the story of a truly massive dinosaur.
Unearthed in the Argentine desert in 2013, it is now believed that this plant-eating species – aptly named Titanosaur – is the biggest to have walked the Earth. My eyes popped as Sir David unveiled its 2.4m-long thigh bone, my jaw dropped as experts calculated its 70-plus tonne weight and, yes, my tear ducts moistened as Dr Luis Chiappe relived the moment he saw a piece of genuine dinosaur skin, preserved within an egg shell fragment, for the first time.
As chief palaeontologist Dr Diego Pol said, the discovery by an Argentinian shepherd of the gigantic fossil graveyard – containing bones from seven Titanosaurs – was "a palaeontological crime scene". The sheer joy on everyone's face as bone after 101.6-million-year-old bone was unearthed by a team from the Egidio Feruglio Palaeontology Museum was delightful.
When Dr José Luis Carballido deduced the dinosaur's size –he was able to calculate the weight the leg bones he had found could support – there was a touching moment when he raced to tell his team: "It weighed more than Argentinosaurus!" Cheers erupted and everyone raised their drinks in a toast. Titanosaur was so big that Diego had to trawl half of Argentina to find a space big enough to reconstruct a life-size skeleton of it, finally settling on a disused warehouse. "This is awesome," he grinned.
Sir David was, of course, brilliant – enthusiastic, informative, charming – and he couldn't keep his hands off the artefacts. I welled up again (OK, I cried) watching his overjoyed face when he saw the reconstructed skeleton in its full glory. Diego was right – this was indeed awesome.
Register for free to continue reading
Registration is a free and easy way to support our truly independent journalism
By registering, you will also enjoy limited access to Premium articles, exclusive newsletters, commenting, and virtual events with our leading journalists
Already have an account? sign in
Join our new commenting forum
Join thought-provoking conversations, follow other Independent readers and see their replies