Big School series 2, BBC One, review: Doesn't make the grade. Must try harder
The second series of the school-based sitcom returns with a dire episode that only vaguely improves towards the end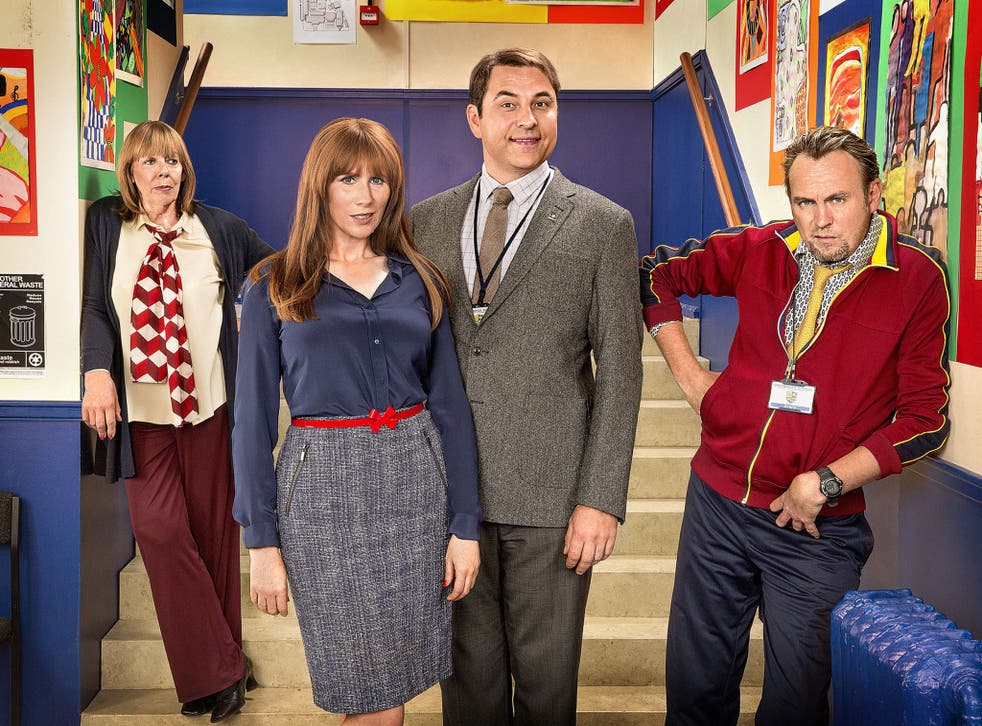 It seems that Friday night comedy is just not what it used to be. Tonight saw the return of David Walliams'sitcom the about unrequited love in the staffroom at Greybridge School.
Unfortunately, the problem with Big School is that it's trying too hard to be funny. It's as if Walliams, dressed as Vulva from Spaced and brandishing a cane in one hand, is looming behind the sofa bellowing: "THIS IS COMEDY GOLD! YOU MUST LAUGH!", but no such opportunity arises.
Both Walliams and Catherine Tate fail to elicit the laughs despite rising to fame on their own comedy shows. Oh, the irony.
If anything, the only tender moment comes when Mr Church comforts Sarah Postern at the end, which is more drama than comedy.
Tate's character Sarah Postern is generically annoying and has nothing remotely likeable about her. She is supposed to be the lead and yet there is very little sympathy for her.
When she invites an old friend from teacher training college and ends up having an aggressive face off with her in front of a group of pupils, viewers are supposed to feel a little sorry for Sarah - but they don't.
Perhaps the most painful "comedy" moment of this episode was when her character attempts to speak Chinese. It may have just about cut it by Little Britain standards but the scene is just offensive and horrendous in Big School.
Even Philip Glenister's Trevor Gunn, the boorish PE and "geo-graphy" teacher with questionable facial hair, misses the comedy funny bone in Big School.
Glenister is best known for his role as the 'ard as nails copper Gene Hunt in Life on Mars and Ashes to Ashes and the contrast between Hunt and Gunn should be funny in itself but it just isn't.
Access unlimited streaming of movies and TV shows with Amazon Prime Video Sign up now for a 30-day free trial
Sign up
The problem with this show is that it isn't quite sure what it wants to be. Is it a surreal comedy, courtesy of the caretaker being fed fish fingers through the canteen window? Is it a dramatic comedy, as the heart-to-heart between Mr Church and Miss Postern would suggest? Or it is the cringe-y schoolboy humour of Little Britain when Miss Postern's attempts to "speak" Chinese?
Little Britain worked so well was because it was crass, silly and excruciatingly honest. When viewers watched it, they knew exactly what was in store.
But Big School seems to trying to be too many different things and the comedy suffers as a consequence. It was more like a set of sketches badly stitched together.
As Friday night sitcoms go, it's certainly no My Family or Mrs Brown's Boys.
Register for free to continue reading
Registration is a free and easy way to support our truly independent journalism
By registering, you will also enjoy limited access to Premium articles, exclusive newsletters, commenting, and virtual events with our leading journalists
Already have an account? sign in
Register for free to continue reading
Registration is a free and easy way to support our truly independent journalism
By registering, you will also enjoy limited access to Premium articles, exclusive newsletters, commenting, and virtual events with our leading journalists
Already have an account? sign in
Join our new commenting forum
Join thought-provoking conversations, follow other Independent readers and see their replies