The Independent's journalism is supported by our readers. When you purchase through links on our site, we may earn commission.
Black Mirror season 4 episode 3 'Crocodile' spoiler review: Andrea Riseborough outing is a shallow disappointment
A lack of characterisation marks this out as one of season 4's weaker outings
Jacob Stolworthy
Thursday 28 December 2017 16:56 Comments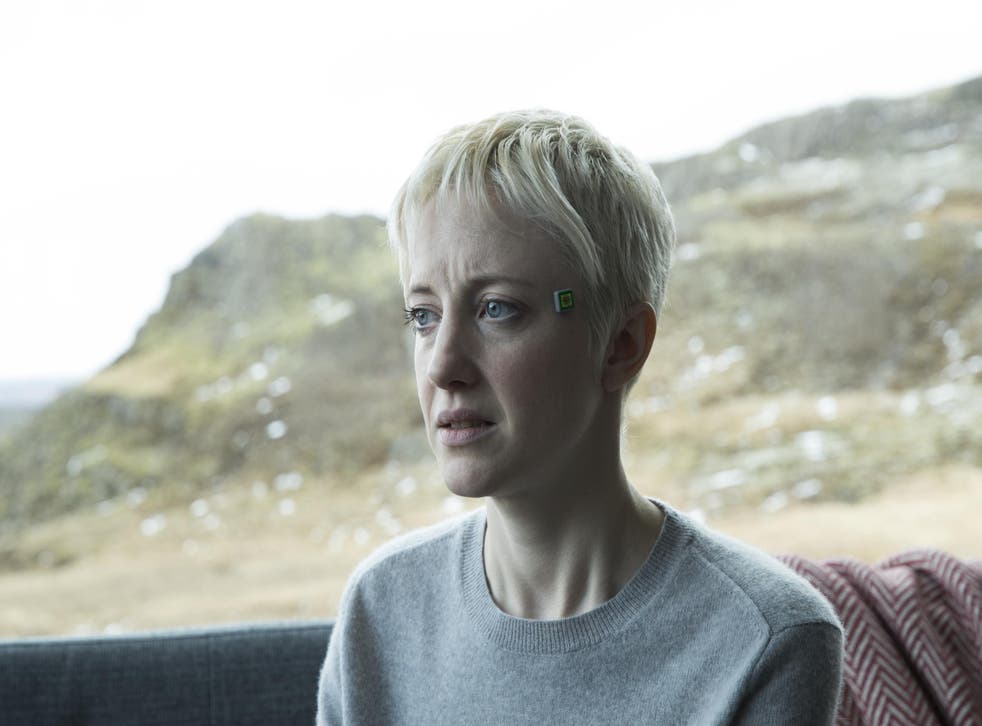 *This review contains spoilers for Black Mirror season 4, which is streaming on Netflix here*
'Crocodile' has all the hallmarks of a Black Mirror classic: a devastating opening, breathtaking backdrop (Iceland) and a strong female lead in Andrea Riseborough, most recently seen in Billie Jean King biopic Battle of the Sexes.
The episode follows a successful businesswoman named Mia Nolan who, in her hotel room, murders a man whose hit-and-run she covered up three years previous after he resurfaces plagued with guilt and ready to come clean. In the following moments, Mia looks out the window contemplating her actions and in doing so becoming an unwitting witness to a non-fatal hit-and-run on the street below, an incident which sees the episode sprout a new narrative: a woman played by Kiran Sonia Sawa who works for Realm Insurance, a company which logs witness' recollections using a device capable of dredging their personal memories.
Her deployment on this particular case sets her on a crash course towards a murderous confrontation with Riseborough's Mia, a woman whose survival instinct is to instantly rid the world of anyone who poses a threat to her freedom.

At least we think that - because 'Crocodile' unravels in a predictable yet almost unbelievably reckless manner, refusing to spend anytime deliberating on what makes Mia tick as a character. She is perhaps the most unlikeable creation to have featured in Black Mirror (which says a vast amount) - it remains unclear whether this is the point (my guess is no).
The result - directed impressively by Lawless filmmaker John Hillcoat - is an often stylistically pleasing but disappointingly shallow equivalent to being hit over the head by a toaster for no real purpose. It's closing shock and ensuing twist - Mia futilely murdering a blind baby in cold blood through fear the kid will have his memory dredged by police - is cut from the same ilk as the climax of season 3 standout 'Shut Up and Dance.'
TV preview 2018: Everything to look out for

Show all 16
However, that payoff worked largely due to the disgusting realisation you'd been unknowingly rooting for a paedophile the entire time. You never once root for Mia, a shame considering the strength of the writing on display elsewhere.
Follow Independent Culture on Facebook
Register for free to continue reading
Registration is a free and easy way to support our truly independent journalism
By registering, you will also enjoy limited access to Premium articles, exclusive newsletters, commenting, and virtual events with our leading journalists
Already have an account? sign in
Join our new commenting forum
Join thought-provoking conversations, follow other Independent readers and see their replies