The Independent's journalism is supported by our readers. When you purchase through links on our site, we may earn commission.
Black Mirror season 4 episode 1 'USS Callister' spoiler review: Space romp is worthy of a spinoff if future ideas dry up
Dir Toby Haynes, Starring Jesse Plemons, Cristin Milotti, Jimmi Simpson, Michaela Coel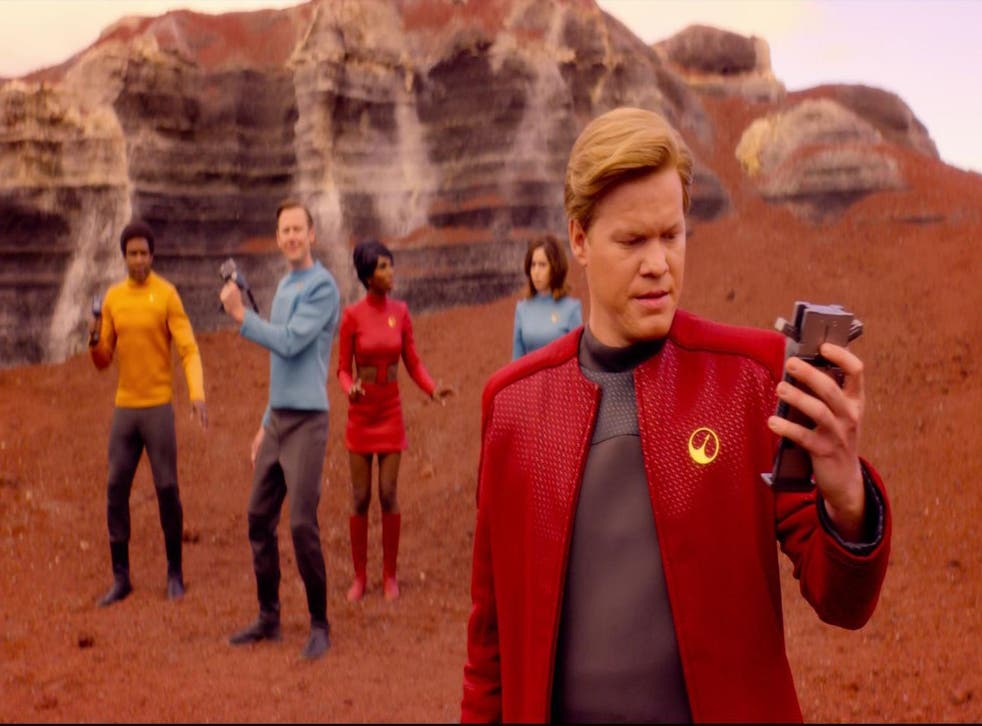 *This review contains spoilers for Black Mirror season 4, which is streaming on Netflix here*
Black Mirror episode 'USS Callister' begins a rip-roaring Star Trek homage spearheaded by Jesse Plemons' Captain Kirk-style hero before its sudden segue into a critique of fan culture in all its extremity. As Robert Daley gets smothered in adoration from his crew, it seems for a brief moment that this particular world - for these characters at least - could be as perfect as the one depicted in season three's Golden Globe-winner 'San Junipero.'
Cue the episode's rug pull: this world is, in fact, a simulation of Daley's favourite television show Space Fleet - in actuality, he's plugged in at home experiencing it all in a coma-like state. An unsung co-founder of an IT company, Daley is miserable and the butt of his workmate's jokes - a far cry from his charismatic Space Fleet counterpart. Sparked by the arrival of Cristin Milotti's new employee, viewers soon discover his crew are simulated versions of his colleagues imprisoned and punished for their real-life actions.

'USS Callister' may parade as big-scale - it's certainly the most cinematic episode to date - but, fortunately for fans, it remains a not-too-unfamiliar cautionary tale focused on a technology chillingly in unhinged hands. The switch-up of genres provides heaps of fun - the scenes which see the simulated versions of Daley's colleagues switch into character with their captain's arrival are a demented delight. The snsemble throw themselves into the material, with notable highlights Jimmi Simpson (Westworld) and Michaela Coel (Chewing Gum) standing out as just two of the crew trying to convince Milotti's new addition to play ball.
Plemons' Daley- an adult version of Toy Story neighbour Sid - is yet another memorable addition to the actor's credits, his arrival inciting genuine tension.
TV preview 2018: Everything to look out for

Show all 16
The 76 minute-long time is justified unlike, say, the ambitious if ultimately unfulfilling season three episode 'Hated in the Nation,' with Brooker's succinct world-building inadvertently earmarking a story worthy of future exploration. 'USS Callister' has genuine spinoff legs if future ideas dry up.
Follow Independent Culture on Facebook
Join our new commenting forum
Join thought-provoking conversations, follow other Independent readers and see their replies