The Brexit Storm Continues: Laura Kuenssberg's Inside Story review – A grim sort of a chronicle
The BBC's political editor returns to the long-running saga of Britain's withdrawal from the EU with an insightful documentary
Sean O'Grady
Tuesday 17 December 2019 16:19 Comments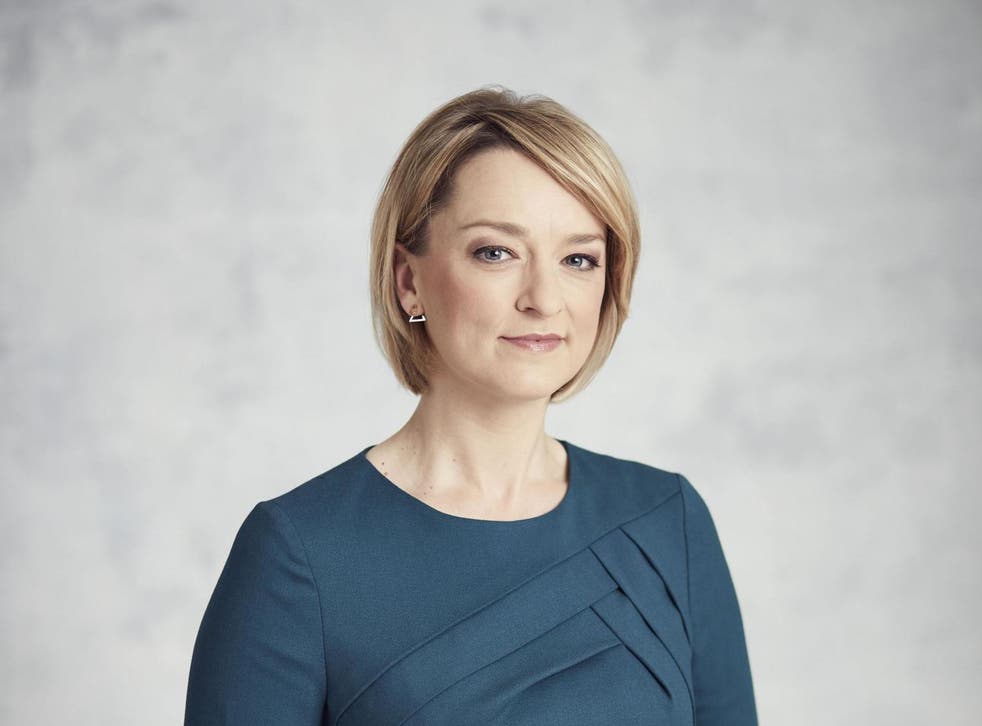 OK, no one is going to tune in to The Brexit Storm Continues: Laura Kuenssberg's Inside Story looking for laughs – but there are one or two very few amusing moments.
The first crops up when Kuenssberg and the cameras accompany Boris Johnson on a walkabout in Leeds, just after one of Johnson's many setbacks. A mum approaches begging him to look at a picture on her phone. These are happier times, so rather than ignoring it and stuffing the phone into his pocket, he obliges. Then she tells him to look at how much her boy looks like him: "He could be your love child." A look of abject mortification crosses the prime minister's face as he frantically scans the old Bozza memory banks for any particularly enjoyable receptions in the West Yorkshire area in around 2010. He doesn't seem sure…
Another "moment", in what is otherwise a grim sort of a chronicle, arrives when Jacob Rees-Mogg is up on the platform at some Eurosceptic gig or other. Try as he might, he just cannot get the top off a bottle of mineral water. There he is, huffing and puffing, twisting it this way and that. The squeaky sound of sweaty Moggian palm chafing on glass and metal cap, plus the visible straining, makes it seem like he's releasing a series of well-modulated farts, like a latter-day Le Petomane (the 19th-century French entertainer, or "flatulist", who could pass wind at will, and musically if needs be). Mogg's colleague in the hard-line European Research Group, Steve Baker, has it done in a trice. The dignity of the leader of the House of Commons is restored.
Not quite a perfect metaphor for the past few months, that, but not bad, because it was only when the likes of Baker and his "Spartan" anti-EU warriors decided to ally themselves with Johnson that Brexit began to look even vaguely "get done-able". On 12 December 2019, the pent-up frustrations were at last relieved, and Britain let off in the most dramatic and pungent fashion.
The 30 best TV shows of the decade

Show all 30
The Kuenssberg film reminds us how far away, indeed impossible, such recent events – the final resolution of Brexit in the general election – appeared for most of the past few months. Opening with the announcement of Johnson's election as leader of the Conservative Party, it makes fairly distressing viewing for any sensitive Remainer. We relive sequence after sequence of constitutional "outrages" (for both sides), Commons knife-edge votes, angry MPs, even angrier protesters in Parliament Square (including a chap in monochrome make-up appearing as Charlie Chaplin in The Great Dictator), and general humiliation heaped on Johnson. It was a faraway time, when the fall of the government and the cancellation of Brexit seemed not just possible but probable.
All are presented by Kuenssberg as a sort of farce, which is understandable. Yet it is also true that parliament was simply doing its job, and trying to avert an even greater crisis, that being a no-deal Brexit.
You may recall the BBC recently complained when the Conservatives used a montage of BBC correspondents in panic mode as propaganda in the election. But the footage was genuine. As Kuenssberg declares to colleagues in this film, she genuinely did think at times that the country had "imploded".
Pacing around Westminster in the pouring rain trying to get a mobile signal and comprehend a briefing on a late development on the Irish backstop from a "senior source", Kuenssberg is mostly too busy to reflect. But when she finds time to confide to the camera, the judgements are shrewd. She reflects, for example, that the big row with the Supreme Court could be used by the Tories to win over a "certain group of voters", which is of course exactly what came to pass in Workington, Don Valley and all the rest.
There is a bit of behind-the-scenes action in Downing Street. When Dominic Cummings stumbles in on Johnson, Kuenssberg and the crew, his stunned expression is that of a husband who returns home from work early and walks in on an orgy in the living room. Ignoring his "boss", he demands the cameras be turned off, but Kuenssberg and her mates are seen giggling at the silly man (though they may not be laughing at him for much longer).
Apart from that, it's all Kuenssberg running for planes, trains and stories. She has had to deal with a lot of abuse during the summer and in the recent election, from "punchgate" and Nigel Farage to the incessant allegations of BBC bias. How does Kuenssberg cope? For now, we can only take the word of our prime minister, who is always friendly to her. He leans over before one of their many interviews and tells her, "You're as hard as nails, Laura." I think he means it as a compliment.
Register for free to continue reading
Registration is a free and easy way to support our truly independent journalism
By registering, you will also enjoy limited access to Premium articles, exclusive newsletters, commenting, and virtual events with our leading journalists
Already have an account? sign in
Join our new commenting forum
Join thought-provoking conversations, follow other Independent readers and see their replies