Broadchurch - review: David Tennant and Olivia Colman return to a town that lost its innocence
Writer Chris Chibnall has been able to whip the audience into a frenzy of anticipation after refusing to reveal any details about the plot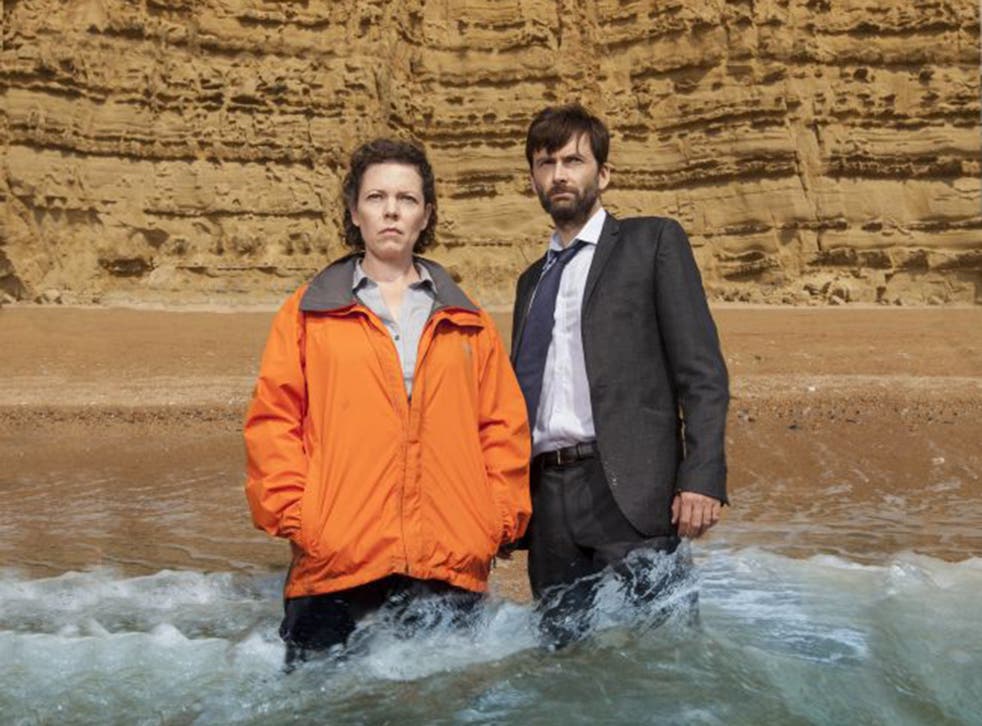 Why is Joe Miller pleading not guilty? Is he guilty? Is Lee Ashworth guilty in the Sandbrook murders? What did happen in Sandbrook? These are the questions newly tormenting a nation after the second series of Broadchurch began on ITV. In charge of answering at least some of them were the reunited detectives DS Ellie Miller (Olivia Colman) and DI Alec Hardy (David Tennant), still a double act to be reckoned with, even after all this time.
Their dynamic, which Tennant tried, unsuccessfully, to replicate in the US remake Gracepoint last October, is central to Broadchurch's appeal. Impressively it has remained intact, even though Ellie can no longer be the happy-go-lucky, community-minded foil to Hardy's antisocial, brooding detective. Now they've both got something to brood about. Over nine million viewers tuned in to watch the devastating series one finale, in which Joe Miller, Ellie's apparently loving husband, was revealed as the killer of 11-year-old Danny Latimer.
It seemed safe to assume that Joe (Matthew Gravelle) would not be returning for series two, but in fact he played a major role, entering a surprise 'not guilty' plea at his trial hearing. Several of Broadchurch's other residents were also back. Danny's parents Mark (Andrew Buchan) and Beth (Jodie Whittaker) still, as you'd expect, drowning in grief, but also expecting another child and now bracing themselves for a full trial.
Broadchurch series two in pictures

Show all 36
Local clergyman Reverend Paul Coates (Arthur Darvill) was also back and in a relationship with Becca (Mark Latimer's old flame) while new faces include Charlotte Rampling as the hot-shot brief the Latimers want to take on their case, Marianne Jean-Baptiste as Joe's new barrister from London and James D'Arcy as Lee Ashworth, the main suspect in the Sandbrook case.
Same town, same characters, same success? As writer Chris Chibnall has admitted, the series was originally intended for just an eight-episode run and while the crumbling yellow cliffs are as spectacular as ever, the innocence of a close-knit community can only be shattered once. Without that shock, and with no new whodunnit to unravel, will the series remain as compelling? On the evidence of last night's twist-packed opener, perhaps even more so.
No advance previews of last night's episode were made available to the press and several alternative endings have been filmed in case of script leaks. If Chibnall's aim was to whip us all into a frenzy of anticipation, it worked. Episode one was a brilliant demonstration of the risks a writer can get away with when there's a proven cast to fall back on, but the real test comes later. Will nine million of us still be watching in eight weeks time?
Join our new commenting forum
Join thought-provoking conversations, follow other Independent readers and see their replies