Broadchurch, review - Volume goes up to 11 as crime thriller gets tangled
Episode 3: Questions, questions and more questions. With all these loose ends to tie up, Broadchurch might get a bit tangled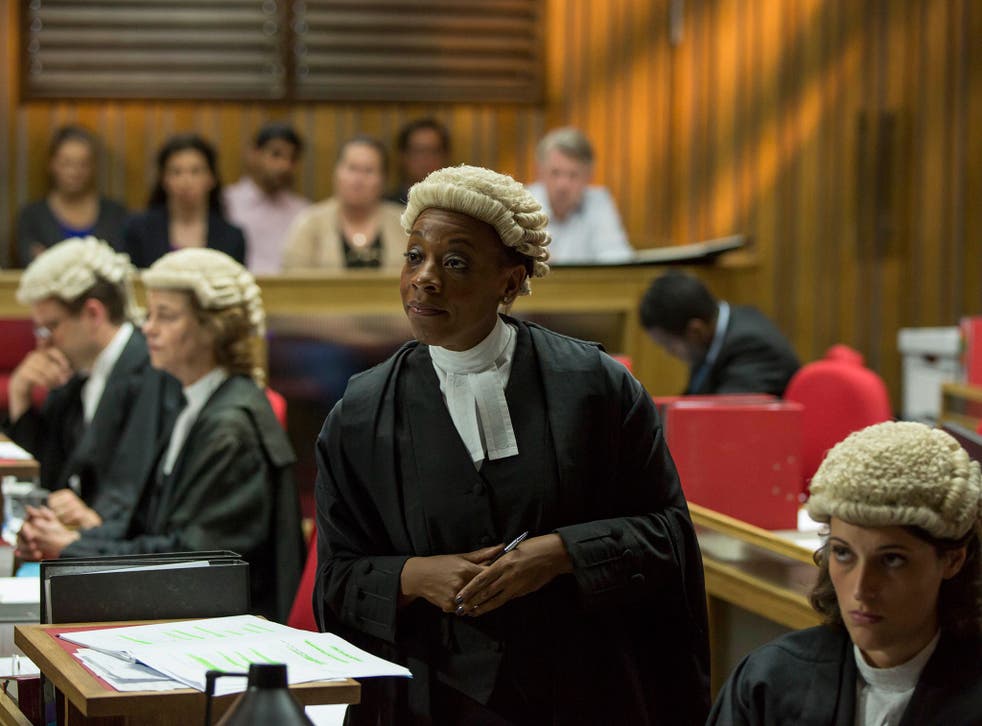 It might be one of the subtler TV dramas but tonight's Broadchurch was full of shouty one-liners. From an aghast Alec Hardy's (David Tennant) "What is the point of you, Miller?!" to PC Ellie Miller (Olivia Colman) herself raging in the witness dock "I am not the guilty one, here. I AM NOT," the volume was turned up to eleven.
And, three episodes into the second series of Broadchurch — with the dual murder mysteries of Danny Latimer and Sandbook swirling around each other like a double helix — you'd be forgiven for shouting at the TV yourself, "Oh get on with it!"
That's not to do with the mastery of Chris Chibnall's brilliant, slow-burn drama. But, having thought we had everything neatly sewn up at the end of the last series, we suddenly seem to have discovered irreparable damage at the seams and with each new episode the dropped stitches (and questions!) keep coming. Frankly it's quite stressful. With Joe-We-Saw-Him-Do-It-Miller pleading not guilty and telling that rather suspicious priest bloke (Arthur Darvill) "No one's innocent, everyone's hiding things", it seems we, the viewers, should be as paranoid as ever. And the skeletons in the cupboard aren't just being located, they're getting up and dancing a jig.
Broadchurch series two in pictures

Show all 36
Beth Latimer (Jodie Whittaker) might have been allowed a moment of happiness after having her baby (a girl called Lizzie, whom Ellie helped deliver as Beth intoned with each contraction "Get that woman away from me!!!" ) but hubby Mark (Andrew Buchan) still hasn't told her about his covert caravan-based meetings with Ellie's son Tom Miller (an unsettling echo of the Joe/Danny pseudo father-son relationship).
There are endless unanswered questions: What exactly is wrong with Hardy's heart? What dirt has Joe Miller got on the Vicar? Why does Tom hate Ellie? And where is Fred the toddler? Surely that childminder deserves a pay rise.
Even the new characters are getting in on the mystery act with the Queen's Counsel lawyers on both sides of the case appearing to have shady pasts: What happened between Jocelyn Knight (a wonderfully steely Charlotte Rampling) and her former pupil? Why does she rarely leave the house? And what's her relationship with local newspaper editor Maggie Radcliffe (Carolyn Pickles)? And, more shockingly, what did defence lawyer Sharon Bishop's (Marianne Jean-Baptiste) son do to land himself a six-year jail sentence?
Most importantly, following her blink-and-you'll-miss-it disappearance (the shortest resolution of a cliffhanger we've seen this year) it turns out Claire Ripley (Eve Myles), the buxom brunette Hardy has been harbouring in his house since before the Latimer murder, is not a victim but a suspect in the Sandbrook case - and is clearly as besotted as ever with the possibly murderous (and devilishly handsome) Lee Ashdown, played by James D'Arcy.
She and Ellie may have "got hammered" (and bonked by a couple of random guys) together on a girls'-with-murder-suspects-for-partners Big Night Out in Weymouth, but there was no drunken confession and the significance of the bluebell in the envelope is as annoyingly unresolved as it was last week. Incidentally, Ashdown's confrontation with Hardy provided the best comedy line of the episode as he yelled: "Do bluebells even grow in France?" No idea. Add that to the list of unsolved stuff.
Meanwhile in the court room QC Bishop twists the knife, accusing Ellie of having an affair with Hardy. Colman's opened-mouthed disgust at the thought was no-doubt tonight echoed throughout the land (despite their on-screen chemistry it would just be wrong, wouldn't it?). But in this peculiarly secretive Dorset town they may well have been at it, dear reader, without our knowledge. Maybe that'll be next week's shock revelation? Either way, the series' drip, drip, drip of information against a water surge of unknowns is as grippingly effective as ever.
Register for free to continue reading
Registration is a free and easy way to support our truly independent journalism
By registering, you will also enjoy limited access to Premium articles, exclusive newsletters, commenting, and virtual events with our leading journalists
Already have an account? sign in
Register for free to continue reading
Registration is a free and easy way to support our truly independent journalism
By registering, you will also enjoy limited access to Premium articles, exclusive newsletters, commenting, and virtual events with our leading journalists
Already have an account? sign in
Join our new commenting forum
Join thought-provoking conversations, follow other Independent readers and see their replies