Conversation with Alanis Morissette, podcast review: The singer's self-help show helped me lose the will to live
Morissette has practised yoga, meditation and aromatherapy, and become interested in psychotherapy and neuroscience. Now she has decided to bring her intense personal journey to the masses via a new self-help podcast
Fiona Sturges
Thursday 22 October 2015 01:23 Comments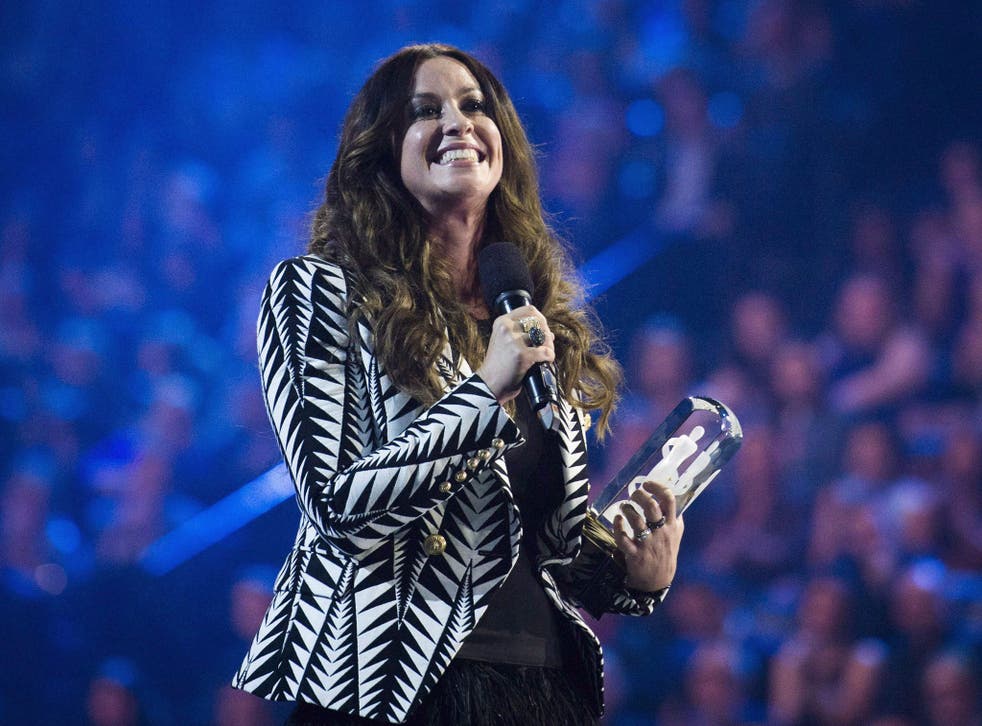 One of the most brilliant things about the current podcasting boom is that it is an entirely democratic form and gives a voice to pretty much anyone with internet access and an opinion.
At the same time, one of the very worst things about it is that it's a democratic form and gives a voice to pretty much anyone with internet access and an opinion.
In the latter category is the Canadian singer Alanis Morissette, whose 1995 album, Jagged Little Pill, shifted 30 million copies and was notable for its misunderstanding of the word "ironic".
Given Morissette's alarmingly swift rise to fame (and considerable fortune), it's perhaps not surprising that she has spent much of the ensuing decades engaging in deep soul-searching.
There have been more albums and occasional forays into acting, though for much of the time she seems to have been concentrating on her interior self. Morissette has practised yoga, meditation and aromatherapy, and become interested in psychotherapy and neuroscience. Now she has decided to bring her intense personal journey to the masses via a new self-help podcast.
Conversation with Alanis Morissette will, we were told in the first episode, cover topics including psychology, art, spirituality, design, health, relationships, science, music, travel, social commentary and feminism. Morissette explained how she prefers to call feminism "The Feminine Movement in both Males and Females Alike", which seemed unnecessarily wordy, and at which my eyeballs did the first of many involuntary swivels.
Morissette's guest was Katherine Woodward Thomas, who is a writer, life coach and – brace yourself – a self-anointed "Love-olutionary". She was once Morissette's therapist and was instrumental in helping her give up her wayward lifestyle and settle down with her current partner.
When the therapy ended, the pair became close friends, and, to illustrate this, the first five minutes saw them locked in mutual admiration, with Woodward Thomas cooing "You're a joy to me", and Morissette cooing back:
"I love the conversation, I love pushing to our personal edges that move us toward wholeness, returning the wholeness to healing, to recovery, returning to our rightful self-see." Oh, my swivelling eyes.
Access unlimited streaming of movies and TV shows with Amazon Prime Video Sign up now for a 30-day free trial
Sign up
Eventually they got to the point, which was to share their thoughts on how best to split from a partner, or, as Woodward Thomas called it, "conscious uncoupling", a phrase made famous by Gwyneth Paltrow, another mega-rich New Agey type with a tendency to rub people up the wrong way.
There was much talk of "intentionality", "dialoguing" and "truth statements" and referencing of assorted gurus and philosophers. There was also a lot of "sitting in the seat of self", which sounds like it could be quite pleasant, though, to be honest, it gave this listener the most appalling arse ache.
I'd like to be able to summarise their conclusions about how best to end a relationship but it has proved impossible since, for much of the time, I genuinely hadn't a clue what they were wanging on about.
I don't doubt that there was goodness at the core of their relentless psychobabble, and possibly even a modicum of good sense. Life for Morissette and friends is clearly one endless spiritual experience and, if that's what gets them through the day, then I'm happy for them.
But do I want to listen to 70 minutes of their navel-gazey, jargon-infested contemplation? For the love of God, never again.
Ultimately, there's got to be something deeply flawed about a self-help podcast that makes the listener lose the will to live.
Register for free to continue reading
Registration is a free and easy way to support our truly independent journalism
By registering, you will also enjoy limited access to Premium articles, exclusive newsletters, commenting, and virtual events with our leading journalists
Already have an account? sign in
Register for free to continue reading
Registration is a free and easy way to support our truly independent journalism
By registering, you will also enjoy limited access to Premium articles, exclusive newsletters, commenting, and virtual events with our leading journalists
Already have an account? sign in
Join our new commenting forum
Join thought-provoking conversations, follow other Independent readers and see their replies