Barack Obama on Letterman's new Netflix show - review & best quotes: A pleasantly informal but ultimately inconsequential chat
Pair are just two guys with no jobs shooting the breeze in laidback chat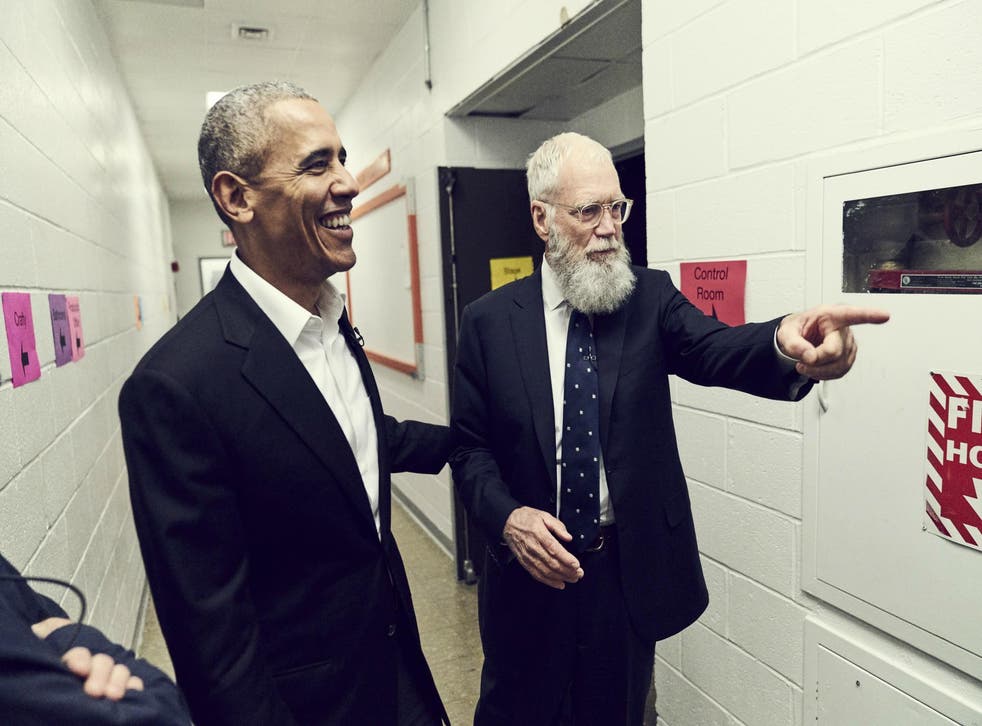 Just as Larry David returned to Curb Your Enthusiasm, summarising "I left, I did nothing, I returned," David Letterman has come back to talk shows, in the latest aborted retirement for an entertainment figure who realises there's only so long you can spend building fires in the wilderness.
This time around, he's partnered with Netflix for a pared-back version of his Late Show. No band, no backdrop, not even a table, just a stage, two chairs, an audience, Dave, and his guest.
My Next Guest Needs No Introduction has the fashionable, minimalist structure of a televised stand-up comedy or tour documentary, the host stepping over wires and past crew to take to the stage in the intro, the emphasis being placed entirely on who or what is on it.
A 22-season tenure has afforded Letterman an insanely high caliber guest list, this first season seeing him interview George Clooney, Malala Yousafzai, Jay-Z, Tina Fey, Howard Stern and, his first guest, President Barack Obama.
Letterman interview: Obama admits to having 'dad' dance moves
The pair are very relaxed together, genuinely seeming to be friends and starting by bonding over their respective retirements, Obama having immediately headed to the British Virgin Islands, Letterman to an island off Newfoundland. And yet we never really get into why the president went straight to paradise, a move that some found surprising as America was left to deal with the ashen first days of Trump.
This is a recurring issue with the hour-long episode, which lurches from topic to topic without really getting deep into any of them.
Obama gives the briefest of overviews of the economic crash era of his presidency and discusses social media's nefarious role in the recent US election (classic 'we live in a bubble' stuff) before rocketing on to fatherhood and his foundation. He is, of course, incredibly articulate and warm in all of these exchanges, and he and Dave get on like a house on fire, but we don't really learn new anything about him or how he thinks.
There's also a nice anecdote about him, the President of the United States of America, strictly to put together his daughter Malia's flat-packed desk lamp on her college move-in day, and he is very insightful when it comes to talking about fatherhood in general.
Trump is conspicuous in his absence, however. It wouldn't be Obama's style to trash talk his successor on television, but at times it feels like the episode exists in a parallel universe where the legacies of his administration are not being systematically destroyed as the pair speak.
Access unlimited streaming of movies and TV shows with Amazon Prime Video Sign up now for a 30-day free trial
Sign up
My Next Guest Needs No Introduction is at its best during what I assume is going to be a recurring video segment. We see Letterman walking the Edmund Pettus bridge in Alabama with Congressman John Lewis and reflecting on the Bloody Monday conflict which it was the site of. This isn't done in a "roll VT!" way, rather it is a separate segment which can be enjoyed in isolation, though Obama does later reflect on it. Perhaps the show should concentrate on this going forward, centring on a specific moment and talking it through with the guest influenced by it.
Ultimately, the episode is an enjoyable hour spent with a couple of soulful dudes. I don't know if it will be able to eclipse the network talk shows, but it's not necessarily trying to compete.
On 'fake news':
"We are operating in completely different information universes [now]. If you watch Fox News, you are living on a different planet than you are if you are, [for example] listening to NPR."
On social media:
"In our campaign in 2007/2008 we were some of the earliest adopters of social media, and we were reliant on a bunch of 22 and 23-year-olds and volunteers who we were sending out. And they would just go, and they were communicating entirely through social media and we essentially built what ended up being the most effective political campaign probably in modern political history. So I had a very optimistic feeling about it [social media]. I think what we missed was the degree to which people who are in power, special interests, foreign government etc. can, in fact, manipulate that and propagandise."
On Michelle being president:
"Let me just say this If it were not for the constitution, there'd be Michelle.
[Audience gasps and cheers]
"No, you guys are misunderstanding me, what I'm saying is I'm prevented from running again by the constitution but even if it were not for that amendment, Michelle would leave me."
[Audience laughs]
On daughters Malia and Sasha:
"They're both extraordinary writers."
Register for free to continue reading
Registration is a free and easy way to support our truly independent journalism
By registering, you will also enjoy limited access to Premium articles, exclusive newsletters, commenting, and virtual events with our leading journalists
Already have an account? sign in
Register for free to continue reading
Registration is a free and easy way to support our truly independent journalism
By registering, you will also enjoy limited access to Premium articles, exclusive newsletters, commenting, and virtual events with our leading journalists
Already have an account? sign in
Join our new commenting forum
Join thought-provoking conversations, follow other Independent readers and see their replies