The Delivery Man, review: Fish-out-of-water sitcom is the best laugh we've had from ITV in a long time
It's no Green Wing, but for a very mainstream sitcom it's pretty good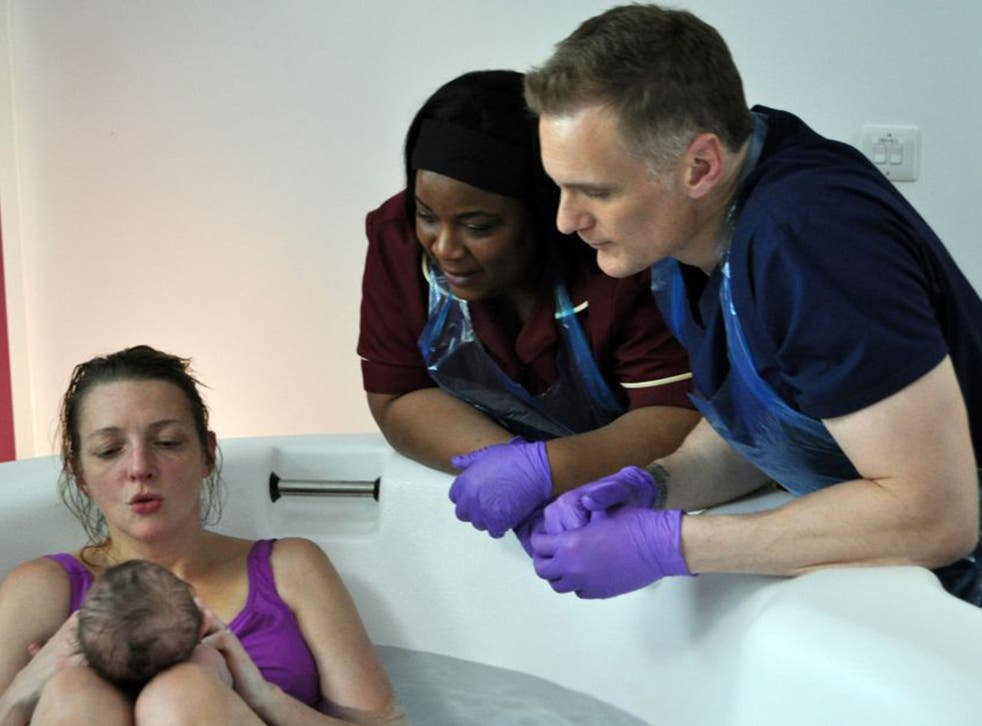 Let it be noted that ITV does a lot of things very well. Better than anyone. Saturday nights; soaps; crime dramas; Loose Women. What it's not done well, not for a very long time, is prime-time sitcoms. Any sitcom, really. Benidorm has its moments, but even if you retain a soft spot for Holding the Baby (don't we all), you'd have to go back all the way to – what – The New Statesman? – for a decent situational laugh on channel three.
So hopes weren't high for The Delivery Man, which starred Darren Boyd (Spy, Whites, Green Wing) as a former police officer pivoting in his career and becoming a midwife. So far, so situational.
And here's the rub – it's OK. It's no Green Wing, sure. Though it is created by that show's Victoria Pile and writers Robert Harley and James Henry, which helps. But for a very mainstream sitcom it's pretty good.
I'm not entirely sure a maternity ward is the best place for a comedy. When I spent five days in one, I – for the first time in my entire life – completely lost any semblance of a sense of humour. But then neither is a rag-and-bone yard or a Home Guard Unit necessarily funny, so what do I know?
As of November 2014, just 103 out of 31,292 UK midwives were male, despite blokes being legally allowed to the job so since 1983, so this is ripe fish-out-of-water territory. Naturally, much of the humour derives from Matthew's blokeish haplessness: he mistakes a non-pregnant woman for a pregnant one! He's not offered cake because men don't like cake! So far, so formulaic, but The Delivery Man is redeemed by some at-times very witty dialogue.
Particularly delivered, as it were, by the fine Alex Macqueen, who's made a career of sitcom bit-parts like these (you'll likely know him best for the John Birt-like Julius Nicholson in The Thick of It and as Neil's dad in The Inbetweeners). Here he's excellent as the ward's consultant. I liked this exchange between him and a needy patient:
"Will I see you tomorrow morning?"
"Do you play golf?"
"No."
"Then, no."
It's a shame that the obvious fancying of Matthew by Fay Ripley's character is more Carry On than Getting On, but this isn't the place for comedy vérité. As a bombastic performance from Paddy McGuinness playing a slightly superfluous, manic ex-colleague and flatmate of Matthew made clear.
Access unlimited streaming of movies and TV shows with Amazon Prime VideoSign up now for a 30-day free trial
Sign up
Given ITV comedy's lack of recent pedigree (beyond TV Burp), it's almost easy to forget that Spitting Image, one of the best, and most subversive comedies of the Eighties and early Nineties was an ITV production. As election fever – or at least election "a slight temperature" – hits, The Delivery Man was led in by the new satirical show Newzoids.
If you watched last year's Arena, Whatever Happened to Spitting Image?, the seat-of-the-pantedness when it came to deadlines was a recurring theme. So this new puppet/animation from a team including Jon Culshaw and Giles Pilbrow (of late-period Spitting Image, 2DTV and others) wasn't ready to watch in advance.
However, from one preview clip – not enough to judge, of course – of Dr Brian Cox observing a moon orbiting Kim Kardashian's backside, it looked more Headcases than Spitting Image. I'd be happy to discover otherwise.
Join our new commenting forum
Join thought-provoking conversations, follow other Independent readers and see their replies