Doll & Em, Sky Living - review: 'This best-friends-in-Hollywood comedy needs to cut closer to the bone'
Ellen E. Jones
Wednesday 19 February 2014 01:00 Comments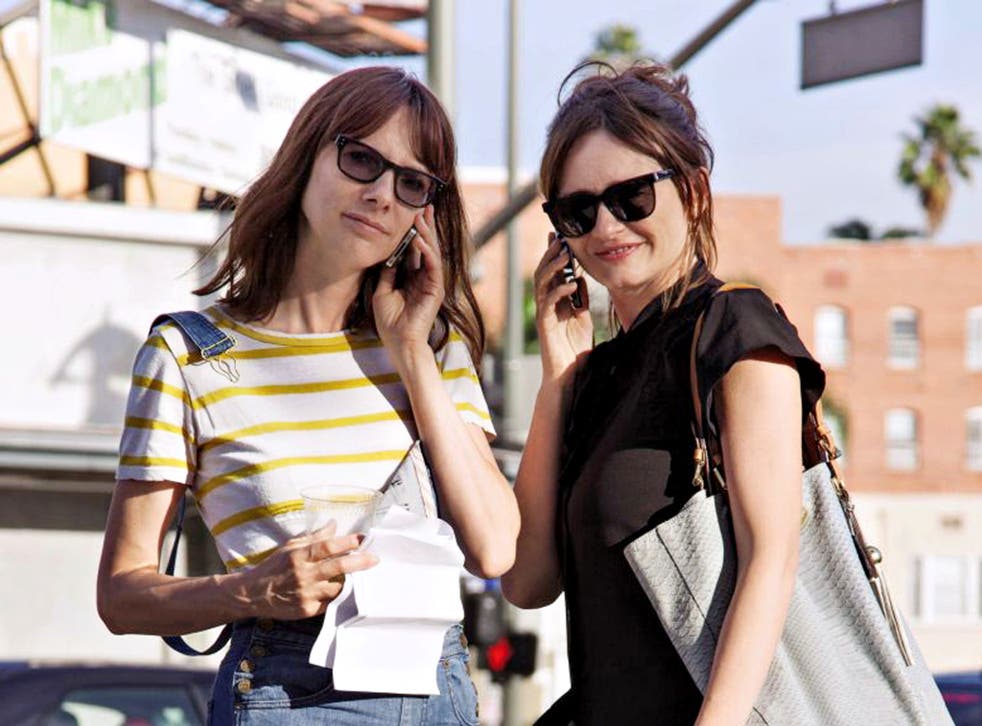 What's the special thrill of watching actors play themselves? It's in guessing where the version ends and the truth begins and then marvelling at the performers' willingness to expose themselves to ridicule. Sky Living's new series Doll & Em, featuring real-life childhood friends Emily Mortimer and Dolly Wells, is engaging, and yet it seems to have sidestepped this sort of brave exposure.
A clever opening sequence swiftly introduces the set-up. Emily, the more successful of the two, is in LA pursing her acting career. Doll invites herself over to stay following a nasty break-up and becomes Emily's personal assistant and her friend. Awkwardness inevitably ensures. There's the two in a hot-tub, in bra and knickers, competing for the attention of a man neither of them particularly fancies; there's Doll prattling on, while Emily tries to prepare for a scene in her trailer; there's Emily insensitively complaining about her swanky dinner party, while Doll suffers more mundane misery at home.
It's an intriguing portrait of how resentment can simmer away in friendships, only partially obscured by genuine affection, but it would be much more intriguing if it dared scrape closer to the bone. Alas, Mortimer seems to have spent all her promotional interviews attempting to reassure the world that this on-screen relationship bears no resemblance whatsoever to the real Doll and Em, and I'm inclined to believe her.
Not only do the two leads get on famously in real life, we're told, but so too do their families. The show is produced by Mortimer's husband, the actor Alessandro Nivola. Doll's husband, the photographer Mischa Richter, took stills photographs. Doll's children play Emily's children and Emily's mum was on set to help out with childcare. Evidently, they're also well enough liked in the business to attract decent celebrity cameos. Bradley Cooper, Chloë Sevigny and Susan Sarandon all appear in the first two episodes. Later shows promise John Cusack, Andy Garcia and Noel Fielding. And, of course, both women were born well connected. They became friends through their fathers, Rumpole of the Bailey creator John Mortimer and satirist John Wells.
It's this inherited privilege, and the insecurity it must occasion, that would make for truly self-lacerating subject matter. Instead, Doll & Em satirises a Hollywood diva persona that's already done to death and, in any case, was never really associated with nice-girl Emily Mortimer. These women must know where the jugular is – perhaps they're just biding their time before they go for it.
Register for free to continue reading
Registration is a free and easy way to support our truly independent journalism
By registering, you will also enjoy limited access to Premium articles, exclusive newsletters, commenting, and virtual events with our leading journalists
Already have an account? sign in
Join our new commenting forum
Join thought-provoking conversations, follow other Independent readers and see their replies