Don't Forget the Driver review: Toby Jones' new show has elements of a typical detective mystery series
If you are sufficiently overawed by Jones' work and reputation, and intrigued by the eccentricities of the production, you'll want to keep on watching
Sean O'Grady
Tuesday 09 April 2019 18:04 Comments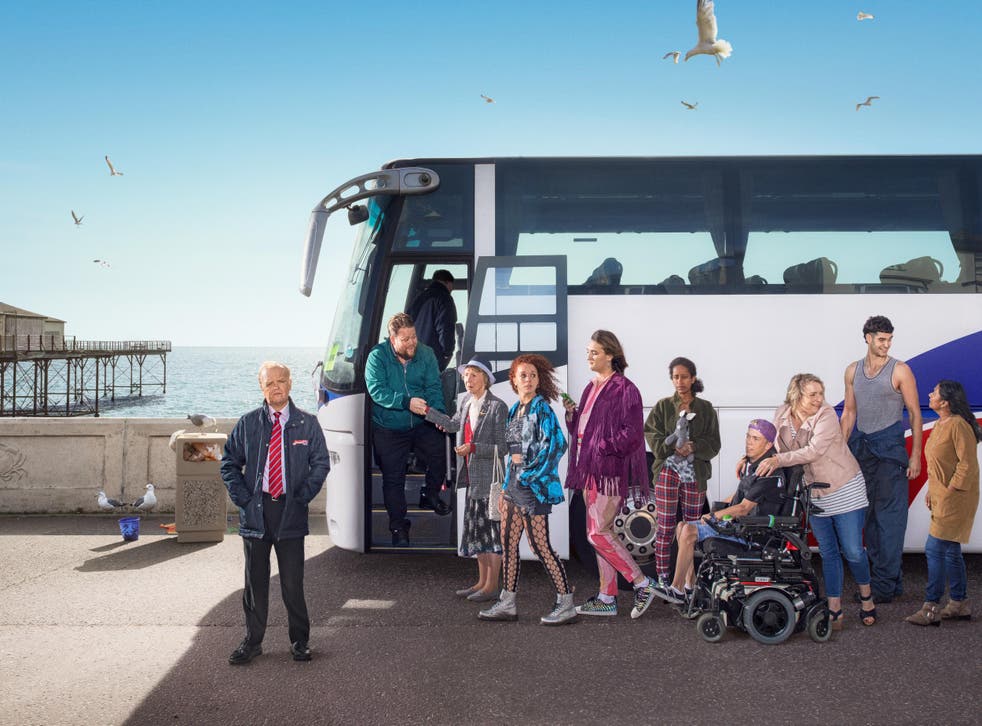 Coach travel is notoriously slow. So it is appropriate that Don't Forget The Driver also proceeds at a relatively leisured pace, always speed-limited and never straying into the "fast" lane.
The mega-talented Toby Jones plays Peter Green, the driver who is not to be forgotten. His apparently single life, based in Bognor, is all packed lunches and pensioner day trips, which must be frustrating enough but routine. Manageable, like driving a coach.
Added to it, however, are some more distressing, not to say dramatically promising, dimensions. There's his poor old mum Joy (Marcia Warren), suffering from mild dementia. Then there's Pete's brother, Barry, also played by Jones, appearing via Skype. He is living the good life in Australia and thus conveniently unable to fulfil his familial duties. Peter's adolescent daughter Kayla (Erin Kellyman) could honour her family duties but can't be bothered to. Her mother is neither seen nor mentioned. So it all falls to him.
His personal "community" is also populated by an itinerant Pole named Lech (Dino Kelly) part living in his coach, and his co-driver, Squeaky Dave (Danny Kirrane), who is a Rizla paper away from a criminal conviction for smuggling tobacco, and seems to revel in his own depravity. Well, who doesn't?
You get the impression that Peter is a decent man, but he is out of his depth and caught up in a few things he cannot control. The only things that keep him sane seem to be his phone ring (theme from The Sting) and a mildly flirtatious relationship with a burger van lady, Fran (Claire Rushbrook).
The 20 best bad police officers on TV

Show all 20
He seems to have a mysterious link to, most oddly, a human corpse washed up on Bognor beach. This is spotted on the beachcam by his brother on the other side of the world, who thinks it's a porpoise. It isn't. When Peter goes down to investigate he – suspiciously – doesn't tell the police when he discovers the body, but just scarpers. When Peter later drives past, you can almost see the beads of sweat on his brow. There's also the arrival of an African stowaway on the coach, greeted in the depot by a sinister people smuggler.
It is hard to know what to make of it all. It is certainly slow-paced, and there is nothing wrong with that; indeed it is in this respect reminiscent of the excellent Detectorists, in which Jones also starred. There is the same sense of not much going on superficially, but just about everything going on in people's minds, especially Peter's. It is as if we have found him in the early stages of multiple crises, which may or may not be linked, but which he is desperately trying to keep compartmentalised in his own overloaded mind.
Thus Don't Forget the Driver is something of a comedy/drama hybrid, I suppose. It has elements of a typical detective mystery series – unidentified body washed up on beach, suspicious behaviour, hints of panic. You may think of it as a West Sussex take on Shetland.
But it also has bits of soap – mum with Alzheimer's, daughter without a conscience. Yet there is also a dollop of On the Buses-style broad humour. I did wonder what Jones, who also co-writes the show with Tim Crouch, was playing at sometimes.
Access unlimited streaming of movies and TV shows with Amazon Prime Video Sign up now for a 30-day free trial
Sign up
The lame visual gags featuring a vast pensioner trying to seduce the diminutive Peter are not really worthy of the piece. Well, that sounds pompous; I just mean they are not funny. Past bus/coach-based skits are object lessons in the type: Benny Hill in The Italian Job and, indeed, Olive in On the Buses (look 'em up on YouTube). These are much better exemplars of this seaside-postcard tradition of (sexist) humour.
Like me, you might be sufficiently overawed by Jones' work and reputation, and intrigued by the eccentricities of the production to stick with it. But Jones will have to do better than getting squashed on a park bench by an overweight old woman. Don't fall asleep at the wheel, Toby.
Register for free to continue reading
Registration is a free and easy way to support our truly independent journalism
By registering, you will also enjoy limited access to Premium articles, exclusive newsletters, commenting, and virtual events with our leading journalists
Already have an account? sign in
Join our new commenting forum
Join thought-provoking conversations, follow other Independent readers and see their replies