Downton Abbey, ITV1, Sunday<br/>Harry &amp; Paul, BBC2, Tuesday<br/>Trinny &amp; Susannah: From Boom to Bust, Channel 4, Thursday
Maggie is marvellous but, lawks a lordy, this period-lite drama shows that where there's a will there isn't always a plot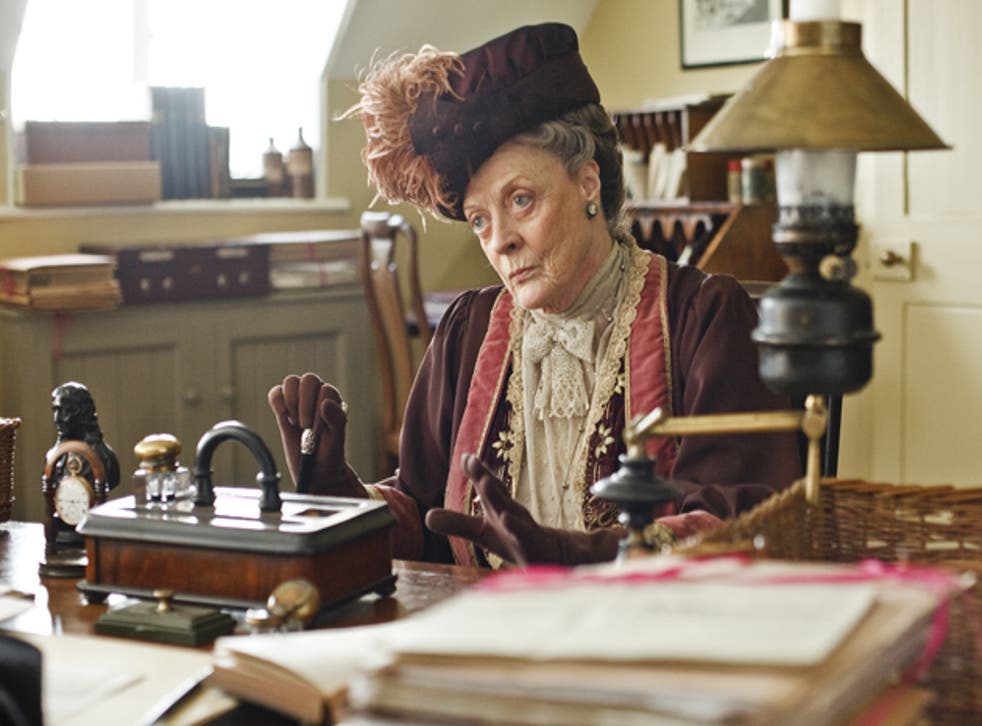 As befits a series from the pen of Julian Fellowes, Downton Abbey begins with the hustle and bustle of those "downstairs" as they get the grand old house in order before those above deign to wake.
"Where's that kedgeree got to?" "Lawks a lordy, when will that fire be lit?" – you know the sort of thing – as staff scrabble around in scenes of such incredible industriousness that it's astonishing they're catering to a small family and not a small town.
It is the first of many period clichés that Downton glories in, from the grumpy dowager to the American heiress who will never be accepted, the conniving footman, the nervous maid, and the sexually repressed butler. This is period lite – with neither the gravitas nor subtlety of Fellowes' Oscar-winning Gosford Park – telling in heavy exposition rather than showing. But that's not to say it is without merits, and chief among those is the casting of Dame Maggie Smith as the dowager countess. While others play roles, Dame Maggie inhabits them, her withering putdowns perfectly matched by her acidic expression – not least about the newfangled electric lights casting a glare over her pallid face.
It is quite the testament to her art that while she is on screen for comparatively little time, she has more impact than any other actor – though Hugh Bonneville does his darnedest as the Earl of Grantham, who's in quite a predicament over the future of his pile, the eponymous Abbey.
Where Gosford Park had the intrigue of a murder, Downton settles for the issue of inheritance. The natural heirs to the Earl's title are presumed drowned following the sinking of the Titanic – which means his family is set to lose their home (and fortune) to a distant cousin. A commoner, for goodness' sake! And from Manchester! Little wonder Dame Maggie's eyes are popping out of her head. But quite how excited can we be about an inheritance? This principal plot point will make it difficult for Downton Abbey to become anything more than comforting, isn't-it-getting-cold-out-why-not-stay-in-with-the-heating-on fare.
Still, it's far better than Harry & Paul. There was a time when Harry Enfield and Paul Whitehouse were on top of the comedy game. Enfield's Loadsamoney defined an era, while Kevin and Perry provided one of the great portrayals of male teenagerdom. Whitehouse's Fast Show, meanwhile, was the apotheosis of the sketch show, pounding viewers with catchphrases and lightning-quick vignettes. So it is such a shame to see what has become of them.
Enfield recently said "we're just doing stuff for people who don't watch much comedy, but might like us" – well, job half-done. Because anyone who does watch comedy wouldn't last two minutes with this. A Dragons' Den pastiche is nicely set up, with a particularly good impression of the smug Peter Jones, but it tails off, and feels like children acting in the playground. Similarly, are we really meant to find humour in two old boys in a gentlemen's club wondering whether David Cameron is "queer"? Comedy should inspire, infuriate, engage in some way; this just sends you to sleep. Already relegated from BBC1 to BBC2, how long can it be before it's dropped altogether?
Another double act on the downward slope are boob-grabbing fashion mavens Trinny Woodall and Susannah Constantine – but at least they know it. An hour-long cobbled-together translation of a series of mockumentary webisodes that they posted online this summer, From Boom to Bust tells of the What Not to Wear duo's attempts to regain the limelight. The first 20 minutes are not bad, with Katy Wix giving good support, but the programme soon descends into sweary nonsense. "We used to be huge. We used to be something," opines Trinny in a Marlon Brando moment. Yet the biggest thing about her are those suspiciously plump lips. If the pair were really intent on deriding themselves for laughs, how could they have missed that trick?
What do you think of Downton Abbey? Our Culture Club are looking for readers' views on this Autumn's ITV blockbuster; leave your thoughts in the comments below.
Register for free to continue reading
Registration is a free and easy way to support our truly independent journalism
By registering, you will also enjoy limited access to Premium articles, exclusive newsletters, commenting, and virtual events with our leading journalists
Already have an account? sign in
Register for free to continue reading
Registration is a free and easy way to support our truly independent journalism
By registering, you will also enjoy limited access to Premium articles, exclusive newsletters, commenting, and virtual events with our leading journalists
Already have an account? sign in
Join our new commenting forum
Join thought-provoking conversations, follow other Independent readers and see their replies