Educating the East End, TV Review: If it's our respect Mr Bispham and these teachers want, they've got it
As we sympathise with their teachers, we also get a sense of what's going on in the lives of the 'force of nature' Year 9 girls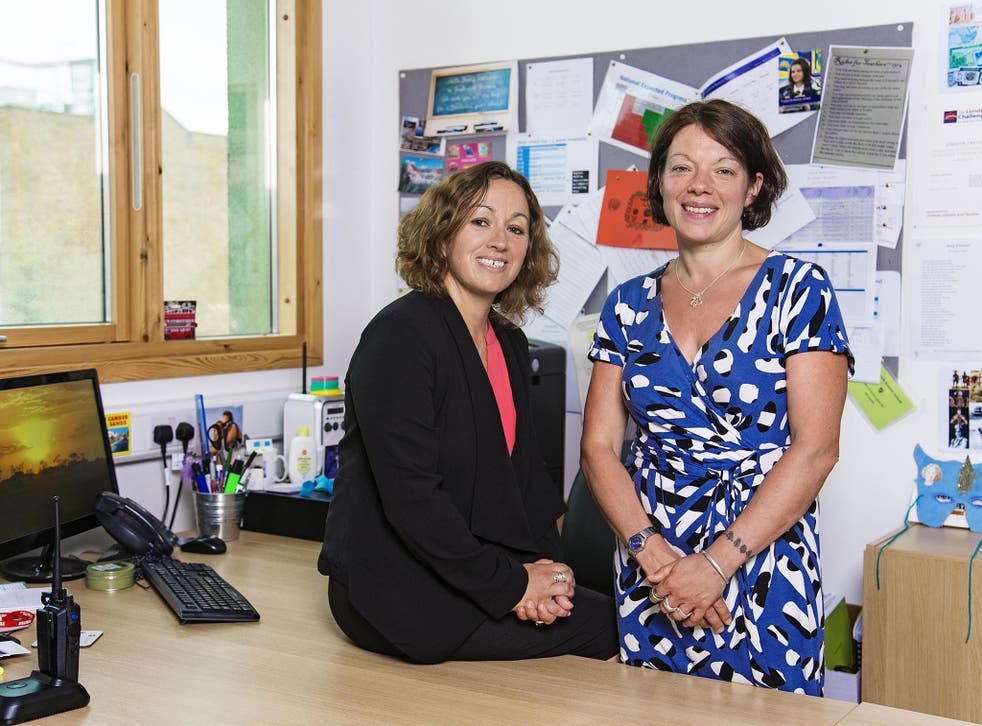 Settle down, class. It's time for another series of Educating... in which Channel 4 transforms an ordinary secondary school into a eight-episode laugh-a-minute, cry-your-eyes-out docu-drama via the magical means of fixed-rig cameras.
How should a new term at mixed London comprehensive Frederick Bremer be soundtracked in Educating the East End? Headteacher Jenny Smith opts for Aretha Franklin's "Respect", selecting it on iTunes as she arrives in her office. That's all anyone's asking for in schools these days: a little respect.
Take Mr Bispham, the newest teacher at the school and an early stand-out star. He gave up a career in politics to become a teacher and now represents everyone sat at home entertaining Dead Poets Society fantasies of how they would inspire young minds. Of course, the reality is much more challenging than either the Dead Poets Society or Mr Bispham had previously imagined.
Part of the genius of Educating... is that it gives you a dual-perspective on education which was inaccessible during our own schooldays. So while as viewers we sympathise with the amiable Bispham as he struggles to control the "force of nature" that is Year 9 girls, we also get a sense of what's going on in the lives of these girls. Lively Tawny wants to be a star and in pursuance of that dream has got herself a tongue piercing and an application to the BRIT School for performing arts: "I wouldn't mind being in EastEnders. I could be Bianca's long-lost sister or something," she said brightly.
Alongside such timeless tales of teenage ambition, there were also more modern dilemmas. Tawny's classmate Acacia retaliated to some bullying by sharing semi-naked pictures of another girl on Facebook and now faces exclusion. It was Ms Smith's job to make Acacia recognise the seriousness of an action she viewed as a harmless lark: "You have to have a tough line on social media, because they have to be exposed to the danger they're putting themselves in."
Acacia's punishment was modified when it later emerged that she was also dealing with a difficult situation at home. Her mother had been hospitalised with a serious health condition and so she had to go to live with an aunt. Watching deputy head Ms Hillman offer Acacia the school's support was a masterclass in warm, caring professionalism. Why do schools allow their daily lives to be filmed for television? Because, simply put, they usually come out of it very well. If it's our respect these teachers want, they've got it.
Register for free to continue reading
Registration is a free and easy way to support our truly independent journalism
By registering, you will also enjoy limited access to Premium articles, exclusive newsletters, commenting, and virtual events with our leading journalists
Already have an account? sign in
Register for free to continue reading
Registration is a free and easy way to support our truly independent journalism
By registering, you will also enjoy limited access to Premium articles, exclusive newsletters, commenting, and virtual events with our leading journalists
Already have an account? sign in
Join our new commenting forum
Join thought-provoking conversations, follow other Independent readers and see their replies