Elton John: Uncensored review – The rocket man looks back but doesn't stop to think
There is a kind of frictionless pleasure in hearing snippets of old songs, and Elton rattling through toupee-raising tales, costume dramas and binges with Beatles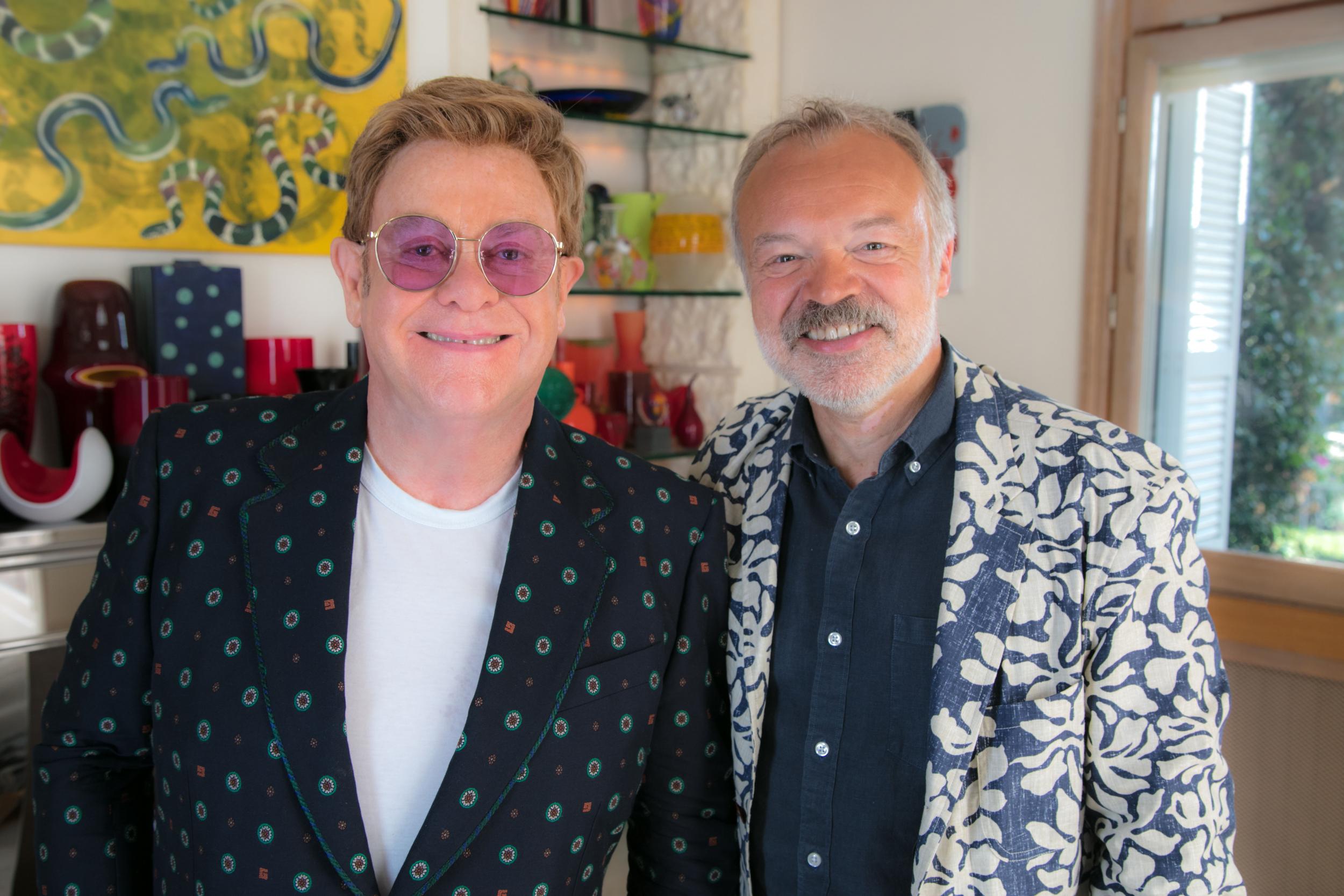 One of the country's most beloved openly gay entertainers, a man with an uneasy relationship with the press, whose fame came after he changed his name, sits down for a full-length chat with the singer of "Rocket Man". Graham Norton is the perfect casting choice for Elton John: Uncensored (BBC1). If you had to pick one interviewer in the country to mix celebrity tittle-tattle with emotional real talk, he would be your man. Those sequinned ermine gloves have more steel than he lets on.
Nobody could accuse Elton, who has half a century of showbiz under his belt, of having had a quiet year. Before this, Dexter Fletcher's Rocketman gave him the Hollywood biopic treatment, embracing the sex where Bohemian Rhapsody, the rival do about Freddie Mercury, shied from it. He's partway through his final tour – an enormous, three-year undertaking – and released his first official memoir, Me, last month, the writing of which he describes as "cathartic, like an enema", an unusual reading of the Greek tragedies. Now, we have this one-off interview, which on paper looks like a candid festive curtain-raiser with one of the few acts most of the country can still agree on.
Elton is in the mood to share. "I very rarely look back," he says at the start, metaphorically cracking the ivory-bashers and preparing to tinkle out a couple of rare anecdotes.
The setting is incongruous. We step not into Christmas but into the sunny south of France, where our singer is taking time out from his tour. He welcomes Norton into his living room and settles into an easy chair, in pink glasses and what appear to be pyjamas. The chat is interspersed with archive footage, as Norton narrates the story. There is a kind of frictionless pleasure in hearing snippets of old songs, and Elton rattling through toupee-raising tales, costume dramas and binges with Beatles. There are few better-placed guides to the past five decades of pop music.
The 50 best albums of the decade – 2010 to 2019
Show all 50
It's true that he is open, in the sense that he is happy to talk about the sex, drugs and rock'n'roll. More lately, he discusses his prostate cancer, the "annus horribilis", ho, ho, that meant he had to wear nappies on stage. But it is a limited kind of revelation, that comes without much real reflection. He talks about the new gender fluidity, without much thought about the role he might have played in opening up those discussions. There are embarrassing stories but few regrets.
Perhaps if you have been famous for as long as Elton, the divide between person and persona is so absolute that there is no space for introspection. The rocket man looks back but doesn't stop to think, and deep below the surface, Elton John's censor is working as hard as ever.
Join our commenting forum
Join thought-provoking conversations, follow other Independent readers and see their replies