GLOW review: Season 3 is Netflix show's brightest and best yet
New episodes are bedazzled Trojan horses, exposing societal injustices one body slam at a time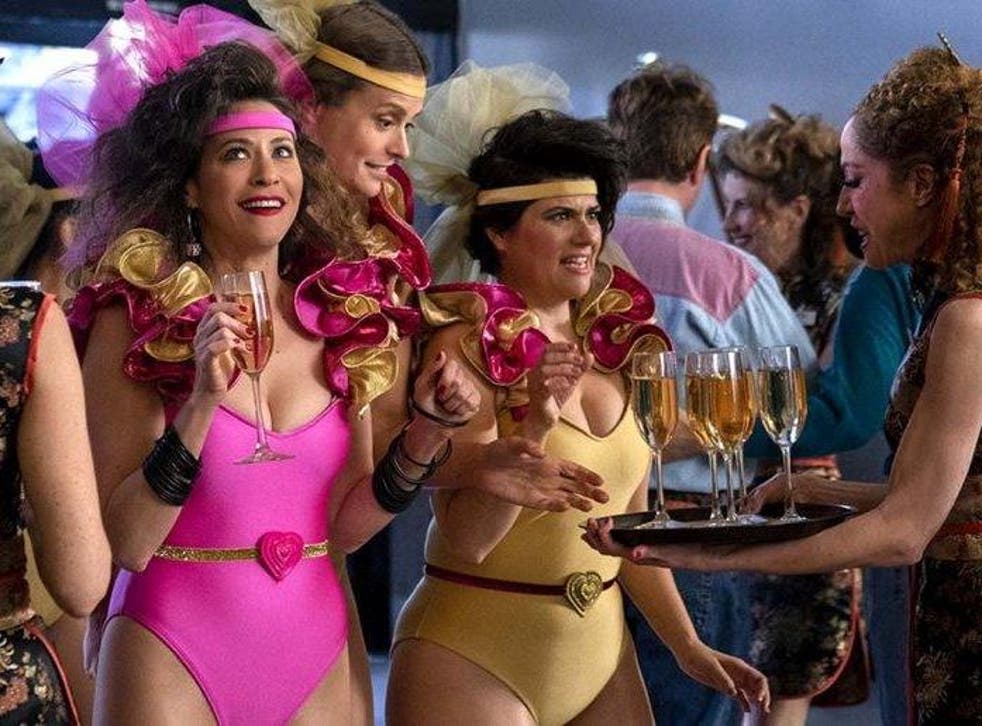 "When I was 14, I got the idea that the only thing people are ever going to notice about me is my body, so I guess it better be f**king perfect," says GLOW's Debbie "Liberty Belle" Eagan (Betty Gilpin), explaining to her best friend Ruth (Alison Brie) why she's skipped the last few meals. "Somehow, it never left me." Ruth showers her with affirmations until she agrees to go for dinner. They shovel down burgers together, and laugh with their mouths full. Later, Debbie goes back to her hotel room and sticks her fingers down her throat.
Few shows examine women's complicated, sometimes traumatic relationship with their bodies quite like GLOW. A fictionalised account of the Eighties wrestling troupe the Gorgeous Ladies of Wrestling, the comedy drama could easily have been sleazy and objectifying. Instead, it is a bright, bedazzled Trojan horse, exposing societal injustices one body slam at a time. And its third season is perhaps its best.
With their low-budget TV show cancelled, the group has taken on a Las Vegas residency; cranky director Sam (Marc Maron, essentially playing himself but doing it very well) and disastrously rich producer Bash (Chris Lowell) are also along for the ride. The bleak glitz of a casino makes for an intriguing new backdrop, and Geena Davis is a delightful new addition as its manager Sandy Devereaux St Clair, a kind, formidable woman with a shrewd eye for business and a complete indifference towards wrestling. So, too, is Kevin Cahoon as drag queen Bobby Barnes – his underground Aids fundraiser is one of the season's best and most devastating episodes.
GLOW's is a ragtag ensemble of characters, each of whose stories are given space to breathe. Head trainer Cherry (Sydelle Noel) worries what having a baby will do to her body and career. Arthie (Sunita Mani) is grappling with how to define her sexuality. Jenny (Ellen Wong) is trying in vain to explain to her politically incorrect roommate Melanie (Jackie Tohn) why it rankles that "every night I put on a kimono to jump out of a fortune cookie at an Asian-themed hotel surrounded by white geishas". I still don't quite understand why Gayle Rankin's Sheila spent two and a half seasons identifying as a wolf, but it is a truly cathartic moment when she finally sheds her mangy coat.
The best TV shows of 2019 (so far)

Show all 47
Unfortunately, Noughties indie-pop darling Kate Nash is yet to loosen up in her role as Rhonda – the good-natured Brit who marries Bash for a green card – though the pair's storyline is affecting. Bash is evidently gay, but won't come out because he lives in an era plagued by homophobia and Aids and, as he drunkenly admits to Debbie, "I don't want to die". The line is a short, sharp dagger to the heart.
But this season belongs to Debbie, who in Gilpin's hands is at once fierce and fragile, facing more battles outside of the ring than inside. The toughest she faces is to be taken seriously as a producer in a sea of male chauvinists, whose behaviour is invoking a delicious strain of misandry in her. "I just hate men," she admits half way up a mountain during a group bonding trip gone awry. "Even when I'm f**king the cute young ones, I like to take my hand and just crunch their face into the pillow. Because they are just so… free. They make the choices. They dictate the terms. And I just hate asking them for anything."
It is a sad, funny, unflattering admission in a show full of sad, funny, unflattering moments.
Register for free to continue reading
Registration is a free and easy way to support our truly independent journalism
By registering, you will also enjoy limited access to Premium articles, exclusive newsletters, commenting, and virtual events with our leading journalists
Already have an account? sign in
Register for free to continue reading
Registration is a free and easy way to support our truly independent journalism
By registering, you will also enjoy limited access to Premium articles, exclusive newsletters, commenting, and virtual events with our leading journalists
Already have an account? sign in
Join our new commenting forum
Join thought-provoking conversations, follow other Independent readers and see their replies