Grace Dent on TV: Celebrity Masterchef has been as unappetising as England in the World Cup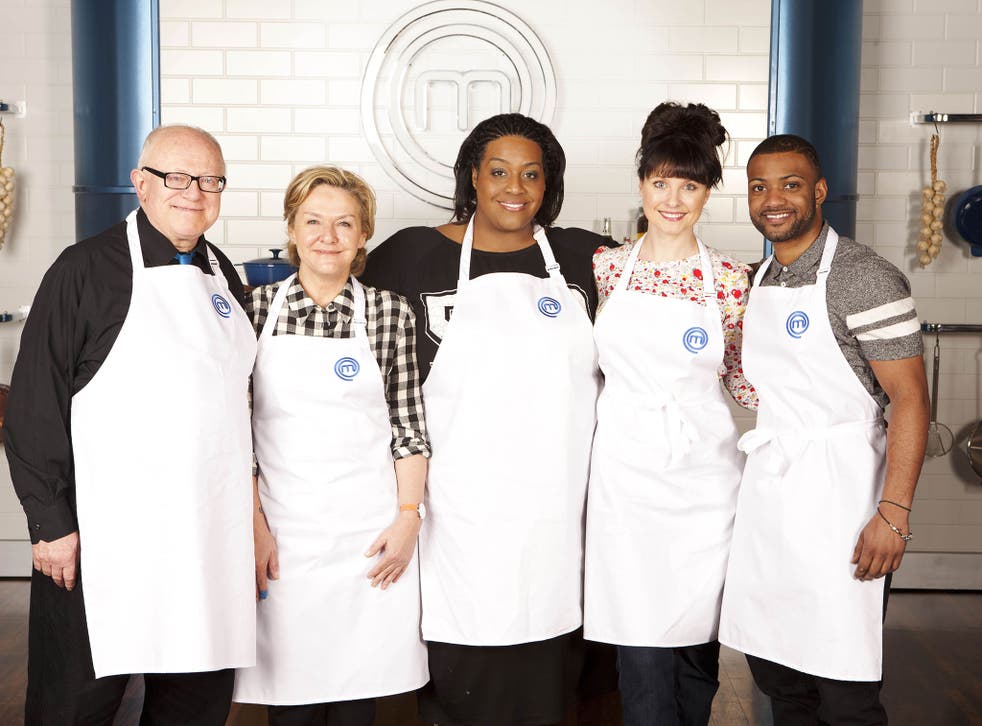 Avid TV watchers might have found themselves at rather a loss this week. The schedule has offered slim pickings. We should, it seems, all be lost in a powerful World Cup fug by now, drinking in Gary Lineker's and Adrian Chiles's pieces to camera like Moses relaying the Ten Commandments, all of us far too distracted to want quality TV.
"Chuck the non-footie whingers another series of Celebrity Masterchef", someone seems to have said at the BBC. Surely these spoilsports must be appeased by Russell Brand making brandy snaps? Or Alison from Big Brother. Yes, the woman who broke the garden table 12 years ago. Yes, her. And Amanda Burton, who at one point was one of BBC1's most respected actresses but is now, mystifyingly, wrapping cod in pancetta under the pedantic gaze of John Torode, a man who wears cowboy boots and pronounces "pasta" as "pusta".
Sadly, I was too weak with jubilation after A Question of Sport: Super Saturday with guest star Louis Spence, series 13 of Mock the Week and Coast: Australia to fully commit to Celebrity Masterchef, but I do know that this week's schedule has been as unappetising as the endless lukewarm gloop that is spooned into Greg Wallace's inexplicably filmed gob. EastEnders – my safe space in times of woe – filled almost an entire week with a meandering hospital plot about Sharon Rickman's spleen. Hipsters have reached E20 and are demanding cocktails in jamjars, cronuts and the right to Instagram Ian Beale's chips. Sharon, ever the entrepreneur, has opened a hipster bar – The Albert – to cater for this skinny-jean-clad influx, but a fight with yobs left her hospitalised with a poorly stomach. I wish they would scan her head and work out which part of the brain told her that satin pyjamas were flattering for large breasts on wide-screen HDTV. Possibly it's the same cells that are controlling her sexual infatuation with Phil Mitchell. In a further exciting plot-point, Danny Dyer's character Mick is harbouring a dark secret – he cannot swim. Cue a visit to the local baths to "face his fear" and some quivering by the vending machine in his trunks. Seriously, it's been all go.
After it became apparent that England would not be emerging as a plucky, underestimated victory squad who would unite the country in bonhomie, I buggered off to 4OD and watched Nashville series one. It's essentially Game of Thrones in Stetsons. Who knew penning a few songs about your dead dog and how much you love "playin' gee-tar all night long" could provoke such skulduggery? I also downloaded from Sky the first seven episodes of John Oliver's Last Week Tonight, which is a rather unappreciated HBO gem currently simmering away on Sky Atlantic. Yes, a formulaic The Daily Show with Jon Stewart copy, but Oliver's British eye for detail and fearsome comedy approach to the blackest or dryest current affairs stories make it a joy. Like the most perfect clever comedy – and I say this in the manner of a cool, down-with-the-kids geography teacher – if you're not laughing, you're learning. I've learned more here about Fifa, the General Motors recall and the name change of "The Washington Redskins" than anywhere else.
One place that no-one is learning anything presently is inside the Big Brother: Power Trip compound on Channel 5 where, for the past 25 days, the fresh intake have been fighting, forming poisonous alliances, then weeping alone in bathrooms. The goings-on of Toya, Christopher, Ash and the gang are arduous to watch. For years I've claimed that one of Big Brother's problems was the incessant casting of non-intellectual and wilfully daft people who only wanted to fight. I was wrong. This summer's cast features a real mix of erudite souls – specifically Matthew, Pauline, Chris and Kimberly – but the ambience by day is part Sao Paulo prison riot, part Lord of the Flies. Brains and Big Brother are a more volatile combination than ever.
Circus-master of the majority of woe is Helen Wood, a terrifying, beautiful, brassy, divide-and-conquer schoolyard bruiser who was, rather wickedly, handed a free pass straight to the final in the first few shows. Thus, one of the most antagonistic people in the house can never be removed and is fully aware of the fact. Helen was selected for Big Brother thanks to her tabloid tales of bedding Wayne Rooney. She is both ashamed of these and strangely willing to share them. She is the perfect housemate. We root for Helen's success in leaving a stupid past mistake behind, knowing that some of her awful behaviour is a defence mechanism against the sniggers and whispers which follow her pretty face wherever it goes. Yet here she is decreeing house fatwas on the more rotund, non-pretty housemates, darkly influencing house dynamics, and putting herself at the mercy of TV bosses who, as I write, are plotting to put her former friend Jenny Thompson into the show to ignite ratings. Helen and Jenny were both – according to reports – "friends" of Wayne Rooney. Sensibly, Rooney's entire family have left the country to support him in Brazil. If they have any sense, they won't have left their Sky+ box recording Big Brother.
Register for free to continue reading
Registration is a free and easy way to support our truly independent journalism
By registering, you will also enjoy limited access to Premium articles, exclusive newsletters, commenting, and virtual events with our leading journalists
Already have an account? sign in
Register for free to continue reading
Registration is a free and easy way to support our truly independent journalism
By registering, you will also enjoy limited access to Premium articles, exclusive newsletters, commenting, and virtual events with our leading journalists
Already have an account? sign in
Join our new commenting forum
Join thought-provoking conversations, follow other Independent readers and see their replies