Grace Dent on TV: Nigellissima, BBC2
I love Nigella's naughty twinkle, but I'm not sure I'll get away with serving my friends a meatzza
Grace Dent
Thursday 27 September 2012 18:17 Comments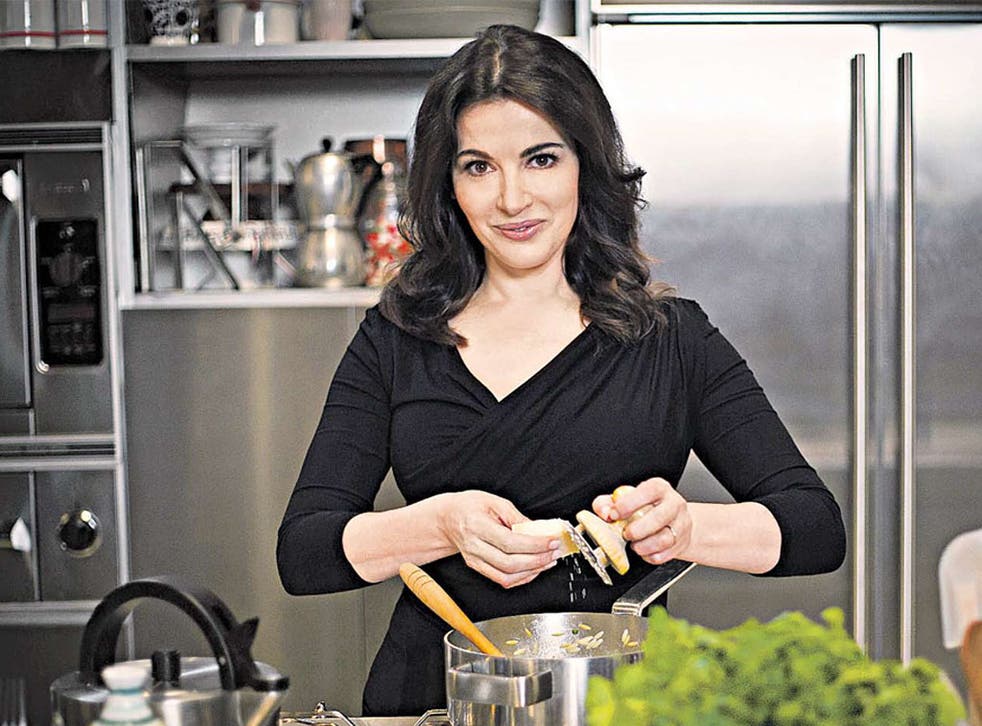 Nigella Lawson isn't a cook, she's more of a lifestyle choice. Nigella's new series of quasi-Italian cuisine, featuring her divine presence coating fusilli lunghi in unctuous sauces, twinkling naughtily, does little to make me wish to distance myself from this cult.
Nigella can shove capers and sultanas in a hand-blender then chuck it at pasta and, lo, seven well-mannered chums will pop by off the cuff, one of whom is blowing a pot of bubbles, another with a massive bag of tealights, one with a baby who never screams or poos, and they'll eat the sultana/caper thing compliantly and be wholly sated.
Nigellissima and the accompanying book will keep me diverted during autumn until I can reach for Nigella Christmas and finger pages of gingerbread muffins and nibbly finger-foods I'll never make for parties I'll never have. Because let's face it, having parties outside of Nigella-world is actually just an excuse for people to invade your home, announce strong-held beliefs that capers don't go with sultanas, break your toilet light switch, infuriate folk from your other social circles you've tried so dearly before to keep separate and then wee in next door's bush on the way home. I watched episode one of Nigellissima twice over on iPlayer, in a darkened bedroom, under a duvet and found Nigella's world to be a far more jocund place than my own. Here she is, our saviour: slinkier yet still gorgeously undulant, more sumptuous than ever-known, velour-wrapped, elegantly ebullient.
Nigella's life, I have read in her books, has fine structure. Every calendar event and occasion has a traditional cake, stew or pie she pulls from mid-air. Nigella cooks and cooks through abject grief and pregnancies, through hangovers, and house-moves, through all genres of life-tremors. Those times when transferring a Heinz soup into a Pyrex jug and pressing "express" on the microwave keypad seems like an arduous head-bend; this is when Nigella walks calmly to her American double-fronted refrigerator and snips frozen pigs' ears with ergonomic kitchen scissors into passata then serves them on imported gnocchi and Parmesan grated on a teensy-tiny grater. The belief in Nigella and the church of her thought keeps me going. It keeps me buying salt pigs and tiny little graters. There are no days when Nigella feels dour and a bit constipated and feels one of those invisible ball-bearing-under-the-skin spots beside her nose and there's nothing in the fridge except an antique potato with prettier eyes than your own. Nigella's friends all get along marvellously and not one person screams, "will you give OVER with that pissing pot of bubbles, grow up, you're 38!"
And Nigella's family are bo-ho and open-minded and indulge her creative vision and say, "ooh mummy, yes, pig steeped in Coca-Cola, I'll have some", unlike the time I once boldly served my father a fried egg atop a plate of bubble and squeak, in a gastro-pub style, and he was so alarmed and discombobulated he needed to be led to a quiet room with a Columbo double-bill.
I'd like to try some of the Nigellissima recipes in the real world merely to harvest reaction. "Everyone over to mine for meatzza," I'd cry, "It's pizza without the bread, just meat."
"Um, why can't we have the bread bit?" some feisty soul might ask. "I liked the bread. It gives the toppings something to lounge about on. It's a design classic."
"No, I'd say, just meatzza, which I will strew with basil.' To strew is a not a verb I generally used until Nigellissima came along, now I'm strewing willy-nilly. "Let me strew this Word document with vocabulary," I announced with an airy hand wave and icing sugar in my hairline.
Other Nigellissima creations in episode one included "chips" (the twist being the fat was cold when the spuds were added) and "eggs in purgatory" which, after many rewinds of the iPlayer, I uncovered to be huevos rancheros with a name-change. Apparently the only way to eat this is standing by the hob dipping bread in it, which to be frank is where I'd eat all my meals if my house was constantly full of random babies and people playing piccolos and friends leafing through photo-albums chuntering "rhubarb, rhubarb" and that berk with the bubbles.
Access unlimited streaming of movies and TV shows with Amazon Prime Video Sign up now for a 30-day free trial
Sign up
Of course, one of the most wonderful thing about Nigellissima is how wickedly it rankles Italian-cuisine buffs and fellow chefs. These people see Nigella's latest Italian incarnation to be as authentic as those Satanic spongy puppets that flog Dolmio. Not only does Nigella keep underlining that her Italian food isn't strictly purist, she clearly doesn't give a stuff. Three cheers for her unabashed chutzpah. I've been to Italy several times via powers of telly with Antonio Carluccio and Gennaro Contaldo, and to be honest, I'd rather stay in Britain and live la dolce vita Nigella.
Grace's marmalade dropper
Being Liverpool. Channel 5. The Liverpool team attempt yoga to restore balance and equilibrium and find standing on one foot challenging. Lovely, nosey access to Steven Gerrard's house too.
Register for free to continue reading
Registration is a free and easy way to support our truly independent journalism
By registering, you will also enjoy limited access to Premium articles, exclusive newsletters, commenting, and virtual events with our leading journalists
Already have an account? sign in
Register for free to continue reading
Registration is a free and easy way to support our truly independent journalism
By registering, you will also enjoy limited access to Premium articles, exclusive newsletters, commenting, and virtual events with our leading journalists
Already have an account? sign in
Join our new commenting forum
Join thought-provoking conversations, follow other Independent readers and see their replies