Grace Dent on TV: Rita Ora is a singing Kardashian – a perfect product-placement unit
Only the BBC would give 'The Voice' a fourth attempt to discover greatness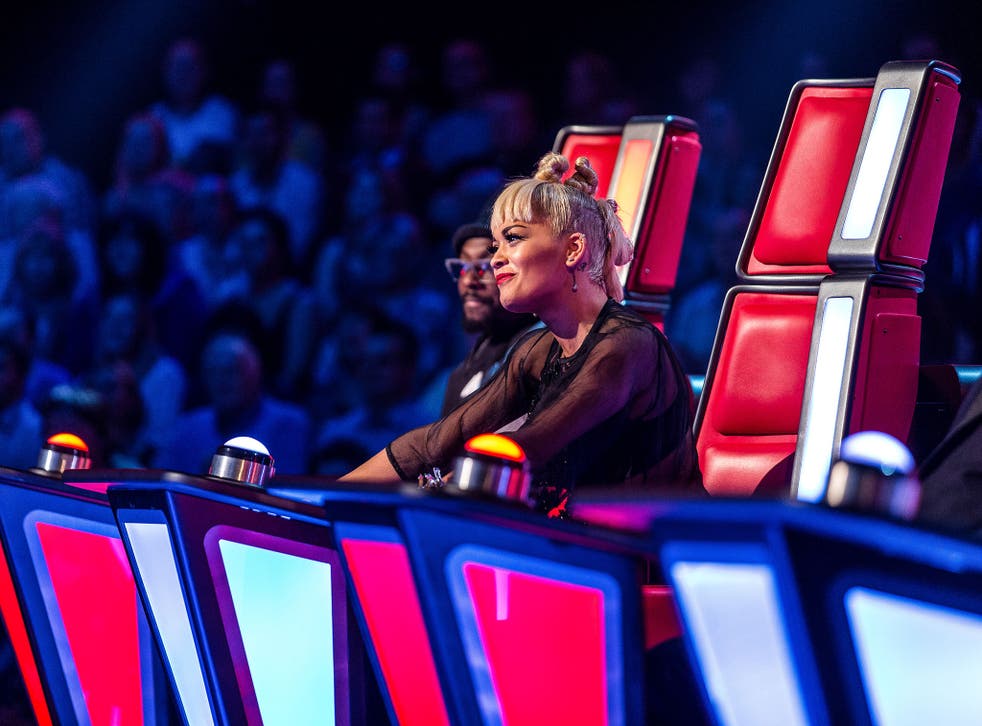 Because of the unique and fascinating way that the BBC goes about things, we are now experiencing the fourth cycle of talent search The Voice. It is fair to say that the first three outings of the BBC's hunt for greatness have been little short of an abject failure. Anyone would struggle to name a single "voice" from series two.
Jermain Jackman, winner of series three, is currently orbiting pop's world wholly incognito. When, last December, Bob Geldof assembled his Ebola-fighting chorus of the great and good, Leanne Mitchell, winner of series one, was not ordered to cancel any appearances at Potters Leisure Resort in Hopton-on-Sea and rush to London. And who can forget Andrea Begley? Winner of series two? Everyone did, approximately 18 minutes after the closing credits. Andrea Begley must be thrilled if they get her name right in Starbucks.
At this stage, meeker, less stalwart TV channels might have faltered. Only the BBC – who in its commitment to pleasant inoffensive screenfiller ran Last of the Summer Wine for 295 episodes – would march on proudly. In case you've missed The Voice so far, the concept is that the talent is chosen through "blind auditions". Judges Tom Jones, Ricky Wilson, will.i.am and new face Rita Ora sit with their backs towards the stage, unable to see if the singer is a fatty or an oldie or an ugly or any of the other myriad "faults" that would prevent you being accepted in the world of showbiz. The concept, for a million reasons, is nonsensical but because people are quite thick all of the world over, The Voice plays in many countries.
In the UK if the judges turn around on hearing "the voice", then the amateur singer has the headbangingly hard choice of whether to make an alliance with will.i.am, who has an estimated net worth of $75m thanks to his global songwriting, production and entrepreneurial skills, or, instead, join up with Tom Jones, a 74-year-old man who might let them sing backing vocals on his next devotional gospel album selling mainly in Asda.
Or, one can choose Rita Ora, who has released one album. The only thing choosing Rita will win you, in the long run, is approximately three months of guest-list spots at DKNY and Adidas launches. Rita is, essentially, a singing Kardashian: an aesthetically perfect product-placement unit. If I was choosing, I'd go with Ricky Wilson from Kaiser Chiefs. At least we'd have a laugh and he might let me run the merchandise stand on their next South American tour.
So, all things considered, series four kicked off last Saturday in a wholly adequate and intensely polite manner. There's no "nasty" judge on The Voice. No voice of reason. There's no Simon Cowell or Sharon Osbourne swinging the sword of truth and, by God, it needs it.
Particularly when the man who played Bungle the bear in the Eighties children's TV show Rainbow turned up to honk through "Mustang Sally" in a manner that put me in mind of 2am sales-conference karaoke. No judge wanted to mentor him, but nevertheless he was assured he was fantastic. What The Voice actually needs is a water-cannon. Blast those suckers right off the stage. I'm a fair person, I'd let them wear goggles. No one wants to see an eye taken out on primetime. I'd settle for host Marvin Humes chasing the losers right out into the BBC carpark, zapping at them with a Taser. I'm nothing but fair.
Next along, Kym Marsh, ex-Hear'Say, now starring as Michelle in Coronation Street, shoved her daughter, Emilie, on stage to perform "Clarity" by Zedd. It's a difficult song to sing and mini-Kym Marsh proved that. Some of the notes were definitely there, many were missing, some were entirely different notes, some notes sounded like a woman removing ingrown thigh hairs while drunk. It did not sound good. No wonder Steve McDonald in Corrie is depressed if he has to hear this racket on a regular basis. Someone needed to spell it out to her. Bring on the water-cannon. Actually, now I think, losers on The Voice should be forced to wear silver jumpsuits and be pushed gracelessly in a swimming pool, like on previous BBC1 Saturday night primetime show Hole in the Wall. Now there was a show with jeopardy.
Instead, Emilie was fed a string of hollow excuses, reminiscent of the flannel words you'd hear if you marched up to someone in a bar post-snog demanding to know why they didn't call. "I think you're brilliant, you're just not for me as I don't know what to do with your sort of sound", or, "Oh, damn it, I wish I'd turned around now, I just left it too late and now the chance is gone. What a shame!" The Voice will continue for approximately three more months until a winner will be announced and then we can all ignore them. Again.
Register for free to continue reading
Registration is a free and easy way to support our truly independent journalism
By registering, you will also enjoy limited access to Premium articles, exclusive newsletters, commenting, and virtual events with our leading journalists
Already have an account? sign in
Register for free to continue reading
Registration is a free and easy way to support our truly independent journalism
By registering, you will also enjoy limited access to Premium articles, exclusive newsletters, commenting, and virtual events with our leading journalists
Already have an account? sign in
Join our new commenting forum
Join thought-provoking conversations, follow other Independent readers and see their replies