Grace Dent on TV: The Enfield Haunting's poltergeist was about as scary as a drunk uncle
Sky Living's creepy tale isn't a patch on 1992's Ghostwatch
Grace Dent
Thursday 14 May 2015 13:12 Comments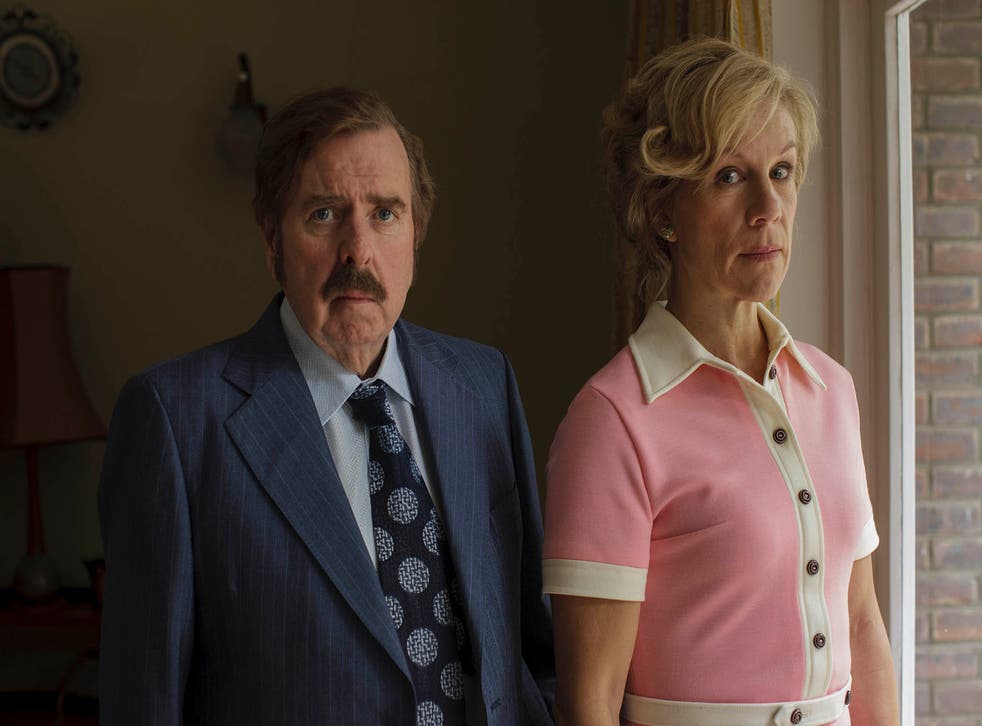 On reflection Sky Living should probably have saved The Enfield Haunting for three consecutive nights at the end of October. This "based on true events" poltergeist tale would have been perfect for Hallowe'en spooking, over a few long dark nights, when we could send ourselves half-daft with netherworld terror. The BBC got it so right with Ghostwatch on Halloween in 1992.
Well, I say "right". They actually got it so bang on-the-target that 30,000 people called the BBC switchboard in frenzied certainty that they had witnessed Michael Parkinson in the grip of Satanic possession. Sarah Greene was pushed onto screen days later to assure those with post-traumatic stress disorder that she wasn't trapped in a cupboard with the ghost of a 19th-century child-killer.
Ah, we'll never see those glory days of completely random, who-cares-about-the-Broadcasting Standards Commission, warning-free scenes of horror again. Instead, The Enfield Haunting came with a mumsy warning that it contained "disturbing" moments.
This was, strictly speaking, a lie. Yes, it was mildly disconcerting to be reminded how sludge-coloured all home decor was in the 1970s. The Hodgson family's home was so depressing estate agents would probably consider its fractious poltergeist one of the more saleable features.
The Enfield Haunting

Show all 8
Was the hour disturbing? No. Certainly – without giving away spoilers – events do heat up over the following two episodes. But the opening slice was a somewhat sedate back-and-forth between the totally haunted Hodgson family and the cynical ghost-hunter Guy Lyon Playfair (Matthew Macfadyen), who thinks they're fibbing for financial gain. Possibly the most terrifying thing that happened in episode one was a poltergeist taking exception to Guy and pelting him with marbles. It could have had his eye out, but Amityville this was not.
Macfadyen plays this dapper cynic in a manner reminiscent of Matt Berry's Toast of London. "All I see here is… naughty children!" he splutters, as marbles ping off his head, the walls shake and the bedroom curtains attempt to strangle little Janet (Eleanor Worthington-Cox).
True, the Hodgsons' poltergeist – once the family have grown blasé about living with a spiteful, vocal spectral presence – is mainly a bloody nuisance. It is "drunk uncle at Christmas" annoying. It smashes the teapot. It ruins board games. It bumps, it bangs, it may as well pull a tablecloth over its head and float around mumbling "wooooooo".
The poltergeist speaks through little Janet – in timeworn Exorcist style – in a variety of voices, and using language that would make a trucker blush. Worst of all, the spook acts completely without manners towards amateur paranormal expert Maurice Grosse (Timothy Spall) by bringing up the matter of his recently deceased daughter. This poltergeist is a jerk. I only hung around The Enfield Haunting for three whole hours to see if someone would boot its behind firmly back to hell.
Still, Spall as Maurice is, as ever, very watchable. It is almost impossible to watch Spall in any role, with his trademark gentle, self-effacing veneer, and want anything for him but safety and peace of mind. I felt this when he was Barry in Auf Wiedersehen, Pet and similarly during Mike Leigh's Secrets and Lies. My bonhomie towards him was less ardent during the movie Mr Turner when I realised, yes, this film does last 150 minutes and yes, it is mostly about paint drying, but still – Spall is one of Britain's acting greats.
Access unlimited streaming of movies and TV shows with Amazon Prime Video Sign up now for a 30-day free trial
Sign up
In The Enfield Haunting, Maurice is a man with tunnel vision, so lost in grief and fixated with the afterlife that he can't see that, in the real here-and-now, his wife Betty appears to be having it off with another man behind his back. The fact Betty pops out to the supermarket wearing heels and lipstick, stinking of "Laughter" by Yardley, and then returns home giddy without so much as a carrot should have been a warning, though subsequent episodes reveal the other man to be something rather different to the anticipated bit on the side.
It's a shame that Spall and brilliant child actress Worthington-Cox don't have much more to play with here than dodging marbles and slightly dull dialogue. Instead, we're trapped, scene after scene, with a poltergeist that won't make its intentions plain, a sea of sceptics who don't believe it exists, and Mrs Hodgson faffing about.
The Enfield Haunting had me thinking fondly of truly terrifying retro horror like Hammer House of Horror's 1980s creepfests The House that Bled to Death or The Silent Scream. By my third hour with the ghostly gang in Enfield, I was crying out for a bleeding ceiling or a child's birthday party ruined by guts and gore.
Register for free to continue reading
Registration is a free and easy way to support our truly independent journalism
By registering, you will also enjoy limited access to Premium articles, exclusive newsletters, commenting, and virtual events with our leading journalists
Already have an account? sign in
Join our new commenting forum
Join thought-provoking conversations, follow other Independent readers and see their replies