Gracepoint, TV review: The authenticity of Broadchurch is lost in its US remake
Exciting sealife aside, this is a watered-down imitation that should have been left alone, says Sally Newall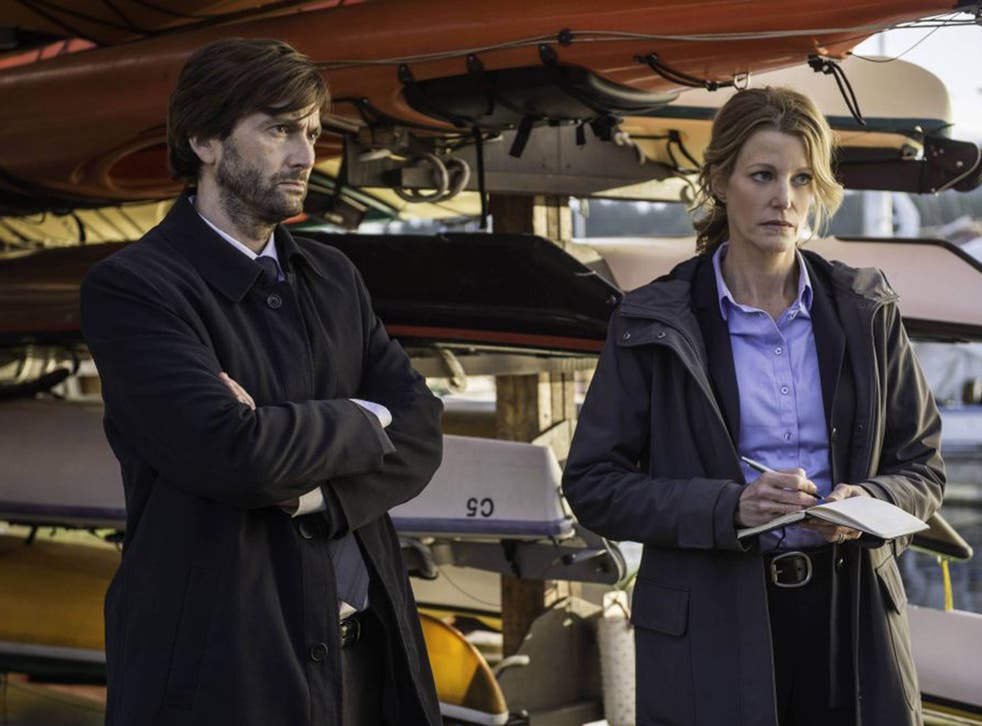 After 41 minutes of Gracepoint, all spent with an uneasy sense of whatever the more extreme version of déjà vu is called, I watched as a whale's tail disappeared into dark sea water and the credits rolled. A whale! In Dorset! Except that it wasn't Dorset, it was Northern California – filmed in British Columbia – and it was a reminder that despite this first episode being almost a shot-by-shot US remake of ITV's slow-burning, enthralling whodunit, Gracepoint is no Broadchurch. Exciting sealife aside, it's a watered-down imitation that should have been left alone.
This first episode was penned by Chris Chibnall, the original's creator and writer (the subsequent ones had American scribes), but the US influence was evident. Gone was the powerful pairing of David Tennant's terse, impatient DI Hardy and the sympathetic Detective Sergeant Ellie Miller made affectingly human by Olivia Colman.
Instead, you got Tennant-gone-yank renamed Detective Emmett Carver and – depressingly – a more conventionally glamorous Miller in the form of taller, blonder Anna Gunn (Breaking Bad). Colman has said that she "never got the call". It's not about the acting, let's make no mistake – apart from Tennant's dodgy accent – but something was missing, and not just the familiar names.
The best TV to watch in 2015

Show all 13
Some characters kept theirs, others got California-fied – the Latimers became the Solanos and Jack Marshall (played by Nick Nolte), Jack Reinhold. Jacki Weaver's Susan Wright looked alarmingly like Broadchurch's own Susan Wright (Pauline Quirke) and the two Beths (Jodie Whittaker and Virginia Kull) were hauntingly reminiscent of each other.
The whole thing was discombobulating. But perhaps I am being unfair. The makers always said that they didn't expect there to be much overlap due to BBC America's small audience share.
So does it work as a standalone drama? I can't un-see Broadchurch, but I can judge Gracepoint on its authenticity. Broadchurch is synonymous with and indistinguishable from the land its characters inhabit: the stark, dramatic Jurassic Coast cliffs on the extremities of a close-knit town where everyone knows each other's business and almost anyone could be a suspect.
"The north-west coast of America is that mixture of beauty and savagery, which I felt was very similar to the Dorset coast," said Chibnall in an interview. Except it was filmed in Canada, and by recreating something and making it glossier, it lost some truthfulness that won over both UK and US audiences. In Broadchurch, orange cagoule-clad Colman convinced as a working mother from a small town who had never dealt with a murder before, let alone that of her friend's son. Gracepoint's Gunn was a little brittle and too polished, even in her civvies.
American remakes are not universally bad, but there have been a fair few turkeys (Life on Mars springs to mind) amid rare successes (The Office). Gracepoint had a different ending and there were two extra episodes. I won't spoil it for you but I am not convinced it lived up to the "distinctive piece of drama" billing it was given. Nor were the American public: spoiler – it has not been renewed.
Incidentally, If you're interested, the French are a having a go at their own remake. Theirs is going to be called Malaterra and they've actually rewritten the script – bonne idée.
Register for free to continue reading
Registration is a free and easy way to support our truly independent journalism
By registering, you will also enjoy limited access to Premium articles, exclusive newsletters, commenting, and virtual events with our leading journalists
Already have an account? sign in
Register for free to continue reading
Registration is a free and easy way to support our truly independent journalism
By registering, you will also enjoy limited access to Premium articles, exclusive newsletters, commenting, and virtual events with our leading journalists
Already have an account? sign in
Join our new commenting forum
Join thought-provoking conversations, follow other Independent readers and see their replies