Great British Bake Off episode 4 review: Noel's shirt steals the show on caramel week
There was caramel oozing all over the shop in the sweetest, stickiest episode yet
Rachel Hosie
Tuesday 19 September 2017 20:48 Comments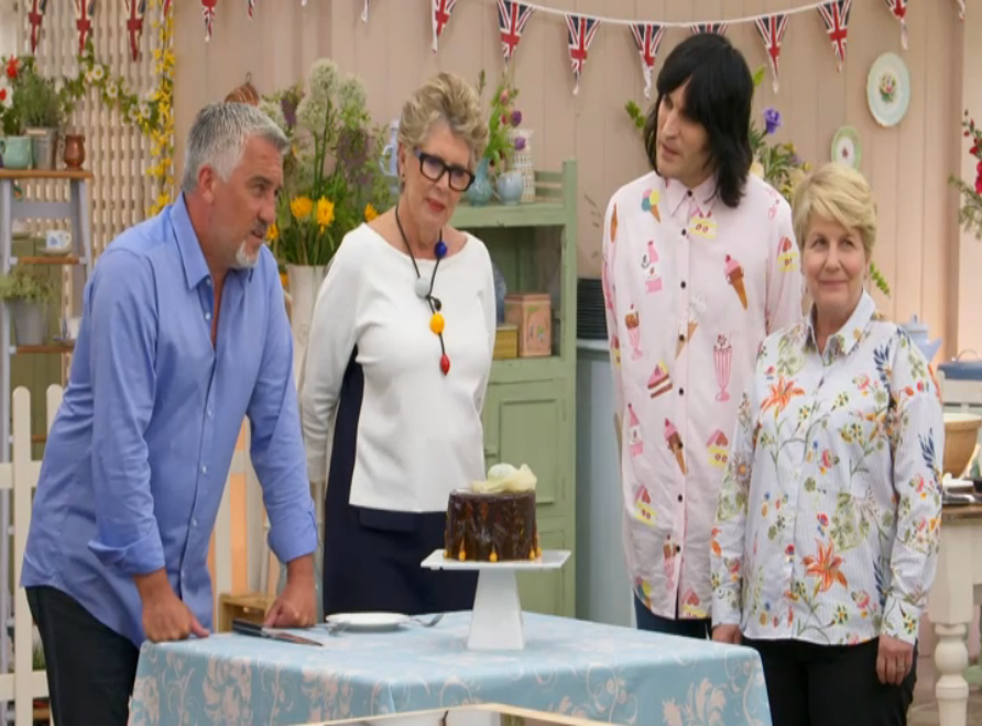 Episode four of Channel 4's Great British Bake Off brought with it a brand new challenge: caramel week. Which bakers would reach new spun sugar highs? And who would meet a sticky end?
We were still reeling from Flo's departure and Julia's unintentionally phallic bread snail last week, and everything was to play for.
This week saw hosts Noel and Sandi in equally jazzy shirts - Noel in pink with a rather fetching ice cream and cake print, and Sandi in a blue striped number, with a bird and floral design.
Noel's choice of attire send Twitter into meltdown - could this shirt be the new infamous floral bomber jacket that sold out after being sported by the fashion icon that is Mary Berry in 2012? (FYI, Noel's shirt is from ASOS, and it's sold out. I'm as gutted as you are.)
The shirt is particularly ironic given that since filming has finished, Noel has spoken out to say he watches his weight and largely avoided eating the sweet treats on Bake Off. If you can't eat them, why not wear them, eh?
The contestants, of course, weren't holding back, with Kate revealing she thinks she'd put on "a good stone - and it's all caramel." And so it should be, if you really want to win after all.
The signature challenge this week was to make - prepare to drool - 18 millionaire's shortbreads. As Prue explained, the caramel had to be "firm, but not chewy." 'Tis a fickle beast, caramel, as any home baker will know.
Millionaires' shortbread is also notoriously personal - some people like a thick layer of biscuit and a sliver of caramel, others like a thin biscuit base and hefty layers of caramel and chocolate. What would Prue and Paul prefer? We couldn't know.
It was going to be no picnic. It'd be more like a twix, if anything.
Last week's star baker Julia pushed the boat out from the start by creating a pecan salted caramel version of the traditional British treat. And she wasn't alone in adding salt to her caramel - very on trend, these bakers.
Access unlimited streaming of movies and TV shows with Amazon Prime Video Sign up now for a 30-day free trial
Sign up
James went American with a maple pecan version, and Scottish Tom also went nuts with an almond shortbread topped with a stem ginger caramel. Sophie decided to try and show everyone up by creating a four-layer Jaffa millionaire's shortbread, and Liam had my eyes rolling back in my head at the sheer prospect of his salted peanut butter version.
He also decided to present his creation like Tetris for some reason unbeknownst to the rest of the world.
As the bakers agonised over their sugar, staring over bubbling pans as the granules turned to molten, golden, bubbling liquid, viewers leaned closer to our TV screens. The tension was rising like Paul's bank balance.
You don't want it to crystallise, and you have to brush away any sugar that goes up the side of the pan. Oh, and don't even think about stirring it. Told you caramel was tricky.
And then there's the adding of melted butter and cream to the mix - see how Sophie put on a stone now?
Yan went rogue by not using a thermometer but claimed she'd be able to tell when it was ready by assessing when all the moisture was gone. A bold move.
The world gasped for Tom when he tried to pour his chocolate on to his caramel and the latter split because it wasn't set properly. Could the lovely Scot come back from that?
But as the bakers started popping their shortbreads out of their moulds and trays, our eyes widened. How had these sticky messes become such delicious-looking millionaires' shortbreads? Time was not on the bakers' side though, with many of them not finishing their creations.
And the judges were critical too - apparently nothing was right about Yan's shortbreads, and Prue described James' as "a little unpleasant." Ouch. She didn't sugarcoat it.
No one's was perfect, and, unsurprisingly, Prue and Paul were exceedingly picky about the size of the layers. "IT'S A PERSONAL PREFERENCE, PAUL!" I wanted to shout at the TV. Many would argue that a messy caramel shortbread is a good caramel shortbread. And some of us like a thick layer of chocolate. But then again, some of us aren't professional chefs on TV, one must concede.
Paul liked Liam's 2:1 ratio of caramel to shortbread, but Prue asked, "Can you really eat that much caramel?" She informed us that she doesn't like sweet things. So she's definitely in the right place.
It's not quite at the level of Paul and Mary, but there were signs of growing banter between the judges - upon being presented with Yan's shortbread topped with a design of the Queen's head, the jester that is Paul Hollywood remarked: "I like the picture of Prue on the top." Absolute bants.
Bless young Liam, who so wowed Paul that he was given the ultimate Bake Off accolade (although now maybe second to the seat-switch): the Paul hand-shake. And of course, Paul looked most pleased with himself upon being able to elicit such an excitable reaction.
This week's technical challenge was to make a Dutch treat. "I had one of those once - only remember the first half of the weekend," Sandi said, prompting sniggers from the tent.
The Dutch treat in question was Stroopwafels. 12 of them, to be precise. (Nope, I have no idea either.) Essentially, two thin waffles sandwiched together with a layer of caramel.
As the bakers stirred, kneaded and whisked, there were perplexed faces all round, as everyone tried to see what the others were doing (although clearly no one had a clue).
Sandi dropped in that caramel was originally used for waxing, and Steven suspiciously revealed himself to be an expert in leg waxing. Probably best just to glide over that.
She also provided a moment of familiarity and hilarity to all mothers - or anyone who's ever attempted to do something in the kitchen alongside their mother - when she stepped in to help 18-year-old Liam open his tongs. It was like a fresher trying to work a hob in their first week of uni. We've all been there.
This week also saw the return of the historical segments to Bake Off, with a jolly to Gouda for Noel. And of course we now no longer need these inserts for tea breaks either.
I'm actually coming round to ad-breaks - it turns out they're perfect for getting a snack (woe betide anyone who didn't have any caramel shortbread in the house), checking Twitter for lol-worthy #GBBO musings and going to the loo.
This episode, the comedy was almost too slapstick at times, with Noel's attempt to sit on a bush and then falling over prompting eye-rolls rather than chuckles.
His irreverent tone seems less jarring than it did in episode one though, when we were still getting over the loss of Mel and Sue. Now, we're acclimatising to his style. "Very excited," Noel said about Sophie's jaffa millionaire's shortbread, sounding not even remotely excited. What's he like, eh? Classic Noel.
But perhaps he is genuinely relaxing into his role more as the weeks go on. He even showed an emotional side, admitting that he felt for Tom who had an off day with his showstopper.
Let's not get ahead of ourselves though. Sadly, the judges weren't impressed with any of the Stroopwafels - they were all, seemingly, equally bad, with - gasp! - grainy caramel. Oh dear. Best of a bad bunch, however, was Stacey, which put her, Liam and Kate all in strong positions going into the final challenge.
This week's showstopper bake was to make a caramel cake. Just a caramel cake? Apparently so. It had to be a one-tier cake with three layers of sponge, any filling and some spun sugar. Whilst it didn't sound too challenging, this gave the bakers lots of scope to get creative and wow us all.
"It is caramel week, so I think the emphasis will be on the caramel decorations," Kate pointed out, most astutely.
Obviously, the bakers went to town, embellishing their cakes with honeycomb, caramel waterfalls, peanut brittle, macadamia praline, sugared hazelnuts, spun sugar, mirror glazes and caramel shards.
James and Tom remade their cakes after being unsatisfied with their first bakes, so the pair were both up against the clock once again.
Whisks were flying as sugar was thrown around the room, and then the assembly of the masterpieces commenced. Glossy caramel glazes were poured over the cakes, oozing down the sides and arousing viewers.
Smut levels were slightly lower than previous episodes, but there was still a pleasing amount of innuendo. Highlights include: "It's easier just to pop them out and slide them off," from Yan; "It's not as much of an erection as I wanted it to be," from Stacey; and James talking about "dipping his nuts."
It's safe to say some of the caramel cakes looked better than others - while Sophie's was elegant and Liam's "trendy" drip effect impressed, Stacey's cake looked slightly GCSE art and Yan's looked just, well, a bit mad. Although it impressed arbiter of style, Paul.
Poor Tom looked like he was about to cry when the judges didn't love his hummingbird cake.
But who impressed most over the weekend and was to leave with the sweet taste of success?
The caramel master and this week's star baker was… Kate, who seemed like she genuinely couldn't believe it. Prue said her apple cake was possibly the best cake she'd ever eaten, which is undoubtedly a huge accolade.
And sadly leaving the tent was Tom. Lovely, Scottish Tom. Most upsetting.
We'll be tuning in again next week, when presumably none of the bakers will have any teeth left.
Register for free to continue reading
Registration is a free and easy way to support our truly independent journalism
By registering, you will also enjoy limited access to Premium articles, exclusive newsletters, commenting, and virtual events with our leading journalists
Already have an account? sign in
Join our new commenting forum
Join thought-provoking conversations, follow other Independent readers and see their replies