Great British Bake Off, episode 4, review: Heat gets turned up as Iain goes into meltdown
Dessert week was full of the usual dramas, but the bakers remain too chilled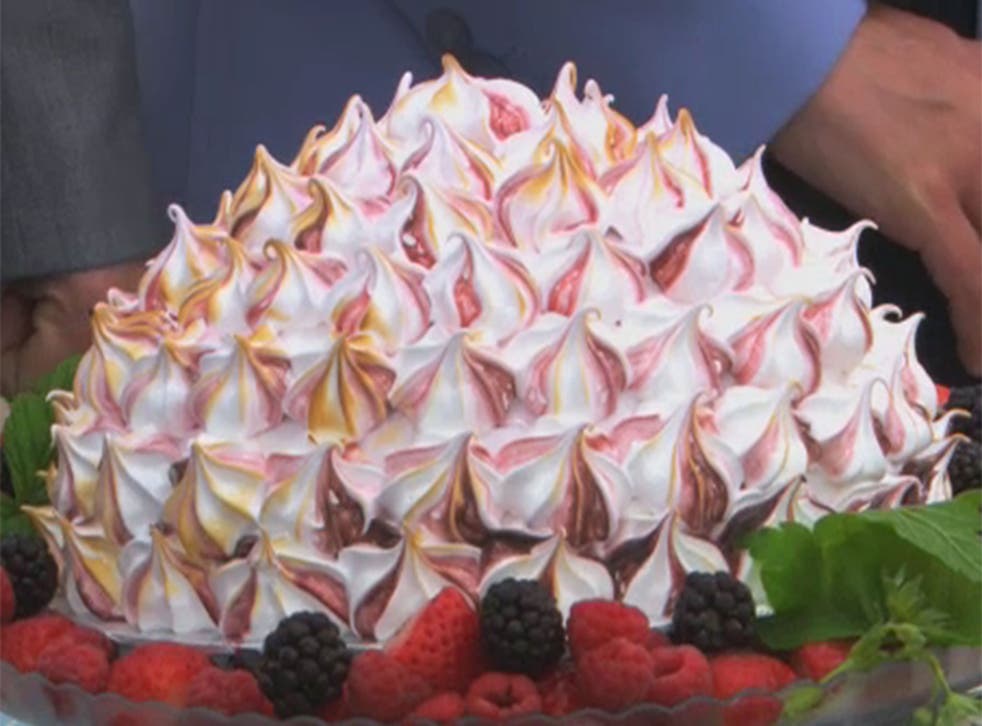 The remaining nine bakers have been tasked with one of the best things in the world: dessert. The question is, what on earth is a self-saucing pudding when it's at home?
The bakers get cracking. Most opt for a sponge with a liquid centre, while Chetna, Norman and Luis are being mavericks and having their sauce at the bottom.
Martha's sounds great: a peanut butter chocolate fondant is her own take on a combination that is becoming increasingly popular in modern baking. Also bless her for worrying about maths and chemistry.
Diana and her "big broad shoulders" are doing a good job of the mixing. She's a bit like Julia Child: lots of hand waving and exclaiming and saying mad things like how GBBO is the most important thing she's done, "apart from giving birth and weird stuff like that". Hope your kids aren't watching, Diana.
Norman, wonderful Norman. He's being a bit too casual about his liquid toffee - Paul doesn't do casual baking. This is Paul's face when you even say the words "casual baking".
Baked Alaska with homemade ice cream is the showstopper challenge, and guess what? Diana's is a swan! Remember the last swan we had way back in series three? Diana's is made out of meringue, which is pretty ambitious given that the bakers are making everything on the hottest day of the year so far.
What's missed this series is someone "having a Ruby" - the mega-nervous breakdown that occurs even if your bake actually looks a hundred times better than everyone else's.
Everyone seems remarkably chilled, which might be thanks to spending so much time by the freezer. Sue practically has to drag Paul away from Iain after he discusses his sesame seed ice cream to go with the Baked Alaska. Mary's not so sure.
But then… sabotage! Diana took Iain's ice cream out of the freezer because he was using her space! "WHO TAKES ICE CREAM OUT OF THE FREEZER?" Iain screams. Yeah Diana, who does that? Watching Iain's ice cream collapse into a puddle of goop is as emotionally devastating as the last scene in The Snowman. Before Sue can stop him, it's gone in the bin. Iain storms out of the tent in fury, while the remaining bakers look on in stunned silence.
In the technical challenge, the bakers try to recreate Mary Berry's superb tiramisu cake. Everyone gets stuck into making the sponge, which you're supposed to fold gently.
Best Great British Bake Off cakes

Show all 18
Norman couldn't give a damn either way. "Nah it'll be alright" could be his middle name. He also needs to take Paul and Mary's advice about presentation, rather than muttering about how simple things are the best things. Tell that to Iain's ice cream.
Have we ever had a contestant not present something in the history of GBBO? Everyone's pretending to admire the Alaskas (Alaski?) but all we can think about is poor Iain.
The judge's decision is inevitable really. A genuinely shocked Richard is announced star baker for the second time, while Iain says goodbye to the remaining bakers, who look absolutely gutted to see him go.
As Diana might say, revenge is a dish best served frozen.
Register for free to continue reading
Registration is a free and easy way to support our truly independent journalism
By registering, you will also enjoy limited access to Premium articles, exclusive newsletters, commenting, and virtual events with our leading journalists
Already have an account? sign in
Register for free to continue reading
Registration is a free and easy way to support our truly independent journalism
By registering, you will also enjoy limited access to Premium articles, exclusive newsletters, commenting, and virtual events with our leading journalists
Already have an account? sign in
Join our new commenting forum
Join thought-provoking conversations, follow other Independent readers and see their replies