Heston's Great British Food - TV review: Hot stuff from Heston as he reinvents Britain's curry house dishes
Ellen E. Jones Comments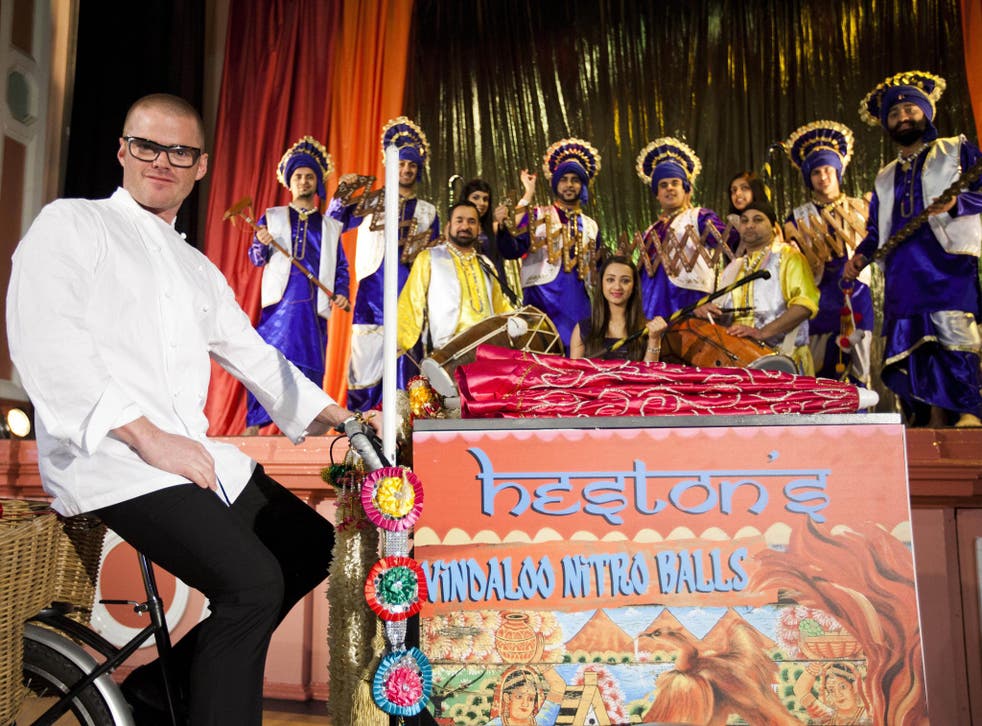 Heston Blumenthal's food shows always make for spectacular television, but Heston's Great British Food (Channel 4) can claim an additional triumph: it has succeeded in restoring pride to Britain's national cuisine. How can dishes such as fish and chips, roast beef and sticky toffee pudding be dull and uninspiring, when each has served as inspiration for one of Heston's fabulous feasts? The return of the show for a second series also proves Britain isn't out of foodie favourites yet – even if this episode's curry theme did seem a bit of a stretch.
Curry is from India, yes? Well, no, not quite. Most of the curry house pioneers were actually from Bangladesh, not India, and, as Heston was informed by restaurateur Enam Ali, the deliciously inauthentic likes of chicken tikka masala and onion bhaji were both invented on these shores. So, much like the Birmingham-produced bhangra-pop hit "Mundian to Bach Ke", which we heard on the soundtrack, Heston's curry episode was a celebration of the culture of second, third and fourth-generation British-Asians.
The food history sections were full of fascinating morsels, since even before the Second World War instigated a wave of mass immigration, Britain had a culinary relationship with India. This has resulted in Victorian Anglo-Indian concoctions of varying tastiness, like kedgeree (yum), mulligatawny (passable) and devilled kidneys (the very work of Satan). In conversation with Heston, the author and historian Shrabani Basu, also scandalously hinted at an affair between Queen Victoria and her Indian Secretary Abdul Karim. For it was he who first introduced her maj to that known aphrodisiac – a massive curry. If Karim's poppadum's were as impressively over-sized as Heston's, we can hardly blame her.
It wasn't this tittle-tattle, which made Heston's famous glasses – literally – mist over, however. That visual spectacle took place after he bit into a moruga scorpion chili, aka "the hottest chili in the world". As if his discomfort wasn't evident enough from his crimson cheeks and steamed-up specs, Heston also managed a mind-bending description for the viewer: "Ooh, I've just found a couple of radiators at either side of my head!"
Register for free to continue reading
Registration is a free and easy way to support our truly independent journalism
By registering, you will also enjoy limited access to Premium articles, exclusive newsletters, commenting, and virtual events with our leading journalists
Already have an account? sign in
Join our new commenting forum
Join thought-provoking conversations, follow other Independent readers and see their replies