Hold the Sunset Christmas special, review: John Cleese's BBC sitcom is ridiculous, nonsensical and harmless
It is as if the writer put down his pen midway through crafting an hour-long special and shoved in a heart-warming Christmas singalong to end things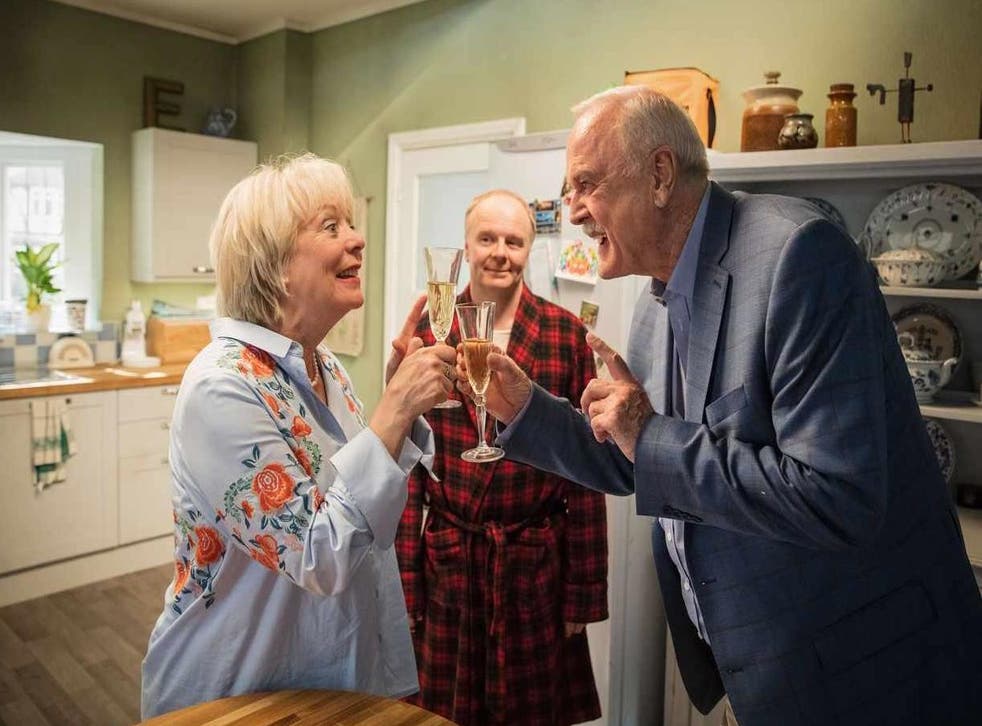 Watching Hold the Sunset, John Cleese's first BBC sitcom since Fawlty Towers ended 43 years ago, is like watching your grandma chatting with a friend she's just bumped into. You're not particularly interested, or invested, in any of it, but it's all so gently amiable that you don't resent waiting around for it to finish.
Case in point: the first scene of this year's Christmas special, which follows the show's successful (though critically disparaged) first series earlier this year.
"Ahh, Christmas shopping, eh?" says Cleese's Phil to his neighbour, Mr Dugdale (Peter Egan).
"Unavoidable," smiles Dugdale.
"If we don't shop, the sun won't return, right?" says Phil. They both politely chortle.
It is such anodyne small talk that you might file the scene alongside the current slew of so-called "slow TV"; shows in which, in an effort to disengage from the stress of 21st-century life, you watch a train chug along a track, or a washing machine whirring, or paint dry.
Unlike in Fawlty Towers, then, you won't see any manically inappropriate goose-stepping or frenzied corpse hiding in Hold the Sunset – a show in which two widowed neighbours, Phil and Edith (Alison Steadman), fall in love – but it would have been futile for Cleese to even try to emulate that.
Best TV of 2018

Show all 10
In the first series, Phil and Edith's plans to run off (or at least, shuffle off) into the sunset, and escape to the Mediterranean island of Gozo, were scuppered when the latter's son, 49-year-old man-child Roger (Jason Watkins) left his family and moved back in. In the Christmas special, Roger is as obliviously irksome as ever, attempting to haul a preposterously large Christmas tree into his mother's modest home, a farce accompanied by a plinky-plonk score. This is Roger's entire plotline. It's still too much Roger.
Phil, meanwhile, during a sudden break from the show's low-stakes brand of comedy, sees his dead wife Celia reflected in a bedroom mirror. He seems remarkably unfazed by the apparition. "Does it have to be like that?" he asks her. "I mean, it's a bit of a cliché."
As they natter away, the couple's cleaner, Mrs Gale (Anne Reid, doing a bad Cockney-adjacent accent) overhears, and concludes that Phil is losing his marbles. Low-key chaos ensues. A scene in which Wendy (Roger's ex-wife, played by Rosie Caliero) and Sandra (a typically brusque Joanna Scanlan) are discovered hiding in Phil's wardrobe and attempt to lie their way out of it – by pretending that Wendy was trying to cure her claustrophobia – provides one of the episode's few chuckle-worthy moments.
Later, Phil casually announces to Edith, "Something odd happened; I discovered Wendy and Sandra in the wardrobe." Edith doesn't believe him, and suggests that it might be a good idea for Phil to "go and see someone".
Just as you start to wonder if the tale will take a dark, gaslit turn, the episode ends. Nothing is resolved. It is as if the writer (Charles McKeown, Oscar nominated for Brazil, which he co-wrote with Terry Gilliam) put down his pen midway through crafting an hour-long special, decided that half an hour would do, and shoved in a heart-warming Christmas singalong to end things instead. It's ridiculous, nonsensical and harmless.
Register for free to continue reading
Registration is a free and easy way to support our truly independent journalism
By registering, you will also enjoy limited access to Premium articles, exclusive newsletters, commenting, and virtual events with our leading journalists
Already have an account? sign in
Register for free to continue reading
Registration is a free and easy way to support our truly independent journalism
By registering, you will also enjoy limited access to Premium articles, exclusive newsletters, commenting, and virtual events with our leading journalists
Already have an account? sign in
Join our new commenting forum
Join thought-provoking conversations, follow other Independent readers and see their replies