Inside the Commons, BBC2 - TV review: Even in the Westminster bubble, women are second-class citizens
The bigwigs stick to party lines but the gems come from the backbenchers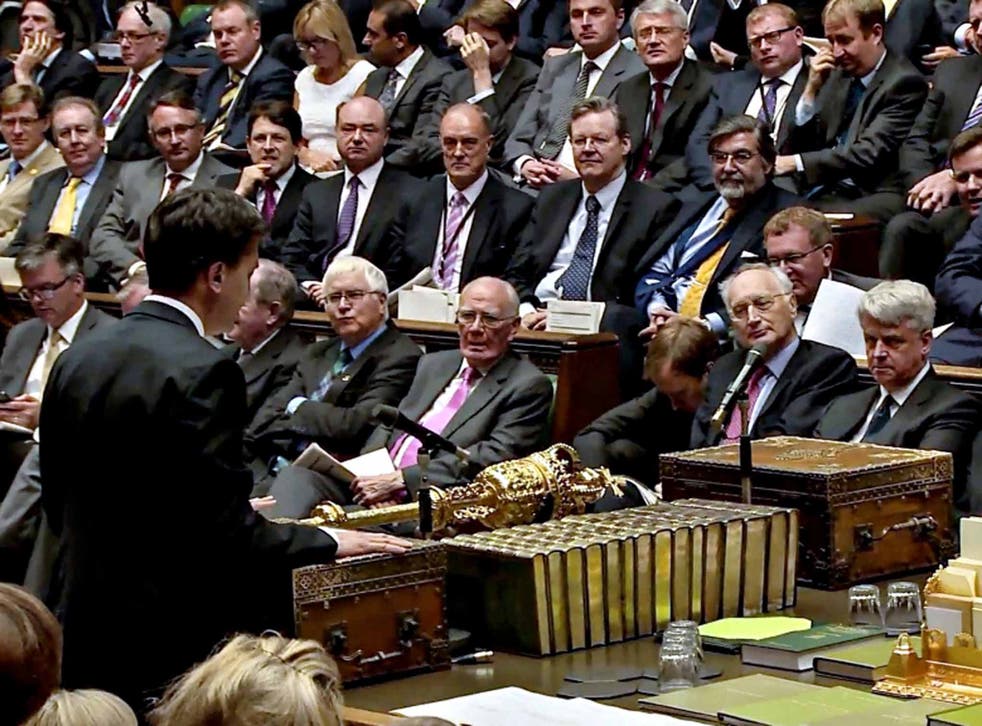 Given the unpredictability of the general election, it feels like anyone could end up at Westminster come May. Wannabe MPs should know that bagging a space on those green leather-clad benches is not as simple as turning up. Honourable members must get in early, hand-write their name on a prayer card and install it at their chosen place. A clipboard-wielder then notes down all the promised attendees, who must be present for prayers. With 427 spots for 650 MPs, space on big days is at a premium.
"It's a bit like the Germans on the beaches putting their towels on the deck chairs," said Tory Robert Halfon as he was filmed on Budget Day in the first instalment of Michael Cockerell's engaging new four-parter, Inside the Commons. This opening episode, as much about the crumbling, leaking mock-gothic building as the people populating it, showed the challenges of making Westminster work.
Over a 12-month period, Cockerell was given unprecedented access to film on the house floor. He is a Westminster regular, known for his intimate biographical profiles of heavyweights. His "part of the club" status is advantageous, scoring chats with Cameron and Miliband (Nick Clegg declined). The bigwigs stick to party lines but the gems come from the backbenchers: "I will sit at the back, make a quick getaway and take a book along, in case you get bored as well," said Tory veteran Keith Simpson.
The younger generation were represented by Labour's Sarah Champion and Conservative Charlotte Leslie. We saw them struggling to navigate the male-dominated world. "You do feel like smashing a brick wall down," said keen boxer Leslie. Champion found the braying in the chamber "distasteful" and steered clear of the seat lottery: "I can see the point if it's a shoe sale, but not to listen to a load of old men screaming at each other." Her joy at getting an amendment made to legislation on sexual abuse of children made it clear that helping people was what really turned her on, not shoes.
The rousing score and Cockerell's own stage skills added to the theatrics. "The big beasts of the Commons jungle arrive just before noon, hoping for the smell of blood," he said in Attenborough-esque tones.
And it's the fact he manages to find the human side of those beasts, big and small, that makes this revealing series a winner so far.
Register for free to continue reading
Registration is a free and easy way to support our truly independent journalism
By registering, you will also enjoy limited access to Premium articles, exclusive newsletters, commenting, and virtual events with our leading journalists
Already have an account? sign in
Register for free to continue reading
Registration is a free and easy way to support our truly independent journalism
By registering, you will also enjoy limited access to Premium articles, exclusive newsletters, commenting, and virtual events with our leading journalists
Already have an account? sign in
Join our new commenting forum
Join thought-provoking conversations, follow other Independent readers and see their replies