Jo Brand's Sport Relief Challenge, TV review: Watching the comedian's walk was almost as painful as doing it
Brand walked across the north of England from east to west at a rate of 20-miles-per day
Sean O'Grady
Friday 18 March 2016 00:14 Comments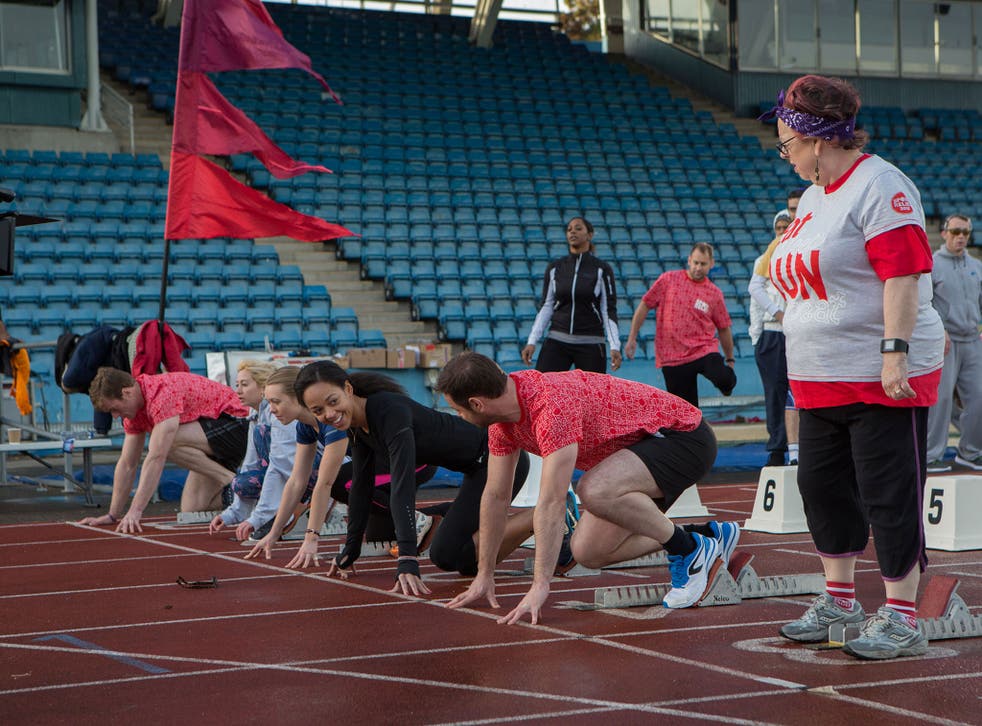 I think that Jo Brand's Sport Relief Challenge is supposed, as Jo herself proclaims proudly at the beginning, to get "middle-aged women off their bums" and do some exercise.
Jo, stoic and dignified throughout, took the content description of her as "morbidly obese" with the kind of equanimity I doubt she would display from a heckler during her stand-up routine. "Fat lezza" she usually gets called, with only partial justification; but "morbidly obese" can be shouted by a drunken troublemaker with all the authority of medical science and the BBC.
In any case, here was Jo's remarkable mission; to walk across the north of England from east to west at a rate of 20-miles-per day, which meant trudging through January's coldness for 14 hours a day. Now I'm not a 58-year-old, morbidly obese post-menopausal female stand-up comic with a taste for lager, obviously, but I'm not far off it, and I certainly wasn't sitting there thinking "oh, what a good idea. I think I might trudge from Hull to Liverpool for a charity I've always been a bit doubtful about".
Nor was I greatly encouraged by the fact that, along with the usual retinue of camera crew, researchers, producers and quota of BBC middle managers she was also accompanied by a fully equipped, six-person emergency medical team complete with defibrillators and oxygen, plus ambulance. Hardly a vote of confidence, eh?
Culture news in pictures

Show all 33
On the first day she pulled a muscle, which made walking very painful and poor old Jo was forced to spend half an hour in an ice cold bath. At which point I did find myself wondering whether they were actually trying to kill her to get the ratings up.
Despite the incongruities and almost fathomless futility of this (literal, I suppose) exercise, and the presence of a comedian I personally revere, this show made for some viewing as painful as anything Jo went through. Well, maybe not, but not comfortable at any rate.
A morbidly obese comedian, (have I mentioned that?) dressed up like a tin miner, was being almost death marched across the Ridings. "Outdoors fanatic" Bill Bailey joined her for a bit, but Jo, in the last two days of her odyssey, was ambling, limping, "like an old donkey on a wheel" in her words, but not exactly walking across the countryside. My bum is staying on the sofa, thanks. I preferred things when Jo Brand was on the fags and chips diet.
The great thing about Stewart Lee's Comedy Vehicle, now in its deadpan fourth season, is that there are no extreme physical challenges involved in it; just extreme intellectual ones. You'd have thought that there wasn't much usefully innovative you could do with stand-up (and I don't mean take it on a hike across the north of England), but Lee and his script editor Chris Morris, whose reputation goes before him, proved that, well, there is: a masterful reinvention of the witty aside.
The mordant joyfully mated with the whimsical; and post-post-post modern interviews of Lee by Morris. Every frame of the Comedy Vehicle is freeze-dried to ironic perfection, containing more layers than a mille-feuille pastry, a textural delight. This is something to watch and something for your brain to work out on, while your bum is planted firmly on the sofa, a lager in your hand, let us say.
Register for free to continue reading
Registration is a free and easy way to support our truly independent journalism
By registering, you will also enjoy limited access to Premium articles, exclusive newsletters, commenting, and virtual events with our leading journalists
Already have an account? sign in
Join our new commenting forum
Join thought-provoking conversations, follow other Independent readers and see their replies