John Walsh on Derek: Funny how Ricky Gervais's show lacks laughs, when Lena Dunham's Girls crackles with wit and invention
Gervais's latest addition to his comedy menagerie grates more than it amuses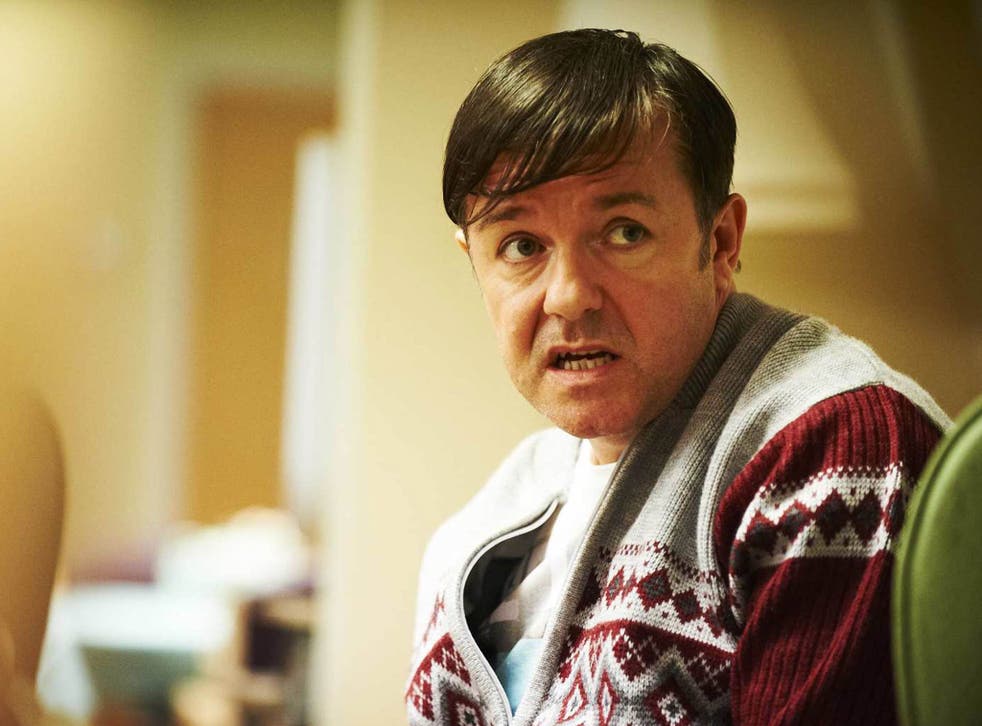 A storm of protest greeted the pilot for Ricky Gervais's new comedy creation Derek last April. After his references to "mongs" on Twitter, Gervais seemed to have hit a new low: Derek struck some as a mean-minded piss-take at the expense of the mentally ill.
Now we have a whole series on Wednesday nights on Channel 4 in which to inspect this new arrival in the Ricky Menagerie, successor to the stroppy midget in Life's Too Short.
Appropriately, for the master of "cringe comedy", Derek spends much of his time cringeing. He walks with a defeated shuffle. His greasy hair falls apologetically across his brow. Gervais plays him for maximum pathos. At first, watching that familiar gaze flicking sideways to the camera, I wasn't sure if some double-bluff or deception were afoot: would Derek's apparent autism or Asperger's turn out to be a pose? But it soon became apparent that he's meant to be a troubled innocent, bruised by life – like Smike in Nicholas Nickleby.
Derek is a helper at Broad Hill Nursing Home, but his main role is to insist that the patients and staff are a big happy family, despite the chronic anger issues of caretaker Dougie (Karl Pilkington) and the howling awfulness of Kev (David Earl), a beardy nonce who talks in a blizzard of sexual propositions and is discovered naked in bed with an elderly woman inmate as the local council comes round.
Luckily, there's also Hannah, the nurse in charge. Kerry Godliman's performance is the best thing in Derek: her chats to camera convey a moral strength that's saintly but wholly plausible. When the council threatens to shut the care home, she has to rally the awkward squad of elderly patients and dysfunctional staffers.
It's not, then, an obvious barrel of laughs, more an Ealing comedy of plucky outsiders versus the System. There are funny moments, as when a volunteer on community service is asked what his crime was. "I threw something in my neighbour's skip," he says. What exactly? "His wife – she were doing my fookin' head in." Or the way Derek's and Kev's attempt to collect protest signatures in Hampstead High Street is derailed by Kev's impulse to proposition every woman he approaches. "I'd stand a chance with you," he told an NW3 matron, "if I got you all pissed-up and teary."
Mostly, though, its dramatic arc relies on mawkish sentimentality. Hannah recited statistics for how many oldsters die soon after being rehoused. Asked if Derek was handicapped, she said: "Yeah, he's too nice for his own good." Oh please. Derek – both the character and the show – is like a hurt puppy you're supposed to root for and find endearing. And yet, instead, you feel like stamping on it.
By coincidence Girls (Sky Atlantic, Monday), which starts its second season on Sky Atlantic, also revolves around a Hannah, but there all comparison with Derek ends. Girls also deals with dysfunctional characters, but they're not autistic, or old – they're modern New Yorkers. Lena Dunham's show (she's creator, scriptwriter, director and star, all at 26) traces their everyday lives, which means almost exclusively their sex lives, with terrific wit and invention. The dialogue crackles, but not in the faux-glittery way of Will & Grace or Sex and the City. It's genuinely funny. Hannah and Elijah discuss having theme parties. She suggests several cuisine-based ones. "Not all your nights can be food nights," says Elijah, "I was thinking of maybe … French salon." "I'd love that," says Hannah, "because secretly I'm really good at cutting hair." "It's more of a Gertrude Stein thing," says Elijah tactfully. "Oh you mean a lesbian theme night?" cries Hannah.
All the characters sleep with several people, gay and straight, in a bid to find something that works for them – and their negotiations with each other, full of childish misunderstandings and attempts at emotional clarity, are hilarious. "What does that even mean?" is a recurring question, as are indignant post-mortems on their various bunk-ups. But there are gems of truth among the nonsense. Accused of not being very nice to her, Hannah's boyfriend Adam says: "Yeah but when you love someone, you don't have to be nice all the time."
Access unlimited streaming of movies and TV shows with Amazon Prime Video Sign up now for a 30-day free trial
Sign up
The nakedness of their emotional need is underlined by the startling amount of fleshy bits on show, especially Dunham's. Girls is amazing. It knocks pretty much all modern British comedy into a hatted cock.
Join our new commenting forum
Join thought-provoking conversations, follow other Independent readers and see their replies