Last Morning: Daybreak with Adrian Chiles and Christine Bleakley, ITV1, 6am
Wake up and smell the coffee ... it's all over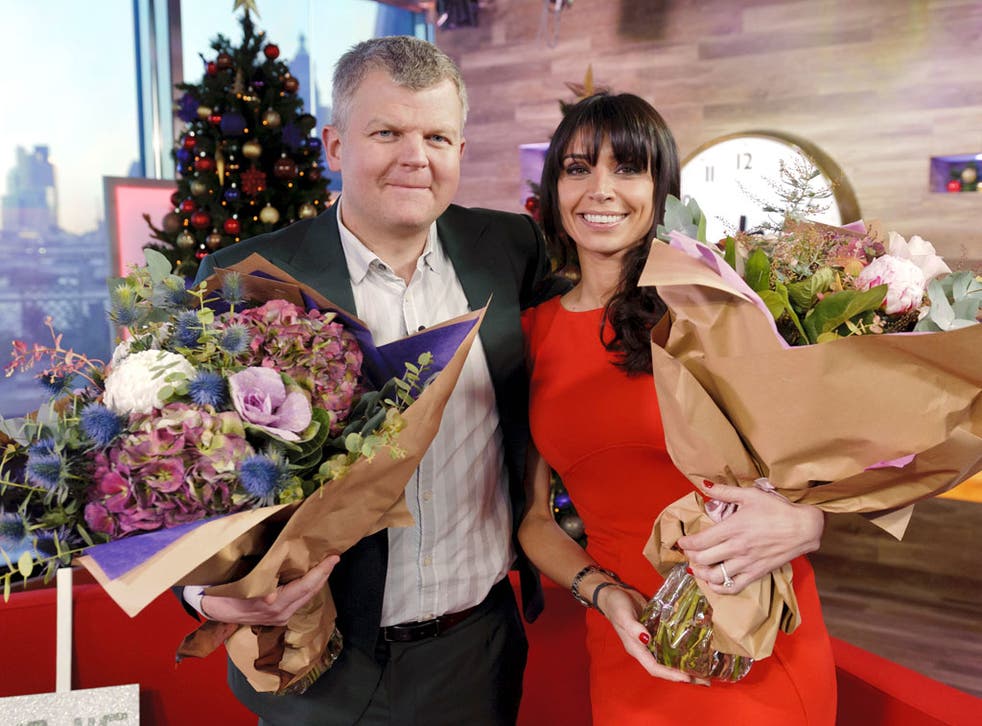 It's somehow fitting that Adrian Chiles and Christine Bleakley should have hosted their final edition of Daybreak on the morning after Tian Tian and Yang Guang landed in Scotland, bound for twin enclosures at Edinburgh Zoo.
Like a pair of giant pandas, Chiles and Bleakley were lured from their Maoist homeland – the BBC – with vast sums of money, then displayed in a gilded cage while the rest of the world speculated about their sex lives. And, like the ITV presenting duo, Tian Tian and Yang Guang were an instant disappointment: Daybreak's intrepid reporter in Edinburgh stood in front of the panda enclosure for more than two hours yesterday, without ever getting that promised glimpse of the jet-lagged beasts.
For star guests, viewers had to make do instead with former DJs Tony Blackburn and Chris Tarrant. This is how low the show has sunk since its debut last September, when Tony Blair graced the studio. Chiles, who began his run as a breakfast host looking tanned, chipper and confident, seemed a shadow of his Match of the Day 2 self. He muttered half his lines under his breath, and complained about everything from the The X Factor to the "over-baubled" studio Christmas tree. That he was correct on both counts is immaterial: as he and his Daybreak producers learned when the ratings first slumped, early morning viewers do not appreciate a grumbler.
ITV spent a rumoured £10m on the likeable, talented presenting pair last year, but that investment has been rewarded with something like 200,000 fewer viewers. Perhaps Chiles and Bleakley simply stopped making an effort once news of their departure was made public last month; if Daybreak has always been as lacklustre as it was yesterday, then frankly I'm amazed they lasted so long.
Their brief farewells came just seconds before the end of the show – tinged not with sadness, but with relief. Chiles is returning to his natural habitat, football, while Bleakley is headed for Dancing On Ice. (As its host, not a competitor. Not yet, anyway.)
In the absence of any actual pandas, the show turned its attentions to reality TV, and an in-depth discussion of I'm A Celebrity... Get Me Out of Here! – coincidentally, the very sentiment that Chiles and Bleakley had etched across their faces. They must really envy the bloke from McFly and the bloke from TOWIE, forced by ITV to subsist on a diet of grubs. It sure beats being forced to host Daybreak.
In Numbers
£6m: Adrian Chiles's reported salary at 'Daybreak' for the duration of his four-year contract
£4m: Christine Bleakley's pay for the same period
1 million: The audience at the start of Chiles and Bleakley's run. By the end, it averaged just 800,000 per episode
65: Number of weeks the pair spent on the sofa – just 143 weeks short of fulfiling their deal
Join our new commenting forum
Join thought-provoking conversations, follow other Independent readers and see their replies