Last night's viewing: Brian Cox should give the flag waving a rest in Science Britannica
Science Britannica: Method and Madness, BBC2The Culture Show: Northern Soul - Keep the Faith, BBC2
Ellen E. Jones
Thursday 26 September 2013 20:08 Comments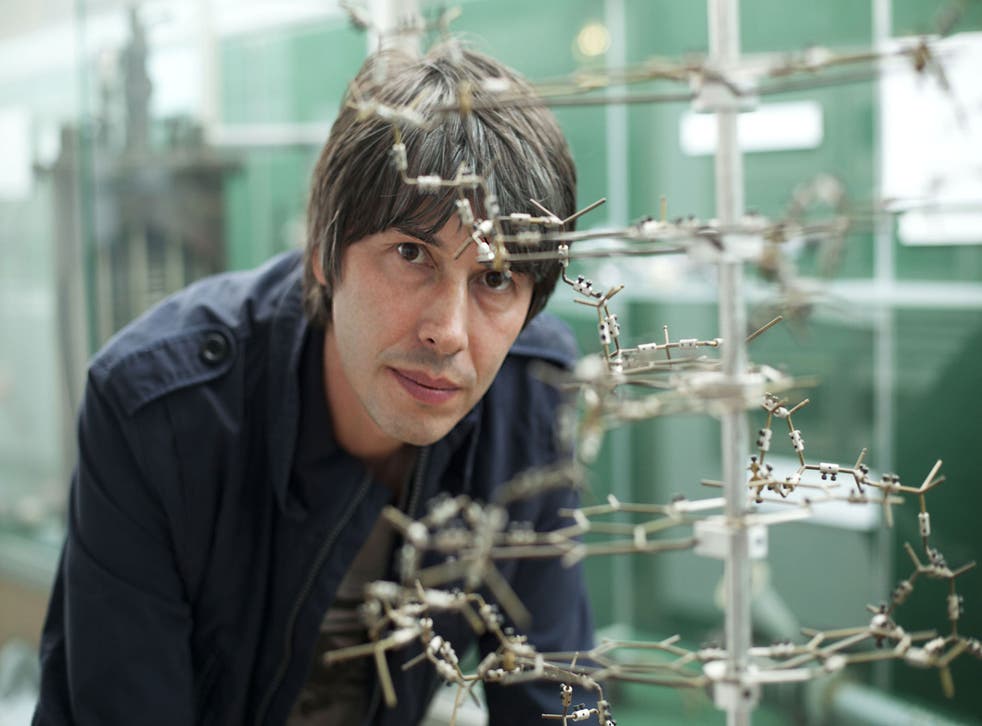 Gravity. It can really bring you down, can't it? That's why it's helpful if an enthusiast like Brian Cox can spell out to science dunces such as me exactly why Sir Isaac Newton is such a big deal. Having watched last night's second episode of Science Britannica, I get it. It is truly impressive that a man born in 1642, into a Britain that was still burning witches, had the independence of mind to conceive of the scientific method.
One also had to admire the dedication of 18th-century scientist Henry Cavendish. His theories on "phlogiston" were absolute nonsense, but his experiments with hydrogen, as recreated by Cox, were a lot of fun to watch. It was Richard Borcherds, however, the quantum field theorist with the impressively cushy setup, who left the strongest impression. Right at this very moment he's probably sitting in his Berkeley, California, office, barefoot and cross-legged, strenuously contemplating the secrets of the Universe. "Watching me work is pretty much indistinguishable from watching me sleeping," he boasted. Nice work if you can get it, eh, Richard?
Where Cox and I parted ways was his attribution of all this talent to some sort of essential Britishness. Remember Newton? He was British. Cavendish? As British as they come. The Large Hadron Collider? Technically, it's under the Franco-Swiss border and the scientists involved come from all over the world, but Science Britannica was determined to claim that for Queen and Country too. "Britain," said Cox, "has arguably had a greater influence on how science is done than any other nation." Fine, but can we give all the flag waving a rest now, please?
Presumably, the harder it gets for scientists to extract funding from a tight-fisted government, the more tempting it is to start thumping on whatever tub is nearest to hand, in the hope of attracting attention. Such patriotism became rather crass when it involved Cox praising the Britishness of the Second World War code-breaker Bill Tutte, yet neglecting to mention the fate of his equally talented Bletchley Park colleague, Alan Turing.
Let the patriots keep their empiricism, then. If you want a truth that transcends national boundaries, crosses generational chasms and even has a catchy beat, Paul Mason has got just the Northern soul all-nighter for you. Yes, the former Newsnight economics editor and sometime Independent contributor, is something of a dark horse. You probably assumed he spent his spare time catching up on the markets. In fact, as last night's episode of The Culture Show revealed, ever since one night in 1975 his all-consuming passion has been for Northern soul: the music, the dancing and the people who adored it all.
Many viewers (including this one) would have been more than happy to listen to talking heads wax nostalgic while watching great archive clips of the dance floors at Twisted Wheel, Wigan Casino and Blackpool Mecca, but this programme also had that and more. The most pleasing revelation? Northern soul isn't the preserve of "sad Northern blokes" of Mason's generation; the movement is experiencing a revival, headed up by a group of twentysomething "Young Souls".
It was Mason's capacity to take the music seriously, without taking himself at all seriously, that really made this documentary so affecting. He's always game for a turn on the dance floor too, and while your escapism of choice might not involve listening to obscure records from 1960s Detroit, when a sweaty, straight-from-the-dancefloor Mason evangelised about the music that "captures not just something about black America, it captures something about working-class Britain and it captures something about me", we all knew what he meant. Only one mystery remained: with fancy footwork like that, why hasn't he been on Strictly yet?
Register for free to continue reading
Registration is a free and easy way to support our truly independent journalism
By registering, you will also enjoy limited access to Premium articles, exclusive newsletters, commenting, and virtual events with our leading journalists
Already have an account? sign in
Join our new commenting forum
Join thought-provoking conversations, follow other Independent readers and see their replies